Fans Are Going Absolutely Wild Over Nicki Minaj's Adele Impression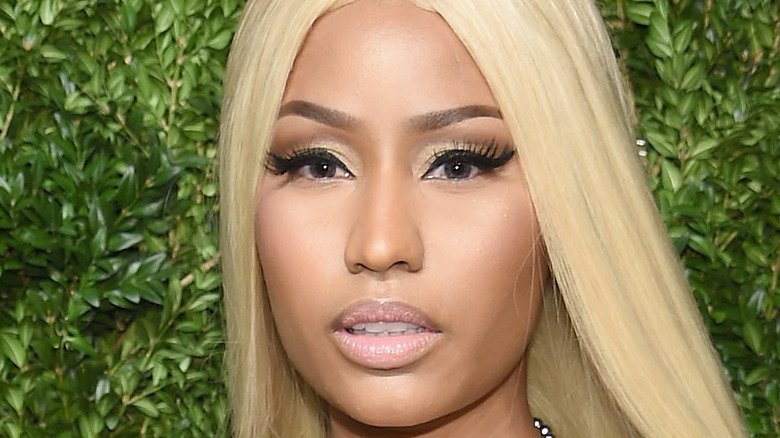 Dimitrios Kambouris/Getty Images
Nicki Minaj's legacy game is strong. After previously celebrating the 10-year anniversary of her debut album, "Pink Friday," on Instagram in November 2020, it seems the rapper has made quite the impression on her peers.
In a 2018 interview with Billboard, "Tap In" hitmaker Saweetie told the music publication that Minaj had an impact on influencing her career. "When Nicki came out, she had great punchlines and was rapping about a bunch of different stuff," she explained. "She reminded me of myself and I remember being a kid saying, 'I'm a barbie, too.'" Another fellow rapper, Doja Cat, with whom Minaj ended up collaborating with for the remix of Doja's hit "Say So" in 2020, also revealed to XXL that she used to make up her own music videos to Minaj's songs. In 2015, singer Tinashe was given the chance to open for Minaj on her Pinkprint Tour that same year. During a chat with MTV, the "2 On" entertainer discussed what she took away from that experience. "I really learned Nicki has an ability to be unapologetic. I find that really special," Tinashe stated. "I'm trying to encourage that in the industry. I feel like there's been a lack in the past, especially in the recent past of women supporting other women artists."
Another admirer is BRIT sensation, Adele. During an overdue episode of James Corden's "Carpool Karaoke," Minaj paid homage to Adele's impression of her rapping to one of Minaj's famous verses.
Adele's Monster rendition made Nicki Minaj 'so happy'
With new music out, Nicki Minaj made an appearance on James Corden's "Carpool Karaoke." In addition to rapping to her own songs, she also did various impressions of singer Adele, who went viral after her episode in 2016 for rapping along to Minaj's iconic verse on Kanye "Ye" West's song "Monster."
As seen in the video above, when Minaj put on her British accent, Corden insisted she sounded like Adele, asking her to continue as if she was the Grammy Award winner. The "Superbass" hitmaker hilariously came up with a speech about going "viral" at a basketball game, while coming up with phrases Adele is known to use. She stated she had seen Adele's rendition of "Monster" and told Corden it made her "so happy" and that she "embodied Nicki Minaj," resulting in the duo acting out their own version of the rap, while a clip from Adele's episode appeared next to them. Minaj remained in her British accent and said she would never expect to see Adele rapping to one of her verses because she's known for singing "sad songs." In return, Corden and Minaj sang their own version of Adele's smash "Someone Like You."
Given that Adele and Minaj are two megastars with huge fanbases, it comes as no surprise that social media can't get enough. "The editor who decided to split video of Nicki and Adele for Monster Verse deserves a raise," one user wrote. "Jesus I'm dead," another person shared. A third user remarked, "It's the fact that it's spot on."