How William And Kate Keep Their Royal Children Down To Earth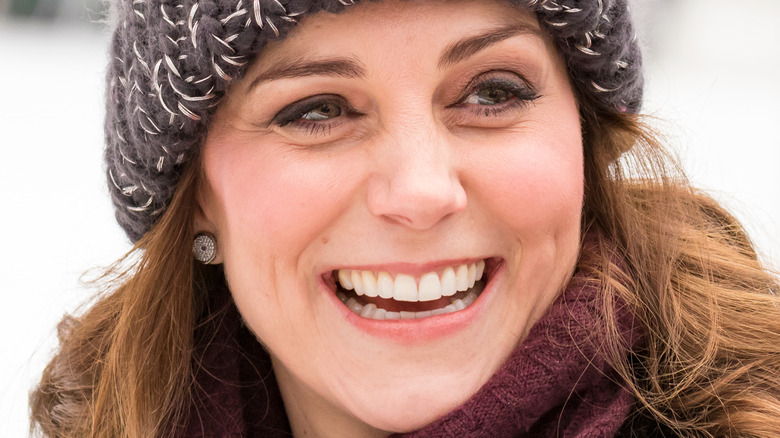 Per Grunditz/Shutterstock
Kate Middleton met Prince William in 2001 when they were first year students at St. Andrews University in Scotland. According to Elle, Kate bagged William by playing the long game. They went from being acquaintances to friends to roommates. Then, after Kate strutted down the catwalk in a see-through dress, they started dating. They split briefly twice before William finally proposed in 2010.
Per BBC News, the couple was married in a lavish ceremony at Westminster Abbey in April 2011. Thousands of well-wishers lined the streets to catch a glimpse of the newlyweds in their gilded horse-drawn carriage — and to cheer at the obligatory balcony wave and peck on the lips. Hundreds of millions also tuned in worldwide to watch the nuptials.
Kate's father, Michael Middleton, was a self-made businessman. Her mother was a flight attendant — leading to the Daily Mail mocking Carole "doors to manual" Middleton as a social climber. However, Kate went from being a total commoner –- albeit a rather posh one –- to HRH, the Duchess of Cambridge and wife to the future King. Given Kate's background and that William's mom was the beloved "People's Princess" Diana Spencer, it's no surprise they've strived to keep it real when raising their three kids — by British nobility's stuffy standards anyway. However, with all the suffocating rules, pomp, and etiquette accompanying their status, how do William and Kate keep their royal children down to earth?
William and Kate' social media ban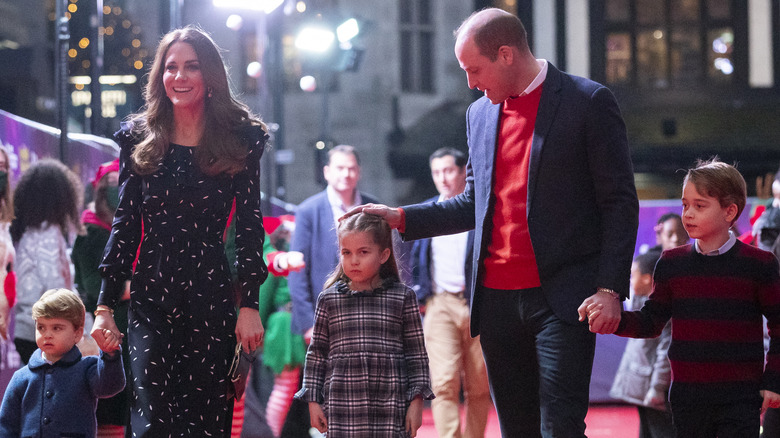 Wpa Pool/Getty Images
Kate Middleton and Prince William keep their royal children down to earth with a strict social media ban. "They 100% disagree with young children having social media accounts," a source claimed to Us Weekly. The protective parents take the edict seriously and insist home tech is an adult-only zone. Instead, William and Kate's kids spend time playing, not staring at computer screens. "William and Kate are firm believers in toys, outdoor play, and encouraging an active imagination," An insider told Us Weekly in a separate interview. The royals are hands-on parents with plenty of dancing, singing, and cuddling with their kids.
It's in stark contrast to previous royal childhoods. Prince Charles' upbringing was cold, emotionally void, and strict. When Lady Diana Spencer married Charles in 1981, she brought a much-needed breath of fresh air. To The Firm's horror, Diana was determined to expose William and Prince Harry to the real world –- outside of palaces and protocol.
Diana and the boys had fun at theme parks. They also visited homeless shelters, allowing them to witness the everyday life struggles of the poor, vulnerable, mentally ill, and addicted. Despite Diana's sudden death in 1997, her influence is still being felt to this day. Diana's parenting clearly influenced both of her sons and enabled them to raise their own families as she would have wished.