Inside Katherine Heigl's Emmy Controversy During Grey's Anatomy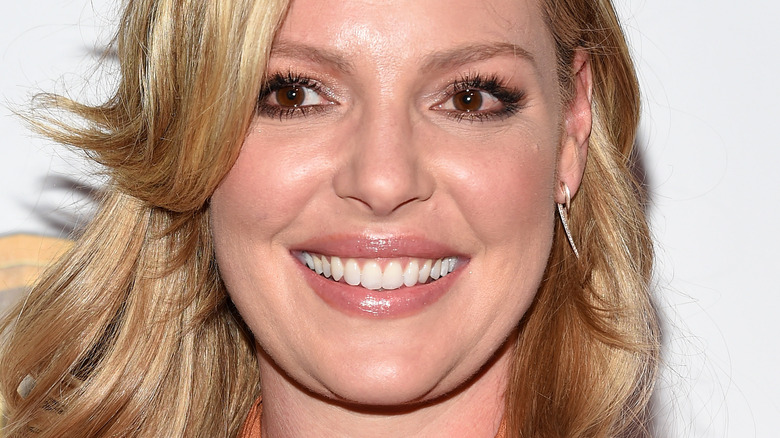 DFree/Shutterstock
Poor Katherine Heigl has not always had an easy time in show business. Love her or hate her, Heigl has had to navigate the ugly Hollywood rumor mill more than once, and not always for her own doing. Her behind-the-scenes drama on the set of "Grey's Anatomy" — a production with plenty of drama already — earned her a poor (and sexist) reputation as a "diva" that's been difficult for her to shake. Even as of this writing, long after Heigl's departure from the show that made her a star, fans still rehash her old drama more than 10 seasons later.
Heigl was one of the original cast members when the Shonda Rhimes show premiered in 2005. She starred as residential intern Izzie Stevens, who becomes fast friends with fellow interns Meredith Grey (Ellen Pompeo), George O'Malley (T.R. Knight), and Cristina Yang (Sandra Oh). She stayed at Seattle Grace Hospital until Season 6, when Izzie left abruptly after being fired from her surgical oncology position — and when Heigl begged out of her contract. Lots of drama, both on screen and behind it, had already happened at that point, cementing Heigl's messy, controversial departure from the show in 2010.
One of the more contentious scandals leading to Heigl's departure was her decision to back out of the Emmys race in 2008. Let's take another look at exactly what happened.
Katherine Heigl didn't feel she deserved the Emmy nomination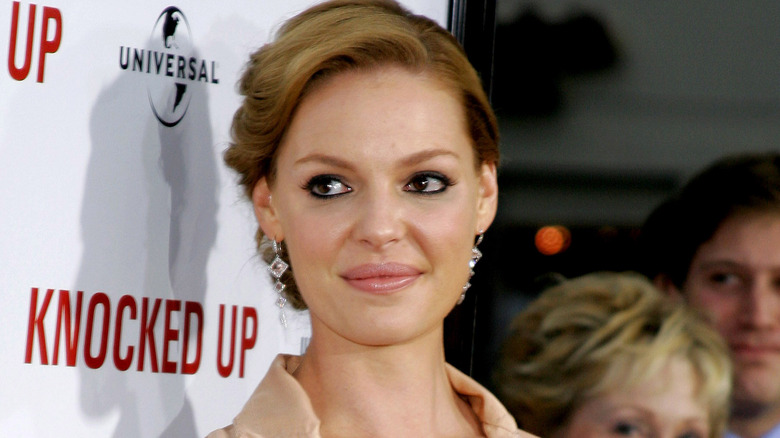 Tinseltown/Shutterstock
Turns out what works for a veteran like Dolly Parton may not work for a relatively new face like Katherine Heigl. In a move similar to Parton's withdrawal from her Rock and Roll Hall of Fame nomination, Heigl pulled herself out of the Emmys race in 2008.
Heigl had just won the 2007 Emmy for her work on Season 3 of "Grey's Anatomy," surprisingly beating out co-stars Sandra Oh and Chandra Wilson, per Gold Derby. She also had a budding movie career since her breakout 2007 role in "Knocked Up." But rather than increasing her visibility on the show after her win, Heigl was apparently unhappy with storylines that saw Izzie saving a deer, and striking up the awkwardly contrived "Gizzie" romance with George. 
Heigl tried to gracefully withdraw her nomination, stating (via Reuters), "I did not feel that I was given the material this season to warrant an Emmy nomination." She also hoped to maintain the Emmys' integrity and give other deserving actors a chance. That sounds noble, and is something veterans do, but not when it sounds like you're throwing your writers under the bus.
For her part, creator Shonda Rhimes somewhat acknowledged the issues with Izzie's plot, telling a TV critics' panel (via EW), "The first half of the season had a very strong storyline with Izzie and George, but it [played] more comedic than most of Katie's storyline in the past. I wrote the back half light for Katherine so she could do her movie. So I didn't feel insulted." 
Katherine Heigl regretted her Emmys statement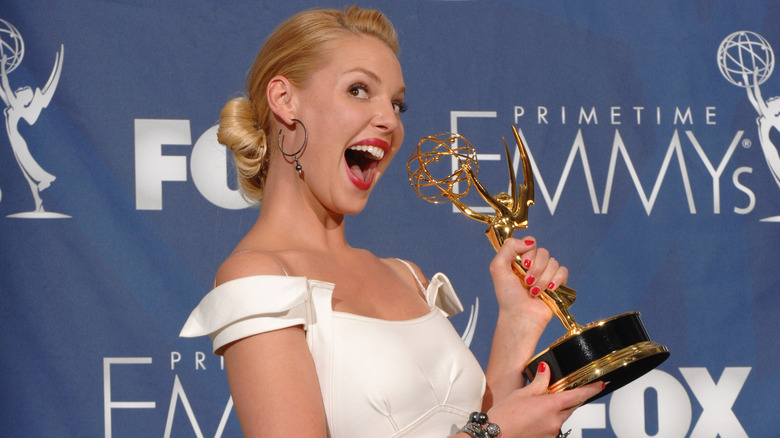 Featureflash Photo Agency/Shutterstock
After Katherine Heigl's contentious departure from "Grey's Anatomy," she expressed regret for her Emmys statement. "At the time I thought I was doing the right thing. And I wanted to be clear that I wasn't snubbing the Emmys. The night I won was the highlight of my career," she told Entertainment Weekly, adding, "But really, I could have more gracefully said that without going into a private work matter. It was between me and the writers. I ambushed them, and it wasn't very nice or fair."
She also admitted that her decision was ultimately about her work: "I was a little defensive about my season because I thought I hadn't had a great one," she said. "And a lot of that had to do with me and my performances." Expressing disappointment that it contributed to her negative reputation, especially given how appreciative she was for the show, she said, "That's another reason why I'm so annoyed with myself. I let myself demean something that was actually very beautiful and very important."
Heigl also said she apologized to Shonda Rhimes, who forgave her. "She was like, "I get it. I totally get it. I know you didn't mean it like that," Heigl told EW. But a few years after Heigl's departure, Rhimes seemed to have changed her mind. "On some level, it stung and on some level, I was not surprised," Rhimes said on "Oprah's Next Chapter," adding, "When people show you who they are, believe them." Ouch.