The Truth About Mark Harmon's Relationship With Jamie Lee Curtis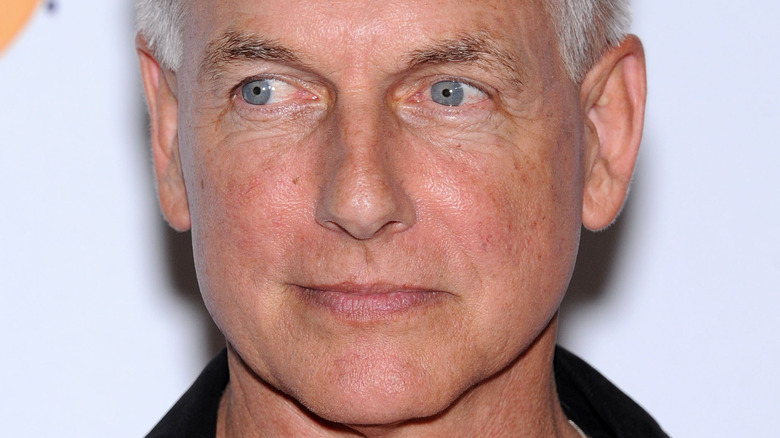 DFree/Shutterstock
Having starred as the lead character on "NCIS" between 2003 and 2021, Mark Harmon's name became synonymous with Special Agent Leroy Jethro Gibbs in the eyes of many TV buffs out there. As the sturdy hull that kept the flagship show on course for close to two decades, Harmon's career was defined by the role, making it hard for us to remember he ever did anything else. But right when he joined the hit police procedural, Harmon was also tapped to star in another fan-favorite production: "Freaky Friday." Harmon played the fiance of Jamie Lee Curtis' character, marking the first time the actors shared the screen, according to CBS News.
It wouldn't be the only time, as "NCIS" fans are likely well aware of. In 2012, Curtis joined the cast of "NCIS" as a guest star, offering her an opportunity to reunite with Harmon, Entertainment Weekly noted. As fate would have it, Curtis' character, Dr. Samantha Ryan, would again play the love interest of Harmon's. Her presence on "NCIS" was short-lived, though it certainly didn't go unnoticed. The first episode she starred in was the most-watched program on TV that Tuesday night in February 2012, according to the Los Angeles Times.
That's not to say it was a resounding success. Dr. Ryan and her relationship with the beloved Gibbs divided the "NCIS" fanbase, with some loving the chemistry between Curtis and Harmon and others absolutely hating it, TV Fanatic noted. Still, Curtis and Harmon know exactly where they stand.
Jamie Lee Curtis and Mark Harmon love working together
Jamie Lee Curtis and Mark Harmon have nothing but good memories of their time together. When Harmon learned Curtis would be guest-starring on "NCIS," he couldn't wait to start shooting. "Jamie's great and I think we're all glad that she's coming to play with us in our little sandbox for a while ... I look forward to it, absolutely," he told Today in January 2012. As expected, Curtis didn't disappoint. "She's a gift to have on the set," Harmon told TV Equals that May.
Harmon added that Curtis' wish to join "NCIS" was testament to the talent of its showrunner. "Gary Glasberg has created a role for her that made her want to come and play in the first place, which is rare," he said of Curtis, who is best known for her film career. "But she's had a great time there and I think she'd tell you that as well."
Harmon was right. Curtis enjoyed the experience — and sharing the screen with Harmon wasn't hard either. "I'm not going to lie to you and say that this is a horrible, difficult job to 'play' with him. I'm happy to have it," she told Entertainment Tonight ahead of her guest appearance. Curtis even admitted she was smitten with Harmon, who was once named "Sexiest Man Alive" by People. "He makes me blush a little bit," she said. "Because he's just such a sweet guy."
Jamie Lee Curtis praised Mark Harmon's NCIS role
Jamie Lee Curtis and Mark Harmon's relationship isn't restricted to the professional realm. "I'm very fond of him and he's fond of me," Curtis told Entertainment Tonight in 2012. By that point, the actors had known each other for at least a decade and had ample chances to get to know each other outside of work. "I've known Jamie a long time ... [She is] such a rare talent, and as a person, a good person and terrifically good at what she does," Harmon told TV Equals.
Their bond remained intact a second decade later. In 2021, Harmon announced his "NCIS" days were over, ending his impressive 18-year stint. Even though Harmon vowed to stay on as an executive producer, "NCIS" fans everywhere were heartbroken he wouldn't be in front of the camera any longer. And that apparently included Curtis, who used the opportunity to pay tribute to Harmon and reminisce about her days on the show on Instagram. "One of the unexpected delights of my varied career was being able to do five episodes opposite him and his team in front of and behind the camera," Curtis captioned the post, which she paired with a still image of the pair on "NCIS."
Curtis also included her favorite exchange between their characters. "My favorite line was when I was coming down from his bedroom, 'Practice makes perfect,'" she wrote. "Certainly worked for him and his Jethro Gibbs character. Well done Harmon."