The Surgery That Left Donny Osmond Temporarily Paralyzed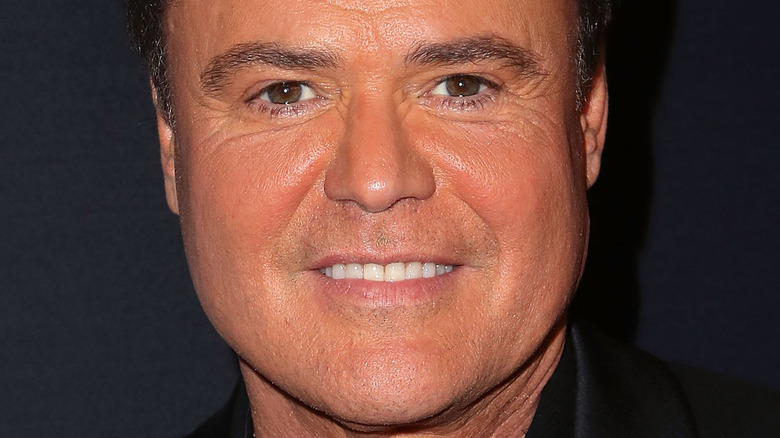 David Livingston/Getty Images
Donny Osmond has been performing onstage practically since he could walk. The Osmond brother made his TV singing debut at age 5 on "The Andy Williams Show" in 1963, where he performed a cappella with his older brothers. Osmond later performed "You Are My Sunshine" solo on the popular variety show.
In the 1970s, Osmond achieved teen idol status with his bubblegum pop hits, "Go Away Little Girl" and "Puppy Love." Osmond and his sister Marie were still teens when they headlined their own 1976 variety show, and as adults, they teamed up for an 11-year residency at the Flamingo Las Vegas Hotel & Casino, which ended in 2019, per Entertainment Tonight. In between all of that, Osmond continued to record albums and logged several stage stints on the Great White Way, including a starring role in "Joseph and the Amazing Technicolor Dreamcoat" in 1992, according to Broadway World. The icing on the cake? In 2009, at age 51, Osmond was crowned the oldest winner ever on "Dancing With the Stars," per ABC News.
With such an active lifestyle, it's almost hard to believe that Osmond suffered a devastating, secret setback that almost ruined his career.
Donny Osmond was unable to walk after a major surgery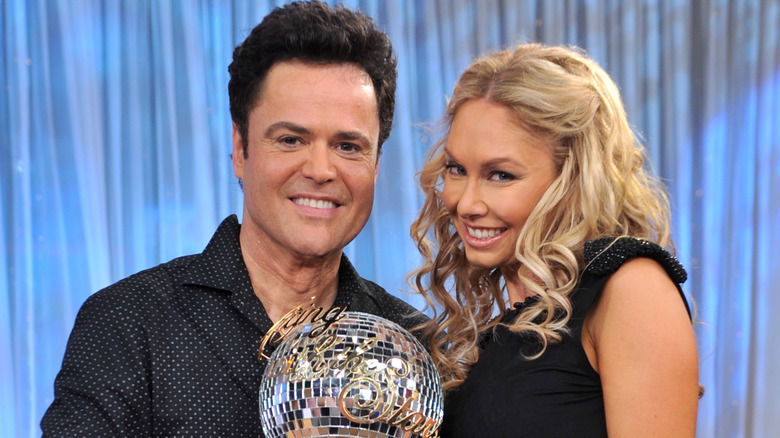 Henry S. Dziekan Iii/Getty Images
In 2019, as he was performing the final show of his Las Vegas residency with his sister, Donny Osmond suddenly felt his body go numb, he revealed in a 2021 interview with Mirror. "I couldn't feel my arms, then suddenly my legs, too," he said. "I didn't tell anyone what was happening to me... I just kept dancing and finished the show."
After somehow completing the choreographed show he knew so well, he was told that his spine had shifted as a result of past injuries, including a mishap  he suffered while rehearsing for "Dancing With the Stars" a decade prior. Osmond didn't tell fans as he underwent back and neck surgeries — or that he had a serious post-op complication. "I thought everything was going to be fine but it couldn't have been worse," Osmond told the outlet. "I got a secondary infection, which meant I wasn't able to move." 
While facing temporary paralysis, the singer admitted that he considered the fact he may never walk again. "It absolutely crossed my mind. But I just didn't take no for an answer," he said. After extensive rehabilitation, the father of five was walking again following the 12-month ordeal.
Donny Osmond is back to singing – and dancing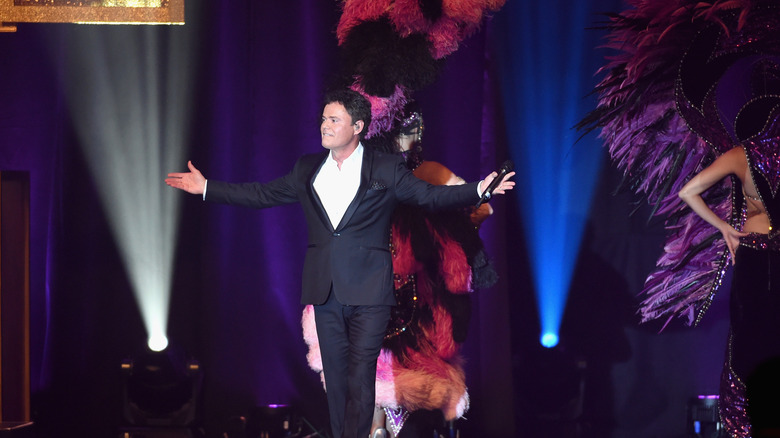 Ethan Miller/Getty Images
In August 2021, Donny Osmond made his triumphant return to the stage with a solo residency at Harrah's Las Vegas. While fans were thrilled to see him singing and dancing again, a few months later, he was on the mend once again. In early December 2021, Osmond had to pull out of a performance of Pantoland at the London Palladium after he got hurt.
At the time, his team tweeted a message to reveal that, at age 64, the star "suffered a slight injury" during a prior performance and was "being evaluated by a doctor." Fans were worried because the message came from Osmond's "team" and not Osmond himself, but a few days later, the "Soldier of Love" singer shared an Instagram video revealing that all was well. He also thanked fans for all of their "well wishes." "I've said it before and I'll say it again I've got the best fans in the world," Osmond said. "Thank you for 6 decades of support."