The Tragic Death Of Steelers Quarterback Dwayne Haskins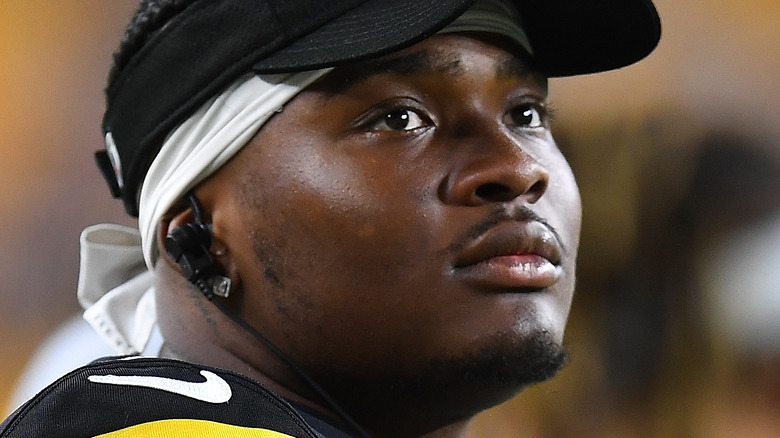 Joe Sargent/Getty Images
Dwayne Haskins, quarterback of the Pittsburgh Steelers, tragically died after he was fatally struck by a car on the morning of April 9. Details of the car accident are unclear, but it happened in the South Florida area where Haskins was training with his teammates in preparation for the upcoming football season, per ESPN. Haskins was only 24 years old at the time of his death and was going to turn 25 in just a few weeks on May 3.
"I am devastated and at a loss for words with the unfortunate passing of Dwayne Haskins," Steelers coach Mike Tomlin lamented in a statement. "He quickly became part of our Steelers family upon his arrival in Pittsburgh and was one of our hardest workers, both on the field and in our community. Dwayne was a great teammate, but even more so a tremendous friend to so many."
Haskins leaves behind his wife, Kalabrya Gondrezick, who he had just married back in 2021, and his loving family.
Dwayne Haskins had a bright career ahead of him in the NFL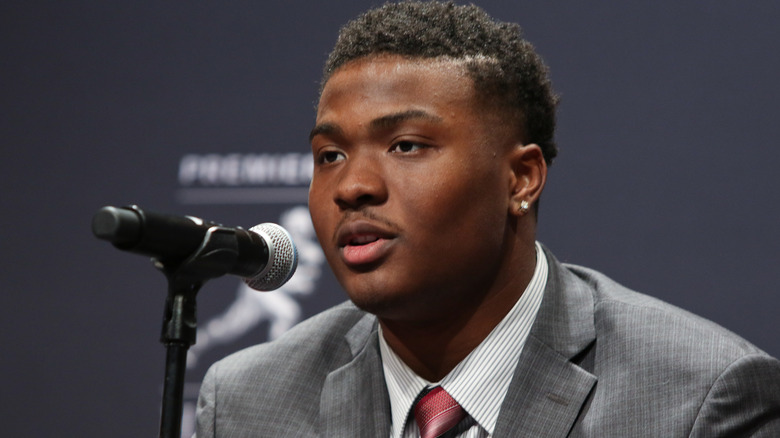 Debby Wong/Shutterstock
Dwayne Haskins had the dream of being a football player from early on in his life and was considered to be a young prodigy in the sport. In just the fourth grade, Haskins was hard at work every weekend training with his father in his home state of New Jersey, per NJ.com. Haskins would go on to play college football with the Ohio State Buckeyes, where he set the record for the most touchdown passes in one season in 2018, per ESPN. He was even a finalist for the coveted Heisman Trophy for his prowess on the field.
Before even graduating from college, Haskins was drafted by the Washington Commanders in 2019. After playing two seasons with the D.C. team, Haskins was signed to the Pittsburgh Steelers, per ESPN. There, he was a contender (alongside Mason Rudolph) to take over the #1 quarterback spot after former QB Ben Roethlisberger retired.
With the news of his death, Haskins's current and former teammates have come out with an outpouring of love for Haskins's kindness, work ethic, and spirit. Football player Cam Heyward wrote, "Dwayne meant so much to so many people. His smile was infectious and he was a guy you wanted to be around. We are all in shock about losing him. We are going to miss the heck out of him as well."