Erika Jayne Just Proved That She Is Completely Done With Garcelle Beauvais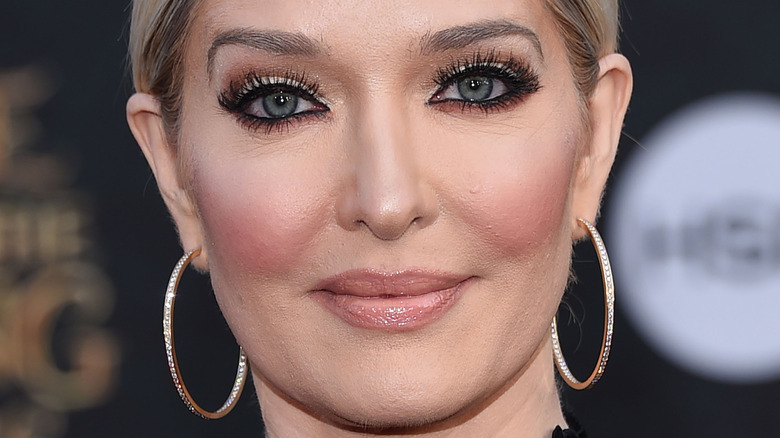 DFree/Shutterstock
Sound the alert horn for "Real Housewives" drama, because we have a doozy for you right here. This one involves "The Real Housewives of Beverly Hills" stars Erika Jayne (aka Erika Girardi), her co-star, Garcelle Beauvais, a book, and a trash can — and it's super juicy. To really understand the context though, we need to throw it back to February 1 when Garcelle opened up to her "The Real" co-hosts about unfollowing Erika on social media the prior month. Garcelle didn't reveal exactly why, but admitted Erika had done something and she didn't want to see her posts anymore.
"All I can say is, she called me something that I did not like, and so, therefore, when somebody offends you in a way, I don't want to see her posts, I don't want to put a little like," Garcelle shared. "So, I thought, I'm going to unfollow her, I don't want to see her posts. Did I know it was going to cause World War 3? Unfollowing someone is huge apparently because it was breaking news all over the place," she continued, before confirming she was no longer on good terms with the reality star and singer.
That nod to her decision causing a lot of drama appeared to stem from Erika acknowledging the unfollow and unfollowing right back, with Instagram account Bravo Housewives sharing screenshots confirming neither were following each another anymore. But Erika being Erika, things didn't stop there.
Trash book
If you thought Erika Jayne (or Erika Girardi, if you prefer) has more important things to worry about than who's following her on social media, well, you'd seemingly be wrong. The star proved why she's the Queen of Shade in a dramatic Instagram Stories upload on April 10 as she filmed herself literally throwing the "Coming to America" star's book, "Love Me As I Am," in the trash. The clip was posted without sound (but with an Oscar the Grouch GIF) and showed the book sitting on top of the likes of bottles, coffee cups, and an old telephone before Erika closed the lid. Erika tagged her frenemy (who's clearly more on the side of enemy these days), captioning the video, "@Garcelle, even though you unfollowed me I'm sure you'll see this" with a kissing lips emoji. Shade!
Of course, the upload caused quite the stir on social media, where "Real Housewives" fans pretty much lost it over the latest dramatic development while others even purchased the book in retaliation.
Garcelle doesn't appear to have publicly responded, but may have thrown a little subtle shade back in her own way. Shortly after Erika's video went up, Garcelle posted a black and white video to Instagram of herself giving the camera a wink from the makeup chair. "Mood[.] have a blessed day guys," she wrote alongside a number of cryptic emoji, including a winking face with its tongue out and a kissy face.