The Truth About Shailene Woodley And Theo James' Relationship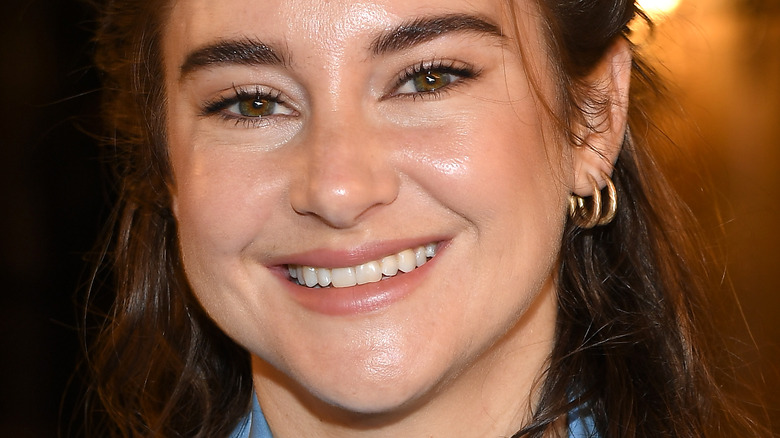 Pascal Le Segretain/Getty Images
Shailene Woodley typically keeps her love life under wraps, but the "Big Little Lies" alum made headlines in 2020 when news broke about her relationship with Green Bay Packers quarterback Aaron Rodgers. In fact, Rodgers and Woodley made their engagement public at a time when few knew they were even dating! "2020 was definitely a crazy year filled with lots of change and growth, some amazing memorable moments..." Rodgers said during a virtual NFL Honors broadcast in February 2021, according to Entertainment Tonight. "Off the field, I got a really great group of people that support me. So, I'd like to thank my team... my fiancée." But shippers were disappointed when the couple called it quits only one year later, according to People. 
However, Rodgers and Woodley sparked reconciliation rumors after they were spotted looking cozy while out and about at a California winery together in March. "They kissed each other's heads and were very affectionate," an insider claimed. Whether or not they're looking to call timeout on their split, Rodgers isn't the only leading man in Woodley's life. The A-lister is also close to her "Divergent" co-star Theo James, whom she met on the set of the first film in 2014. Because the actors played out the onscreen love story between their characters — Tris Prior and Tobias "Four" Eaton — so well, fans felt like they might make a cute couple IRL. 
Clearly, the pair had chemistry, though they kept their relationship strictly in the friend zone ... and they've preserved that friendship to this day.
Shailene Woodley knew Theo James would make the perfect 'Four' immediately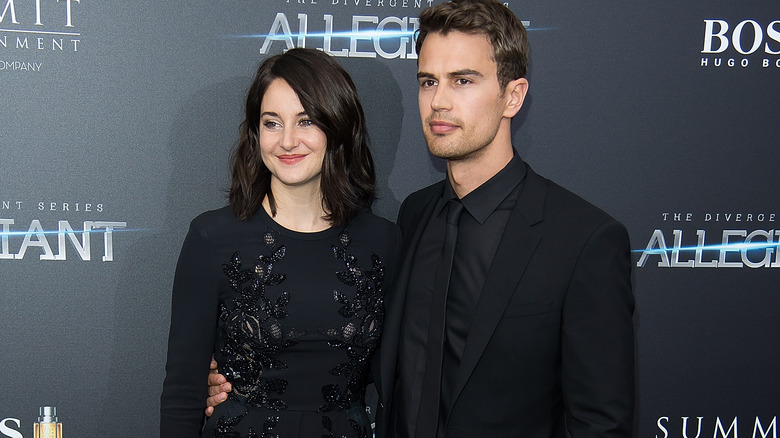 Michael Stewart/Getty Images
Per Harper Collins, the "Divergent" book series sold more than 32 million copies worldwide. The dystopian story of a girl who joins one of society's fictional "factions," only to realize that this society is not as harmonious as she once believed, was hugely popular. Naturally, a film adaptation was in the works not long after the trilogy hit shelves — and there was a lot of hype over who would play heroine Tris and her love interest, Tobias, aka Four. Shailene Woodley's background on "The O.C." practically made her a shoo-in for Tris, but Four was trickier to cast. Still, as Woodley gushed in an interview with the Daily Beast, Theo James was the only choice for the role.
"We auditioned a lot of guys, and a lot of these actors were playing male, masculine leaders. Even if they were good, they were still acting it," Woodley explained. "Theo walked in and just demanded it with his presence." Similarly, Tris and Four might have had a slow burn kind of love in the movie, but Woodley and James immediately hit it off during filming. "[Shailene] and I had good chemistry from the first moment we met," the actor told Culture Calling. "I've also had the opportunity to see her evolve as a person in a very wonderful way. Our friendship has grown in the same way."
Shailene Woodley and Theo James have a lot in common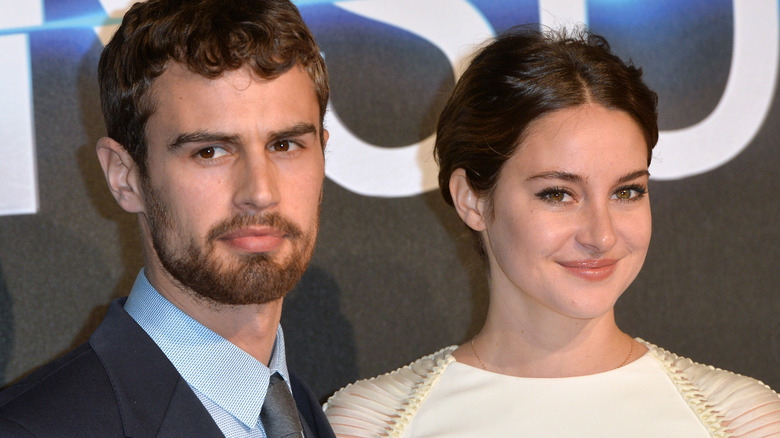 Anthony Harvey/Getty Images
Though Shailene Woodley and Theo James had chemistry on-set from the start, it wasn't because of a love connection. Instead, it was borne from their own similarities and their mutual respect for one another as artists. "Theo is in it for the right reasons," Woodley told the Daily Beast. "He's not in it for the glamour, the toys, or the excess, and neither am I, so we respect each other on that level. And we're good teammates and have each other's backs, and I think a lot of our chemistry stems from that." As a result, James has played a grounding role in Woodley's life and vice versa. "I feel very lucky to have that man sort of by my side through this process because he's such a solid human," the "Adrift" star shared with The Hollywood Reporter during a press tour for "Divergent." "It's nice to have a rock among the waves."
Given their close relationship, it's unsurprising that the two picked each other as their ideal cast member to go "beyond the wall" (a reference from the movies), according to BuzzFeed. "I would choose Theo ... [because he] would be the most adept in that kind of situation," Woodley shared. Later, in the same interview, James shared that he would miss "every single thing" about working with his "Divergent" co-star. "Having a partner in crime, yo. It's good to have someone having your back," he added.