Johnny Depp Gets Emotional As His Sister Recalls Their Tragic Childhood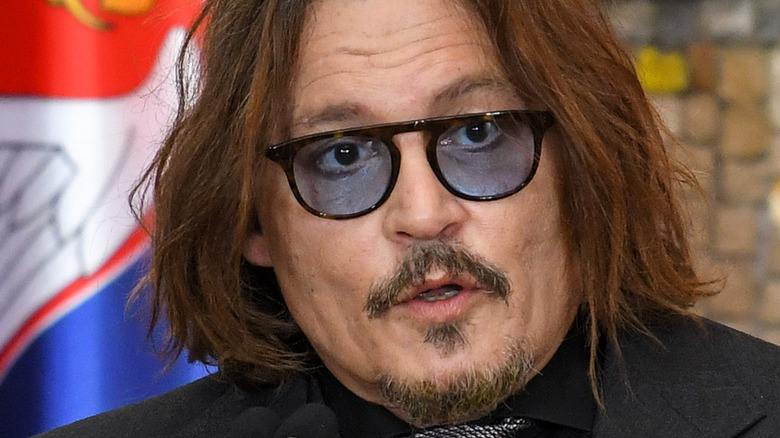 Srdjan Stevanovic/Getty Images
The following article includes allegations of domestic abuse.
More details about Johnny Depp's troubled childhood have come to light in his defamation trial against his ex-wife Amber Heard.
Depp filed a $50 million lawsuit against Heard when she alleged in her 2018 Washington Post op-ed piece that she had been a victim of domestic violence. While she never explicitly mentioned Depp at the time, the actor's legal team suggested that Heard had the intention to lambast him, resulting in loss of work opportunities. When they divorced in 2016, Heard also accused him of verbal and physical abuse and filed a domestic violence restraining order against him. Now, Depp is attempting to clear his name with this trial.
The proceedings kicked off on April 11 in Fairfax, Virginia, where more details about Depp and Heard's lives and marriage will be shared with the public. Depp's camp is expected to pull all the stops to discredit Heard's previous claims, and per a source close to the actor's representatives, his intention is not to malign his ex-wife. "He's not trying to punish her and humiliate her," the source said, per Deadline. "He just wants the truth to come out." Now, they are one step closer to unfurling the truth, as Depp's sister's recounting of their tragic childhood attempted to suggest that acts of violence would be out of character for the "Edward Scissorhands" star.
Johnny Depp's sister opens up about their abusive mother during the trial
Johnny Depp has always been open about his dysfunctional relationship with his mother, Betty Sue Palmer. "She could be a real b***h on wheels," he told Rolling Stone in 2018, recounting the comments he made at her funeral service: "My mom was maybe the meanest human being I have ever met in my life." Christi Dembrowski, Depp's 61-year-old sister, testified in court and discussed at length how their own mother physically abused them growing up. "Father was a kind, patient, loving, gentle man. Our mom was the opposite, very high strung, very nervous, anxiety, angry," she said, per the Daily Mail. "She screamed, she yelled, she hit, she threw things, she called us names," she added, and assured that Depp has not once attempted to fight back. He also appeared distraught while his sister recalled their dark past.
Elsewhere in the testimony, Dembrowski also revealed that Amber Heard had called Depp names, singling out a specific instance where she insulted him for his interest in joining a Dior campaign. She apparently called him an "old, fat man." Dembrowski continued, "Her reaction to that was she was in disbelief and sort of disgust because she said Dior, why would Dior want to do business with you? They're about class and style and you don't have style."
Meanwhile, Heard's lawyers also came in with shocking claims, alleging that Depp had "sexually assaulted" her at some point while they were still married. "You will hear in the most graphic and horrifying terms about the violence that she suffered," defense lawyer Ben Rottenborn said, per Deadline.
If you or someone you know is dealing with domestic abuse, you can call the National Domestic Violence Hotline at 1−800−799−7233 or TTY 1−800−787−3224. You can also find more information, resources, and support at www.thehotline.org.