Khloé Kardashian Cops To One Of Her Most Bizarre Photoshop Rumors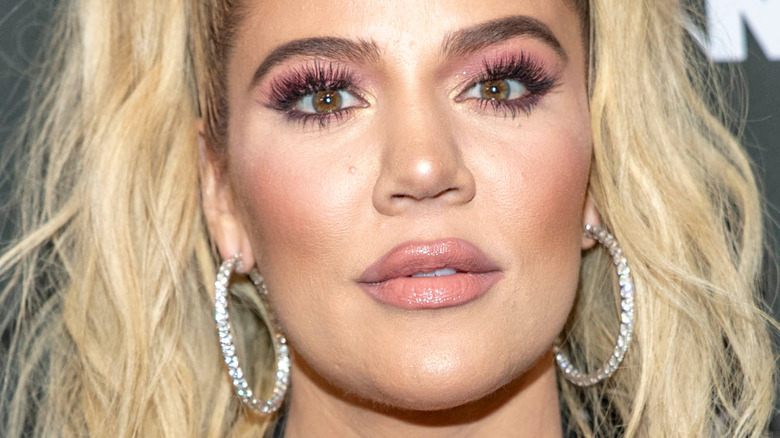 Eugene Powers/Shutterstock
It isn't a secret that members of the Kardashian clan likes to use face filters and photoshop techniques to make their appearances stand out more on social media, per Pop Culture. Now Khloé Kardashian is the latest "Keeping Up With the Kardashians" star to get called out by fans for tinkering with photos. It all started in December 2021 when Kim Kardashian posted a picture of her daughter, Chicago West, hanging out at Disneyland alongside Khloé's daughter, True Thompson, with the caption, "lots of love." The two cousins were seen hanging out together sporting adorable Mickey Mouse headbands, except fans raised eyebrows immediately commenting, "Why does True look photoshopped?" and "True looks so photoshopped I'm wheezing."
And while celebrating her daughter's fourth birthday at Disneyland on April 12, Khloé accidentally confirmed it wasn't True in the photos posted in December 2021, per E! News. This certified the theories of many online, who had called out the reality sisters for photoshopping the picture all along. One fan replied back to the Good American designer about admitting to the editing fail tweeting. "not you ruining the lie LMAOOOOOOO." Another follower supported the reality star for just doing what was best for her family and replied, "Who gives a crap, you did nothing wrong. Sometimes you have to protect who's with you. Don't ever second guess your reasons for the things you do to protect anyone that's with you. Especially a child."
Let's see how Khloé let the truth slip, shall we?
Khloé Kardashian admitted to photoshopping True into Disneyland photos
On April 12, Khloé Kardashian posted on her Instagram Story that it was her daughter True Thompson's "first time" visiting Disneyland, Page Six reported. This forced the reality star to come clean about the photos posted on December 2021 at the theme park, which showed Chicago West standing next to True, who appeared shockingly more clear than her cousin. While trying to make light out of the situation, Khloé tweeted that same day and admitted to duping fans, "Welllppp I f**ked this one up. Anyways..... let's focus on something else."
The photoshop fail of True and Chicago first went viral the same month it was originally posted in December 2021 when TikToker maiachondrialmembrane claimed that the pics were edited. The user concluded that the trip actually happened in October 2021 and it was really Kylie Jenner's daughter, Stormi Webster, standing next to Chicago that day. However, the specific reason for switching out the cousin's faces in the photo is still unknown, per CinemaBlend.
While coming clean about the photoshop fail, the reality star plugged in her family's new Hulu show "The Kardashians," which is set to air on April 14. Adding a laughing emoji, Khloé told her followers, "Our show airs in a few days." And fans can't wait to see more into the lives of the Kardashian family and what really goes on behind the photos we see online.