Al Pacino And Jason Momoa's Recent Dinner Outing Had Fans Going Wild For A Funny Reason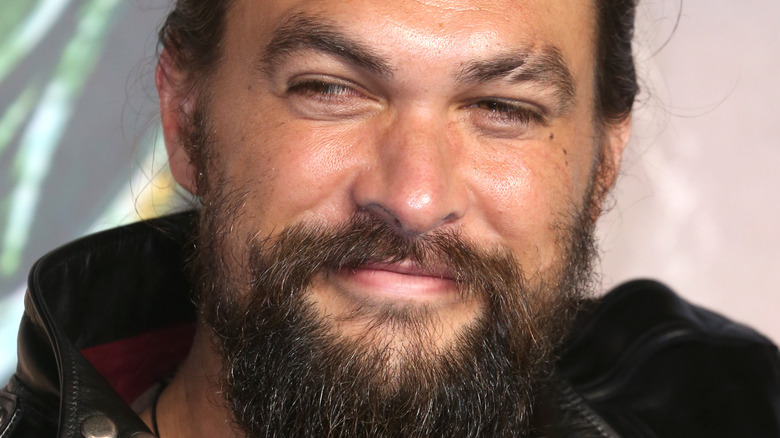 Cubankite/Shutterstock
Jason Momoa and Al Pacino are two acclaimed actors, who have each earned respect in Hollywood. While Momoa is known for successful projects like "Game of Thrones" and the "Aquaman" films, Pacino's legendary career includes starring in the "The Godfather" franchise and "Scarface." The two performers briefly crossed paths when Momoa was an aspiring actor in Los Angeles. He and a friend were walking along Melrose Avenue when they spotted Pacino in an indoor area, who had a spirited reaction to their ongoing stares.
"I just spent ... [a] half hour just walking [in front] of the window, to the point where [Pacino] is looking at us, and Al Pacino just flips us off and starts laughing," Momoa said on "Jimmy Kimmel Live!" in July 2021. "I felt really silly, but I get starstruck really easily," he added. In October 2021, Momoa also stated he was starstruck when working with Javier Bardem on the film, "Dune." He said to Entertainment Weekly he had "never stood and acted with that level of talent before." 
Momoa seems to be getting used to settings with fellow talented stars, as he was recently at a dinner gathering with Pacino. This outing resulted in a photo that has caught the attention of fans for an amusing reason.
Al Pacino's phone case has fans surprised and delighted
Beloved actor Jason Momoa recently sat down for dinner alongside Hollywood icon Al Pacino, as People reported. Momoa and Pacino were also with some friends at the meetup, which followed their attendance of a Julian Schnabel art exhibition. The occasion was documented in a series of photos Momoa posted on his Instagram account. 
Fans were quick to inspect the pictures, and they noticed an interesting detail about a phone case that was sitting on the dinner table in front of Pacino. Numerous images of the animated DreamWorks character, Shrek, were on Pacino's phone case, Momoa's followers realized. Pacino's daughter, Olivia, confirmed this to a fellow Instagram user, Vulture reported. This discovery has resulted in many social media comments from fans who are entertained by Pacino's love for "Shrek." 
Among those chiming in is the creative company behind the "Shrek" films. DreamWorks Animation responded to a Variety article about the story on Twitter by posting a photo of Shrek holding a phone case adorned with photos of Pacino and writing, "Real recognize real." If a fifth "Shrek" installment is ever confirmed, hopefully Pacino will partner up with DreamWorks and lend his voice to the popular animated story!