The Rihanna And A$AP Rocky Breakup Rumors Fully Explained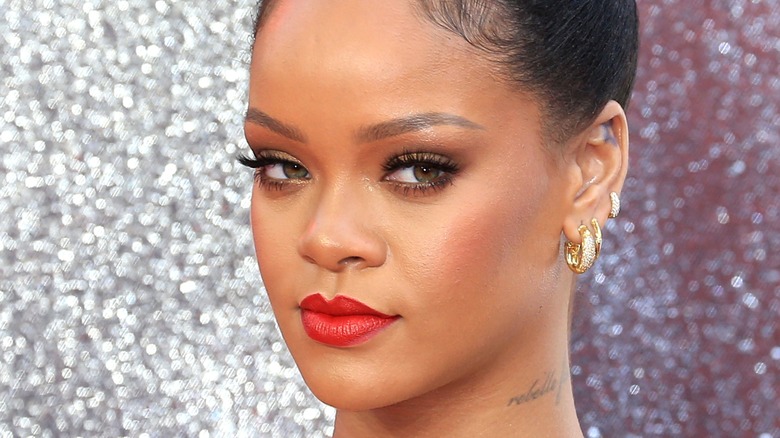 Cubankite/Shutterstock
Perhaps the only thing Rihanna could have announced to get her fans in more of a tizzy than her pregnancy was a new album — or that she was getting back together with Drizzy. Fans just can't resist dragging Drake into any drama in RiRi's life, and this was the case on April 14 when rumors about Rihanna and A$AP Rocky possibly calling it quits began to swirl on social media.
Before the gossip mill started grinding away, there weren't really any signs that Rihanna and Rocky's relationship was, well, rocky at all. The pair were first linked in January 2020 when an insider dished to The Sun, "It's really casual between them." By that December, they were serious enough that they were spending the Christmas holidays together in RiRi's home country of Barbados, per People. "I think when you know, you know. She's the One," Rocky said of Rihanna in a May 2021 GQ interview. He also described her as "the love of my life."
RiRi revealed that she was pregnant in January by casually strolling down a street in Harlem with her baby bump exposed, per Page Six. In an interview for the May issue of Vogue, she said that she was "certainly not planning against" trying for a baby with Rocky. "I just feel like I can do any part of life by his side," she said. So what could possibly split this growing family up?
Why fans were convinced A$AP Rocky cheated on Rihanna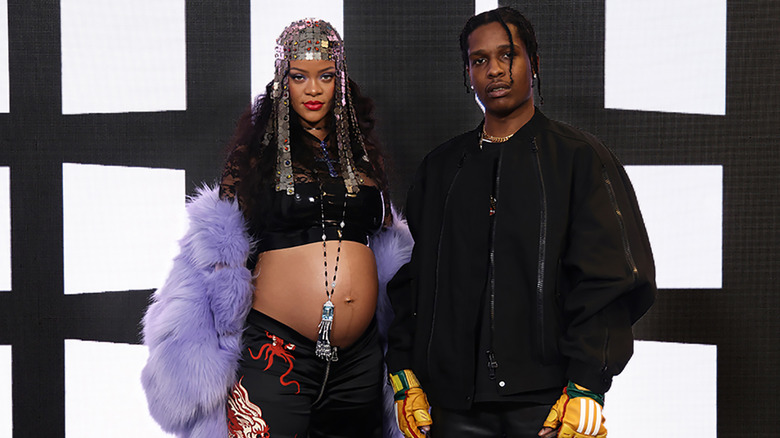 Vittorio Zunino Celotto/Getty Images
"What I love the most about us? Transparency with everything," Rihanna told Vogue of her relationship with A$AP Rocky. However, thanks to rumors making the rounds on social media, fans became convinced that Rocky had engaged in some very shady behavior. "Rihanna broke up with him after she caught him cheating with shoe designer Amina Muaddi," read a viral tweet. Per XXL, there were also claims that a tearful RiRi was recently seen crying at a Los Angeles eatery and leaving without him.
However, an insider with ties to RiRi and Rocky told TMZ that the rumors are "100% false on both counts." The source added, "They're fine." The denial came after the internet had way too much fun imagining how RiRi's ex Drake would react if she and Rocky really did break up. One Twitter user joked that Drake concocted the cheating rumor himself, and another picked out a sweatshirt for the "God's Plan" singer: "I'm not the stepfather," it reads. "I'm the father that stepped up."
Twitter also had plenty to say after TMZ debunked the rumors. "People just can't stand to see people winning, they have to make up stuff," read one tweet. "Rihanna, ASAP, and Amina are owed several apologies," another person wrote. As for RiRi and Rocky, they might be too busy planning for parenthood to be bothered by the gossip; Rihanna told Vogue that Rocky is excited about designing their little one's nursery. Awww!