Why Fans Think Britney Spears Dropped A Hint About Her New Baby's Name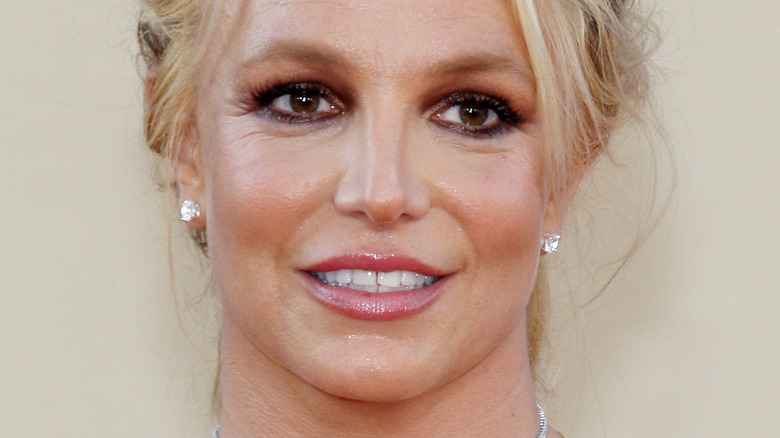 Tinseltown/Shutterstock
Britney Spears and fiancé Sam Asghari have not been shy about taking fans along on their pregnancy journey thus far. In an April 11 Instagram post, Spears dropped a casually confusing announcement about her pregnancy, writing, "I lost so much weight to go on my Maui trip only to gain it back." After sharing that Asghari joked about her being "food pregnant," Spears revealed she "got a pregnancy test ... and uhhhhh well ... I am having a baby." While many fans didn't know whether to take Spears seriously at the time, Asghari confirmed the news later that day. "Fatherhood is something i have always looked forward to and i don't take lightly," Asghari wrote alongside an image of a lion, lioness, and their cub.
Spears continued her free-flowing meditations on pregnancy on Instagram, sharing her anxieties with followers in an April 13 post. Stating that her own mother "always butted heads" with her when she was younger, Spears wrote, "I'm so scared to make a mistake ... Will I be thoughtful enough ??? Will I be instinctive enough ???" However, the singer's pregnancy so far hasn't all been worry and existential crises. Spears let loose in a recent Instagram video that showed her trying on a variety of belly-baring outfits, captioning that she wanted to "model my clothes now before I really start showing." 
It is one cryptic April post, however, that has fans wondering if Spears has subtly revealed her baby's name.
Is Britney Spears' post about her baby's name, or something much darker?
With one cropped photo of her face and a cryptic caption, the Internet went crazy over an April 14 Britney Spears Instagram post. With a photo showcasing only half the singer's face, Spears' accompanying caption was a series of eye emoji, followed by heart emoji and finally, the word "ROSE." Many fans wondered if Spears was spelling out an Easter Egg about her upcoming baby's name. "Its a girl!???" one asked in the comments, while another exclaimed, "omg how precious would that be!!!! Rose spears asghari!!" 
Spears' zoomed-in eye, with dark circles and red blotches around it, was the true focus of her comments section. Many wondered if the singer was drawing attention to an injury, with one fan writing, "Looks like a black eye with so much sadness in your beautiful eye... I hope you'll be able to share everything with us soon." Others went down a deeper conspiracy theory hole, as often happens with celebrity posts concerning eye imagery. One fan noted, "Oo illuminati- all seeing eye." 
All theories aside, as one eagle-eyed fan account pointed out, the zoomed-in photo Spears used is a repost from August 2020... so, who knows?