The Carl Lentz Cheating Controversy Ignites With A Wild Claim About His Wife And A Babysitter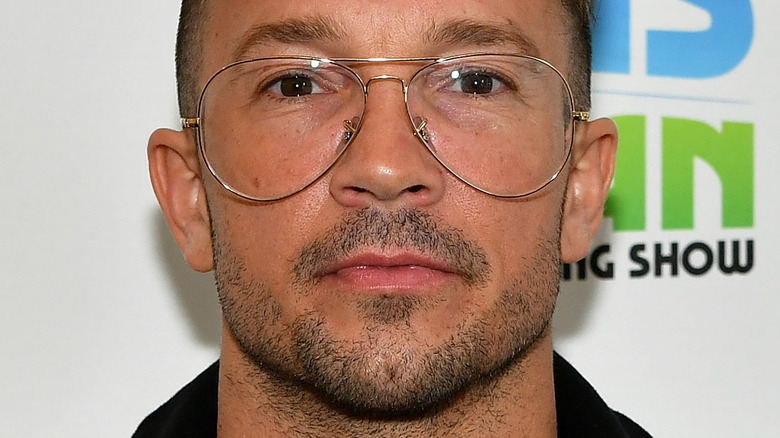 Slaven Vlasic/Getty Images
Megachurch Hillsong gained notoriety for being a church to the stars. At one point, celebs including Selena Gomez, Justin Bieber, Hailey Bieber, and Chris Pratt were reported to have attended its services, according to Glamour. But, in October 2020, Hillsong made headlines after the pastor of its New York branch — Carl Lentz — was fired for "moral failures," per People. "Today Hillsong Church East Coast advised our congregation that we have terminated the employment of Pastor Carl Lentz," church founder Brian Houston told People in a statement, adding that the move came following "ongoing discussions in relation to leadership issues and breaches of trust." Carl, who was once a close confidante of Bieber's, took a forthright approach to the scandal on Instagram, admitting that he had cheated on his wife, Laura Lentz. "I was unfaithful in my marriage, the most important relationship in my life and held accountable for that," he wrote.
Since Carl's ousting, Hillsong has continued to decline. Per The New York Times, Houston resigned after "breaching the church's code of conduct" and Hillsong shuttered many of its church locations throughout the United States. As for Carl, Bustle reported that he and his family relocated to Florida, while Laura is "continuing on [her] journey of healing" and appears to be pursuing a career in interior design. However, while the couple attempts to recoup from the fallout, the scandals continue to mount — this time, involving Carl, Laura, and their one-time nanny.
Ex-nanny accuses the Lentz family of sexual and emotional abuse
As detailed in a 2021 Medium essay, Leona Kimes wrote that she had experienced emotional and sexual abuse while working as a nanny in the homes of NYC Hillsong's lead pastors. Though Carl and Laura Lentz's names were never mentioned, it was clear that they were the subjects of the piece, per People. "Laura and Carl Lentz vehemently deny the allegations and, in addition to that, have irrefutable proof the events did not happen as Leona Kimes has described," the couple told the outlet in a statement. However, in April, the Christian Post published a report following an investigation into Hillsong by a New York-based law firm that uncovered some shady dealings between Carl and Kimes.
For example, Laura once walked in on Carl and Kimes as they were engaging in intimate relations on the couch, according to the outlet. "One night ... Leona was introduced to marijuana for the first time. ... Leona stated that she was practically passed out on the couch while Carl massaged her legs. Laura then walked into the room and caught them," the report stated. Laura then reacted by "punch[ing] Leona in the face with a closed fist two or three times." This incident was not the only time Carl was allegedly unfaithful to Laura. Per the Christian Post, he had an affair with jewelry designer Ranin Karim — which ultimately resulted in his firing — and was accused of having frequent massages, which "may or may not" have been sexual in nature.