The Truth About RHOC Star Noella Bergener's Messy Divorce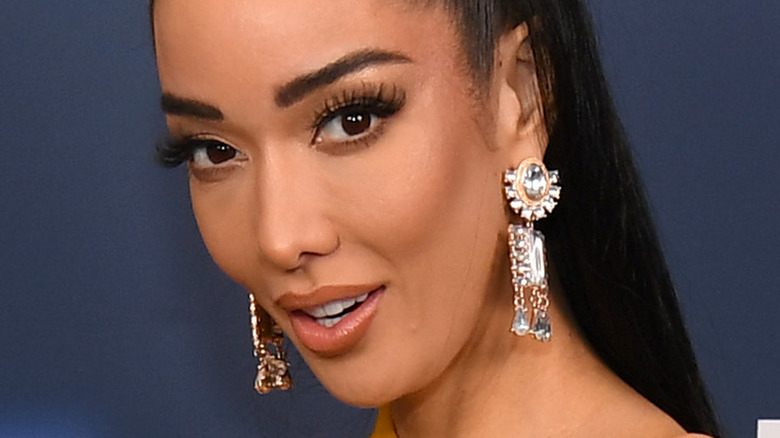 Jon Kopaloff/Getty Images
During a January 5 interview with Us Weekly, Noella Bergener revealed she was dating someone new less than a year after news broke that she and husband James Bergener were ending their marriage. Apparently, this new beau isn't a stranger, but rather an old family friend. Noella explained, "He knew me married and knew my husband. That's not weird at all, but we just have a lot of love and respect for each other." "The Real Housewives of Orange County" cast member added that, during her and James' split, this man lent her plenty of support. She stated, "He was one of those that just constantly checked in on me. Like, the moment James left, just like, 'How are you? Did you need anything? Do the kids need anything?' Like, one of those." The duo have been officially dating since December 2021.
Noella shocked fans of the reality television show when she revealed in an episode of "RHOC" that James had filed for divorce, according to Bravo. In a private interview, she said, "I'm lost. I'm completely lost. I don't know what to do, I don't know what to think," She added, "It's just a really, really bad dream." James filed the divorce papers in Puerto Rico, where they moved in late 2020, according to Us Weekly.
Since the divorce filing, there has been plenty of drama between the former couple as they work out the details of their separation and attempt to come to a settlement.
Noella and James Bergener have different stories about the way the divorce went down
Since filing for divorce, Noella and James Bergener have both publicly voiced their respective sides of the story, mostly on social media. In December 2021, the personal injury lawyer took to Instagram to address details about the pair's divorce in a video. He stated that while he was supportive of Noella's decision to appear on "The Real Housewives of Orange County," they barely spoke once she moved to California for filming except for occasional fighting. That was when, he said, she retained a lawyer. "And then shortly thereafter, my attorney reached out to me and said Noella's filing for separation," he explained. "I had to leave. At that time it was clear that Noella chose the show over me and the family."
In response to this video, Noella left an Instagram post of her own in which she accused her ex-husband of lying about the course of events. She wrote that she did not choose the show over her marriage, nor did she file for separation first. "I retained an attorney with his blessing," the reality television star penned. "He paid the retainer!" She also called him out for saying they were divorced at the time of the video. "James fraudulently filed for divorce in Puerto Rico due to his tax scheme," Noella explained. "It is under appeal since he lied multiple times in his testimony and jurisdiction is in California where we're residents and were married."
Noella Bergener claims James Bergener is trying to stall the divorce
At the end of January, Noella Bergener told Page Six that James Bergener was holding up the finalization of the divorce. "There's a lot in divorce that's about control and micro-managing and kind of wanting to torture the ex," she stated, adding, "There's a little bit of that at play going on here." The reality television star revealed that they have been trying to reach a settlement since September 2021, explaining, "We go one step forward and 10 steps backwards."
Noella shed further light on why the settlement has been delayed in a December 2021 Instagram post. "My cards are still shut off, he hasn't paid a dime in support, he stopped paying for our home and is currently holding up our divorce unless I sign a statement saying that I lied about him, his business partner and his brand," she wrote. They also have yet to come to an agreement regarding custody of their son, James Jr.
Aside from a couple of Instagram videos in which he shared his side of the story, James has been less willing to talk to media outlets about the divorce. In a December 2021 statement to People, he contradicted Noella's claim that the divorce had yet to be finalized. "A judge in Puerto Rico, where I am a resident, has already granted our divorce," he wrote, adding, "I look forward to addressing all these false accusations in a courtroom."