Colin Kaepernick Proves He's Willing To Do Anything To Get His Career Back On Track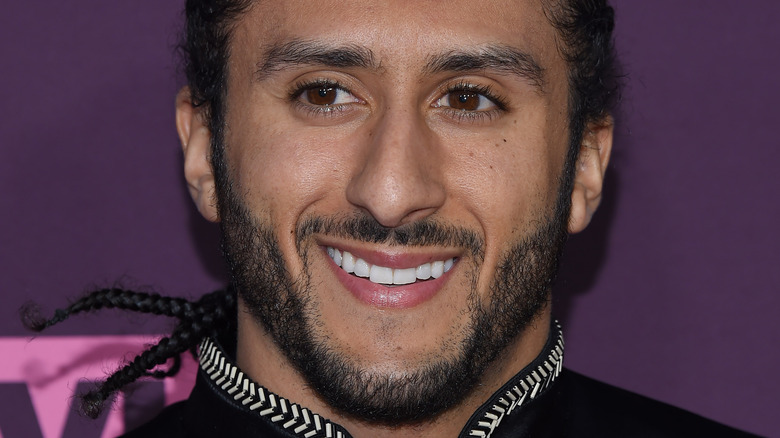 DFree/Shutterstock
Former San Francisco 49ers quarterback Colin Kaepernick helped his team reach the Super Bowl in 2012 — but he's best known for another, more polarizing reason. In 2016, the athlete made headlines when he began kneeling during the national anthem to peacefully protest social injustice and police brutality, per Sports Illustrated. Several of his fellow NFL players followed suit, leading then-President Donald Trump to condemn Kaepernick, as The Guardian reported. The polarizing nature of these protests culminated in Kaepernick's decision to leave the 49ers in 2017 and become a free agent, per Republic World. The outlet further stated that Kaepernick opted out after being informed that the franchise was planning to let him go, as he "did not fit into incoming head coach Kyle Shanahan's plans." However, the question remained: Would Kaepernick have stayed with the team had he not knelt in the first place? To date, the quarterback has not played in the NFL since 2016.
Following his ousting, Kaepernick has become more active in social justice and activism work. He made good on his pledge to raise $20 million in support of social justice and human rights organizations, launched the Autopsy Initiative "for families of victims of police-related deaths," joined the board of Medium to write about racism in America, inked a deal with Disney, and headlined campaigns for the likes of Nike. However, his career interests remain close to home. In April, Kaepernick sat down with "I Am Athlete," where he discussed his plans to return to the NFL.
Colin Kaepernick is willing to start from the bottom to get to the top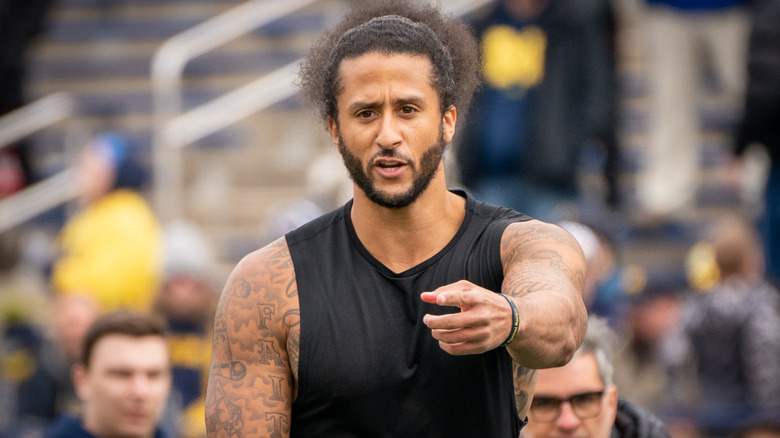 Jaime Crawford/Getty Images
Since leaving the NFL, Colin Kaepernick has made no qualms about the fact he'd like to return one day. In March, Sports Illustrated reported that he was seen training with several pro quarterbacks, including Justin Fields, Josh Dobbs, and Tyrod Taylor. The move came after Kaepernick tweeted that he would like to join some NFL workouts, sparking speculation that he was serious about returning to the league. A month later, Kaepernick was explicit about his desire to play professionally as a quarterback when he appeared on "I Am Athlete" with former NFL players Chad Johnson, Adam "Pacman" Jones, and Brandon Marshall.
In fact, he's so eager to get back to throwing the pigskin, that he's willing to start from the bottom to get there. "I know I have to find my way back in. So, if I have to come in as a backup, that's fine," Kaepernick said, via TMZ Sports. That said, he intends to prove himself quickly. "When I prove that I'm a starter, I want to be able to step on the field as such," he added, explaining he's just waiting for the opportunity. Even given his time away, the one-time quarterback is confident he can contribute to any team. "I can help make you a better team," Kaepernick told reporters earlier in April, per WXYZ-TV. "I can help you win games." All the man really needs is an opening.