The Truth About Camilla Luddington's Husband, Matthew Alan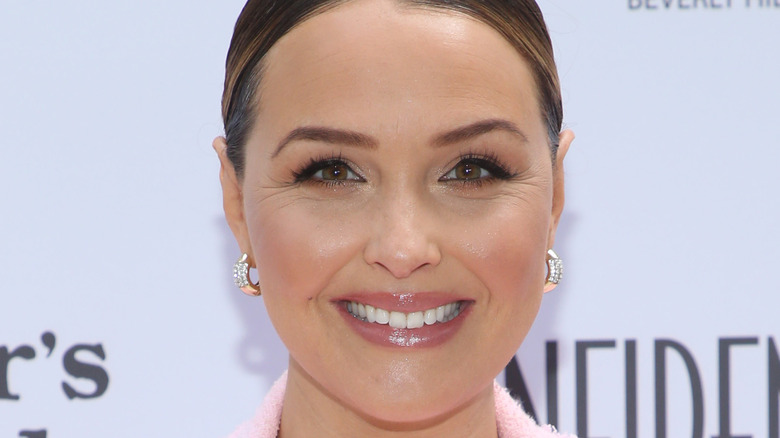 Phillip Faraone/Getty Images
Camilla Luddington is best known for her role as a Dr. Jo Wilson on ABC's hit series "Grey's Anatomy." Fanatics of the show know that Wilson has not only had a rough upbringing, but she's had a troubled love life as well. However, in real life — it's quite the opposite. According to Us Weekly, Luddington and Matthew Alan dated for several years before officially tying the knot in August 2019 during an intimate ceremony on the California waterfront. Saying "I Do" was very important to the couple, especially since their 2-year-old daughter Hayden was there to witness her parent's special union. 
"We're just ready to do the damn thing," Luddington said during an interview with People. "There's something romantic to us about solidifying that family unit by having the ceremony and actually having Hayden present. To be honest, I'm just excited to get into that new normal of married life." 
A year after their wedding, the "True Blood" star shared a candid photo on Instagram announcing the arrival of their second child together — a baby boy, Lucas. Although juggling two kids and being a full-time actor may be hard for Luddington, Alan knows the in and outs of the job very well. 
Matthew Alan was studying to be a teacher before he started acting
Rodin Eckenroth/Getty Images
Matthew Alan, born Matthew Gerbig, and his wife Camilla Luddington both share a love for acting. According to Daily Actor, the Indiana native discovered his passion for being onscreen while he was actually in school studying to be a teacher at Western Kentucky University. During his time there, he was working in communications and had just started the semester to get his master's degree. But, that all changed when he came across the "The Laramie Project." He told the outlet, "I kind of just fell upon this play that I fell in love with at the time and just kind of changed gears entirely." He continued, "I read that play and that's when I was like, 'Oh, I like the idea of actually performing and acting for a career."' 
With no prior experience in the industry, Alan decided to completely change the direction in which his life was going. He dropped out of graduate school and enrolled into the Academy of Dramatic Arts in Los Angeles. "I went there for a year and that's kind of where I got my feet wet in the whole Los Angeles acting and audition world," he added. 
Alan's first big role was on "Veronica Mars." According to IMDb, he has since appeared on shows like "NCIS," "Castle Rock," "Snowfall," and "Modern Family," to name a few. But, even though he and his wife are in the same industry, it hasn't always been easy. 
Matthew Alan was jealous of Camilla's Grey's wedding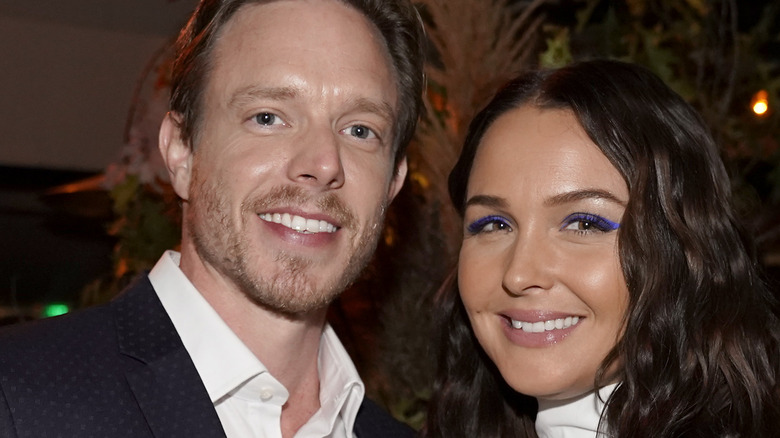 Erik Voake/Getty Images
Matthew Alan and Camilla Luddington crossed paths professionally in 2017 when, according to IMDb, Alan appeared on a 2017 episode "Grey's Anatomy." The couple had already been dating for several years, as Us Weekly reports they have been together since 2008. However, the Alan visited the "Grey's" set to witness his then-fiance marry her onscreen husband, Dr. Alex Karev. During an interview with ET, Luddington revealed Alan was a little jealous that she was going to experience a wedding with someone else before the two actually got married. 
"I was leaving that morning and he was like, 'Bye! Good luck with your wedding to someone else,'" she said. Regardless of the circumstance, Luddington made sure to be conscious of certain details so they didn't mirror anything she wanted to experience in her real ceremony. "When we were picking out dresses, I tried to avoid things I wanted," she added. "So, getting married doesn't feel in any way spoiled or like I've already done it on TV."
Luddington admitted her then-fiance was very understanding and together made light of the situation. "We even joked about, 'Hey should we just run down the aisle and just quickly say our vows to the actor priest and be done with it?'"