Fans Rally Around Cristiano Ronaldo After His Tragic Loss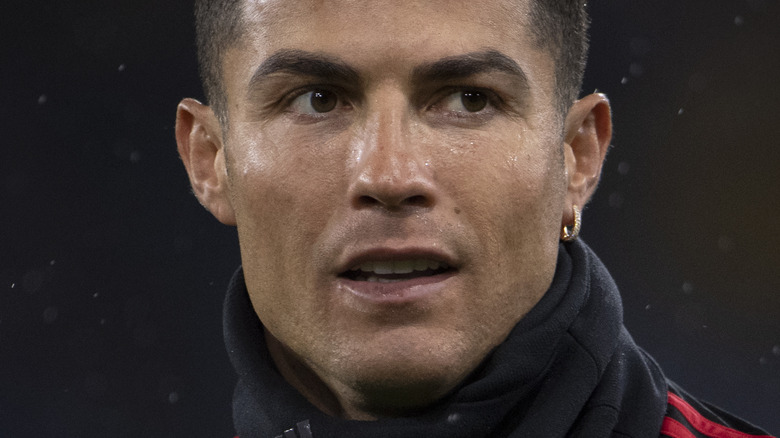 Visionhaus/Getty Images
The world was absolutely devastated for Cristiano Ronaldo and his girlfriend, Georgina Rodriguez, when they announced on April 18 that their newborn son had tragically died. "It is the greatest pain that any parents can feel," Ronaldo wrote in his Instagram post. "Only the birth of our baby girl gives us the strength to love this moment with some hope and happiness."
With a record-breaking 429 million followers on his Instagram as of this writing, the Manchester United player is absolutely beloved by people across the entire world. So the heartbreaking news of Ronaldo's son triggered an outpouring of support for the couple from Ronaldo's friends, teammates, and millions of fans. "Your pain is our pain," the Manchester United team commented under Ronaldo's unfortunate announcement. "Sending love and strength to you and the family at this time."
In the wake of this devastating news, Ronaldo has decided to take time off from soccer in order to mourn. During his time off, both Manchester United and Liverpool F.C. fans united for a heartwarming support during the sports legend's trying time.
Fans put aside their differences to sing 'You'll Never Walk Alone' for Cristiano Ronaldo
On April 19, Cristiano Ronaldo was understandably absent from the Manchester United v. Liverpool F.C. match just one day after announcing his son's death. Under different circumstances, soccer fans would usually be upset to hear that their star player had decided to not play. But both Manchester United and Liverpool fans — who are famous rivals — joined forces to show their support for Ronaldo.
During the seventh minute of the game, both Manchester and Liverpool fans broke out into applause for a full 60 seconds. They planned the applause for the seventh minute in honor of Ronaldo's jersey number, No. 7, per the Daily Mail. The arena also sang the tear-jerking song "You'll Never Walk Alone," which has become an unofficial anthem for Liverpool. The song's stirring lyrics, "Walk on / Walk on / With hope in your heart / And you'll never walk alone," were heard echoing throughout the giant arena. According to the Daily Mail, the players of both Manchester and Liverpool also donned black armbands during the game for Ronaldo's loss.
In times like these, it is impossible to imagine what Ronaldo could possibly be going through. Thankfully, he has the support of millions of people who are standing by him and who are understanding that he needs to take time off in order to someday come back stronger than ever.