The Unlikely Celebrity Khloé Kardashian Turned To In Her Time Of Distress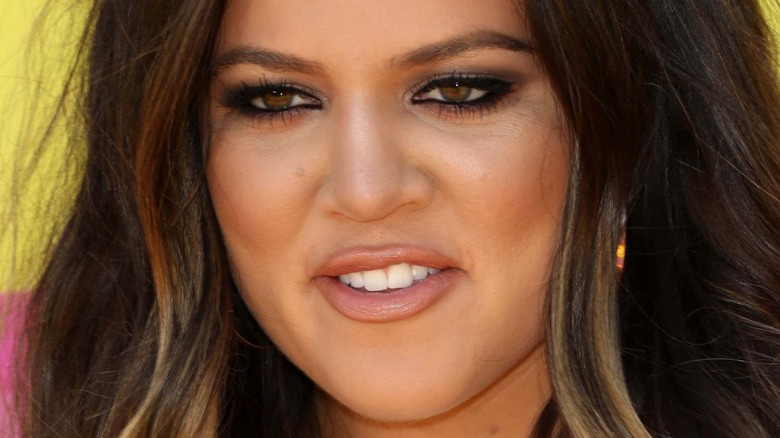 s_bukley/Shutterstock
Khloé Kardashian had a somewhat unlikely comrade when it comes to all the negativity she faces on a daily basis. It's no secret that "The Kardashians" star has had her fair share of haters and social media trolls over the years, with the reality star seemingly being constantly called out for pretty much every single thing she does.
Case and point? That drama over Kardashian's hands. Early 2022 saw the star fall victim to cruel comments on Instagram after trolls began criticizing her over her slim hands. One set of snaps shared in January showed Kardashian in a car while rocking all beige everything (including nails!) and saw some vicious responses, including the viral comment, "The chicken hand" with a crying laughing emoji. When the trolling continued on other uploads, Kardashian served up a classy comeback, telling a troll on Instagram, "My hands are beautiful baby."
The there was the drama over her apparently holding her daughter, True Thompson, a little too much. That inspired another retort from the reality star, who made it clear she'll do whatever she wants with her little girl. "For the people who comment that I hold True too much... number 1 I'm gonna hold my baby until I can't hold her anymore," she tweeted in April. "Number 2 when there's tons of cameras around, flashing lights, peps yelling things...I want my baby to feel safe. Worry about your own children. We good over here."
James Corden to the rescue
Who knew? It looks like Khloé Kardashian has a good friend in British comedian and "The Late Late Show" host James Corden. A clip from Hulu's "The Kardashians" obtained by Daily Mail shows Corden comforting Kardashian ahead of an appearance on the show, which aired in September 2021.
Kardashian admitted she was feeling nervous because of the negativity she'd likely receive post-interview, to which the Brit told her, "Oh f*** that! Why are you even looking at it? All you have to remember is none of these things are about you. It's only a representation and a reflection of them." Corden then said that other people's opinions shouldn't concern the star, adding, "How can anyone judge anyone when they don't know them? These words only exist if I give them any power." Kardashian admitted she was about to start crying and noted the comedian was right, as Corden added, "Look, you're drinking champagne at 4pm on Monday and you're at work, we've won!"
Kardashian has previously spoken out about trying to ignore the haters, admitting back in 2018 that she's been known to step away from social media when things just get too much. "It's good to take a break and to disconnect because it doesn't matter in my real world," she told E! News. "People's comments like that, my friends and family know who I am, they know our intentions and our hearts and that just doesn't matter in my everyday life."