Jessica Simpson's Questionable Attempt At An Instagram Ad Has Fans Calling For Her Firing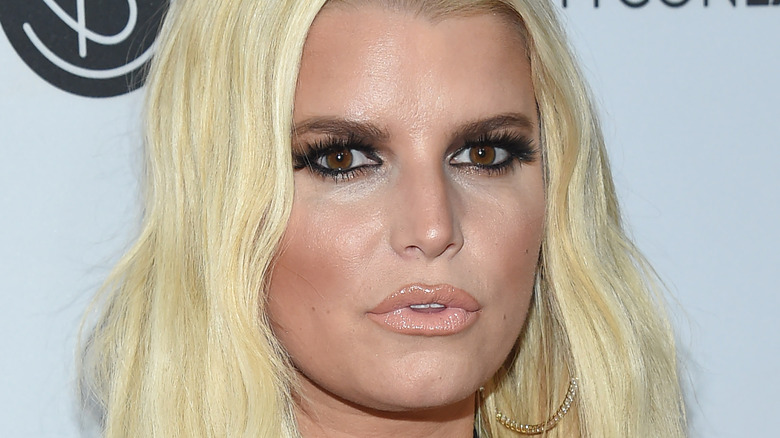 DFree/Shutterstock
Jessica Simpson must possess a great deal of knowledge about what goes into a successful online ad campaign at this point. After all, the multi-hyphenate entertainer and mom has built an apparel brand worth a billion dollars, and she often serves as the model for pieces from The Jessica Simpson Collection. True, the label's parent company did go bankrupt — but it was after Simpson sold it. The "A Little Bit" singer told CNBC she "drained everything to buy [the company] back," and when Simpson shared her first promotional images on Instagram after acquiring it, her modeling shots racked up over 59,000 likes.
But Simpson's appeal goes beyond apparel. She's scored a sponsorship deal with a prescription eczema cream brand, per People, and she reportedly received upwards of $4 million to appear in an ad campaign for Weight Watchers in 2012. The savvy businesswoman managed to avoid showing off her body in her first commercial for the company, per The Hollywood Reporter.
"I have learned so many lessons when it comes to business, but I feel like the most empowering lesson that I have learned is failure is okay sometimes," Simpson told Forbes in 2014. She might want to remind herself of this after reading the responses to her latest ad. In it, she shares her solution for dealing with what she described to Us Weekly as the "invisible monsters that we all have to tackle every day."
Jessica Simpson slurs her words while talking seasonal allergies
In a series of videos posted to her Instagram Story on April 19, Jessica Simpson kicked things off by talking about climate change and wildfires. But "The Dukes of Hazzard" star wasn't addressing her millions of followers to discuss potential solutions to these problems; she soon segued into touting the product in her hand. "What many people don't realize are some of the other effects of rising temperatures affecting us right now, like the increased pollen count and the longer, harsher allergy season," she said. Her solution? Flonase.
It wasn't Simpson's spiel that caught her followers' attention, but her delivery. Her eyes kept moving around — presumably because she was reading cue cards — and some observers noted that she was slurring her words. "Home girl needs to practice learning lines and looking at the camera," read one Instagram comment. Another critic wrote, "Flonase please hire a professional. That was embarrassing to watch." A third person snarked, "Does Flonase cause plump lips as a side effect?" FYI, Simpson has admitted to getting Restylane injected in her lips before, but in 2006, she told Glamour (via Us Weekly) that she preferred her pout without it, saying, "It looked fake to me."
This latest wave of criticism likely won't stop Simpson from promoting products online. "[I] want to go into home interior design, I want to go into health and wellness for sure," she told People. "There are so many things."