Blac Chyna's Mom Has Harsh Words For The Kardashian Family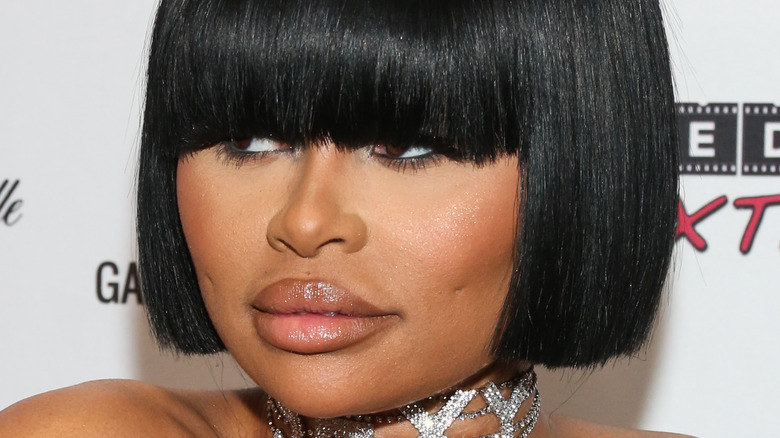 Paul Archuleta/Getty Images
Blac Chyna's mom, Tokyo Toni, has made it clear that she's not a fan of the Kardashians. Those feelings of disdain for the famous family have come to light now that they are facing her daughter in court.
In 2017, Chyna filed a $100 million lawsuit against the Kardashians for allegedly spoiling her career as a reality star. Per Variety, she also accused her ex Rob Kardashian of being abusive toward her. She went ahead and also sued Kris Jenner, Kim Kardashian, Khloé Kardashian, Kourtney Kardashian, Kendall Jenner, and Kylie Jenner "over claims of defamation, assault, battery, domestic violence, and interference with prospective economic relations." Meanwhile, the Kardashians alleged that it was actually Chyna who was abusive toward Rob.
Chyna brought her mom on the first day in court, and on that same evening, Tokyo Toni appeared on Instagram Live and blasted the Kardashians. The "Finding Love ASAP" star did not mince her words at all, and even went as far as threatening the judge in charge of the trial.
Tokyo Toni said that the Kardashians 'looked scary'
Blac Chyna's mother Tokyo Toni didn't seem too pleased after meeting the Kardashians in court. On Instagram Live, she reportedly made several harsh comments about the members of the family, saying that they "looked scary" in person.
"It's just so sad. Then Khloé was shaking her f***king head off everything every juror said," she told her viewers, per Page Six. "You all right, b***h? Did you have some Xanax or something before you got there, b***h?" She also added that Kris Jenner appeared "old and decrepit." Toni went on to reference the trial, saying that it will only get more complicated from here on out. "This s**t gonna get crazy. I don't give a f**k," she continued. To make matters worse, she called out the judge as well. "I'm gonna get that judge," she said, per TMZ.
Following the Instagram Live, a source told Us Weekly that someone brought up what she said in court, and now Toni is barred from entering the courtroom. It's unclear whether she's banned from the rest of the trial, but given that attacks on judges and lawyers have intensified in recent years, it's possible that her presence will no longer be welcomed in subsequent hearings.