Why Pete Davidson Is Reportedly Being Advised Not To Star On The Kardashians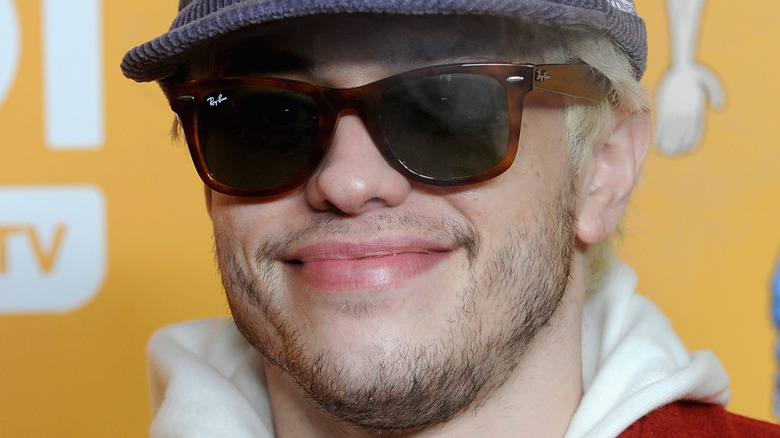 Albert L. Ortega/Getty Images
The Kardashians' men aren't exactly strangers when it comes to being in front of the reality TV cameras that follow the famous family pretty much everywhere they go. Case and point? All the boyfriends and husbands that have popped up on "Keeping Up with the Kardashians" over the years, from Scott Disick and Lamar Odom (who landed "Khloe & Lamar," his own spin-off with his then wife, Khloé Kardashian), to Kris Humphries, and Corey Gamble, to name but a few.
While there have been exceptions to the rule (Kanye West, for example, reportedly made quite the point of not getting involved in that world while married to Kim Kardashian aside from a few cameos, per Radar Online) many fans have been hoping Kim's new man, Pete Davidson, could pop up sometime. Well, he is pretty comfortable in front of the cameras, seeing as he's a cast member on "Saturday Night Live," after all.
It seemed for a moment that fans may well have gotten their way too, as Davidson publicly supported his lady love when the K family stepped out for the premiere of the Hulu series "The Kardashians" in April, but if you were hoping to see Davidson potentially recreate that time Humphries proposed to Kim in a bedroom with rose petals and candles while a crew filmed the whole thing? Well, you might be disappointed, because it sounds like that's a no-go.
Pete Davidson's warning
Pete Davidson won't be filming with the Kardashians anytime soon. Bible. Well, kind of bible, as he's reportedly been advised by his inner circle to stay away from the cameras that follow his girlfriend, Kim Kardashian, and her family. "It's a sure way to kill the relationship. Getting involved in the show decimates every man," a source told Page Six, who also suggested his team don't want him overexposed. "Before he met Kim, no one knew what Pete was doing [all the time]." 
However, another source claimed that doesn't mean there's a hard and fast rule against Davidson cozy up to Kim on Hulu following "The Kardashians"' debut. "He feels no pressure to be in the show. Neither do the people around him. If it happens that he's on the show, it happens," they said.
We already know Davidson is in with Kim's family — he even sent flowers to Khloé Kardashian for Valentine's Day! – but that doesn't mean he was ever intended to be on Season 1. The twosome's romance was only just beginning as the cameras started rolling, and Kim has mentioned that she didn't film with her man. "I'm not opposed to it. It's just not what he does," she told Variety in March, admitting Davidson will be alluded to even if he's not seen. "[Viewers will see] how we met and who reached out to who and how it happened and all the details that everyone wants to know," she teased.