Kim Kardashian And Pete Davidson's PDA Is Causing A Stir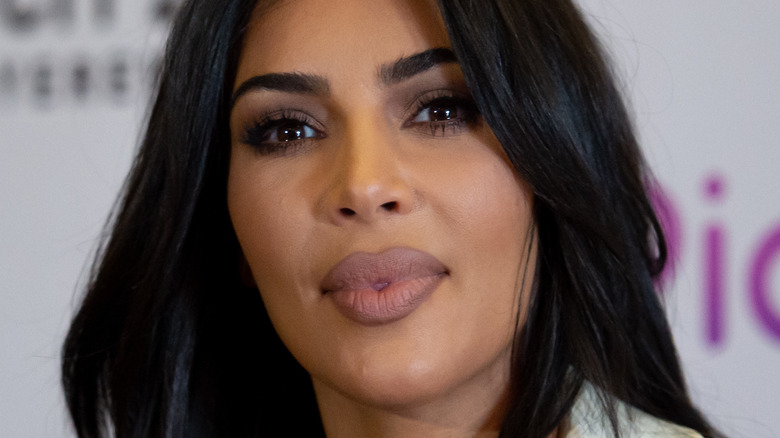 Asatur Yesayants/Shutterstock
To be fair, everything Kim Kardashian and Pete Davidson do causes a stir. Still, considering the difficult time Kardashian and her new beau Davidson have had recently — caused specifically by her ex-husband Kanye "Ye" West — it's a breath of fresh air to see the new lovers spare a moment of happiness and relaxation.
In February 2021, Kardashian filed for a divorce from Ye, her husband since 2014. Rumors of her new relationship with Davidson, the funnyman cast member of "Saturday Night Live," started when Kardashian hosted the sketch show in October 2021 and the two kissed while playing Aladdin and Jasmine in a skit — though Kardashian and Davidson's first interaction apparently happened before that. The couple finally made their relationship Instagram official in March 2022. In the past few months, however, Ye seems to have had a difficult time coming to terms with the new relationship, publicly feuding with both Kardashian and Davidson in real life, on his social media posts, and in his disturbing music videos.
Fortunately, things seem to have subsided a bit, and with the red carpet premiere of Kardashian's new reality series on Hulu, "The Kardashians," she and Davidson have shared a lovely little moment of intimacy ... with the entire world.
Kim Kardashian referred to Pete Davidson as her 'late nite snack'
Kim Kardashian and her family celebrated their new Hulu reality series "The Kardashians" with a red-carpet premiere on April 7, and social media has been abuzz since then — especially since Pete Davidson arrived hand-in-hand with Kardashian. After the event, Kardashian, Davidson, her sister Kourtney, and her fiance Travis Barker all went with friends to Los Angeles restaurant Jon & Vinny's, per TMZ. There, they snacked on pizza, pasta, salad, chicken parm, and dessert made up of Funfetti cookies and ice cream. They even had some "Ham n Yeezy" pizza, a Jon & Vinny's favorite made from smoked ham, Caciocavallo and mozzarella cheeses, red onion, pickled chilis, and vodka sauce.
On April 11, Kardashian shared new photos from the evening on social media, snuggling in the corner of the booth. In one photo, Davidson's arms were wrapped around her, clad in her skintight silver Mugler gown, kissing her cheek while she hugged him back. In the second photo, clearly taken in succession, the two gazed longingly into each other's eyes. In her post on Instagram and Twitter, Kardashian officially labeled it "late nite snack." Indeed. The post has already garnered more than 7 million likes and over 70,000 comments.
She also recently revealed in a podcast interview with Hota Kotb (via the Daily Mail) that she wasn't expecting her romance with Davidson. "Sometimes things happen when you just least expect it," she said. "It was the last thing that I was really planning on."