Kanye West Threw Yet Another Wrench Into His Divorce From Kim Kardashian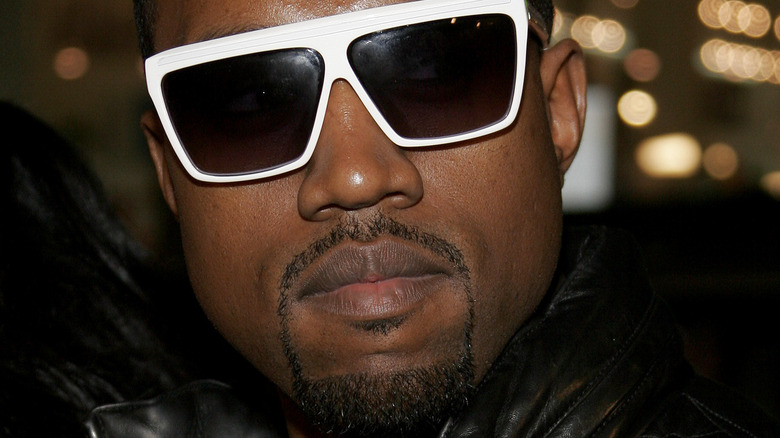 Tinseltown/Shutterstock
It's time to talk about the Kanye — or should we say "Ye" as he's now known — West of it all ... again. Ye's social media antics dominated the February news cycle, and it's looking like March won't be much different. In the midst of his divorce from Kim Kardashian, Ye uploaded a series of puzzling Instagram posts about his soon-to-be ex-wife and her new boyfriend, Pete Davidson.
After Ye posted on Instagram mocking Davidson's tattoos, questioning his past relationship with Ariana Grande, and comparing him to a Marvel villain (all of these posts have since been deleted), Kim reached out and begged him to stop as she feared for Davidson's safety, per The Daily Mail. Ye shared now-deleted screenshots of the conversation between himself and Kim as well as messages between himself and Davidson — none of which made Ye look very good. "SOMETIMES PEOPLE CALL ME CRAZY BUT TO BE IN LOVE IS TO BE CRAZY ABOUT SOMETHING AND I AM CRAZY ABOUT MY FAMILY," the rapper captioned one of his ranting posts, per BuzzFeed News.
After all the drama, it's safe to say that Kim is more ready than ever to finalize her divorce. We imagine she's eager to move forward with her relationship with Davidson and find an amicable way to co-parent with Ye. Ye, it seems, has other plans. Thanks to some recent decisions made by the eccentric rapper, it looks like Kim may have to wait longer than she'd hoped to finalize her divorce.
Ye is prepared to fight for Kim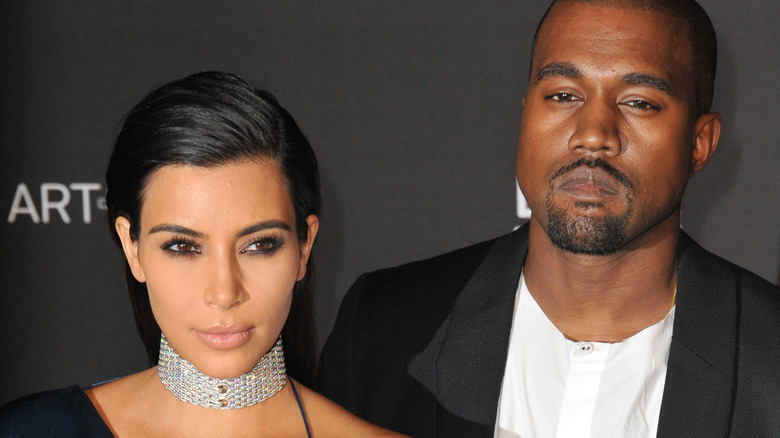 Featureflash Photo Agency/Shutterstock
On the eve of a crucial hearing regarding his divorce from Kim Kardashian, Kanye "Ye" West has done his best to delay the process. TMZ reported that Ye abruptly fired his lawyer Chris Melcher, the third attorney he's let go so far. The working relationship between Melcher and Ye had reportedly deteriorated drastically in recent months. Ye replaced Melcher with Samantha Spector, who is best known for representing Nicole Young in her recent divorce from Dr. Dre.
Evidently, Ye was displeased with Melcher's legal counsel and wanted an attorney who was more supportive of his interests. He is reportedly still determined to fight the divorce and get back together with Kim (never mind that he has a new girlfriend ... who looks very much like Kim). As for Kim, she's eager to settle things amicably. "It saddens me that Kanye continues to make [the divorce] impossible every step of the way," Kim wrote in an Instagram story earlier this year, per Page Six. "Hopefully he can finally respond to the third attorney he has had in the last year to resolve any issues amicably."
It's widely assumed that a judge will use the upcoming hearing to declare Kim legally single but not yet divorced, according to TMZ. Kim will appear in court virtually for the hearing, but Ye is not expected to attend, according to sources. Keep in mind this is Ye we're talking about, so anything is possible. Who knows? Maybe he'll Instagram Live the whole thing.