Twitter Is In Tatters Over Meghan Markle's Ukraine Flag Mishap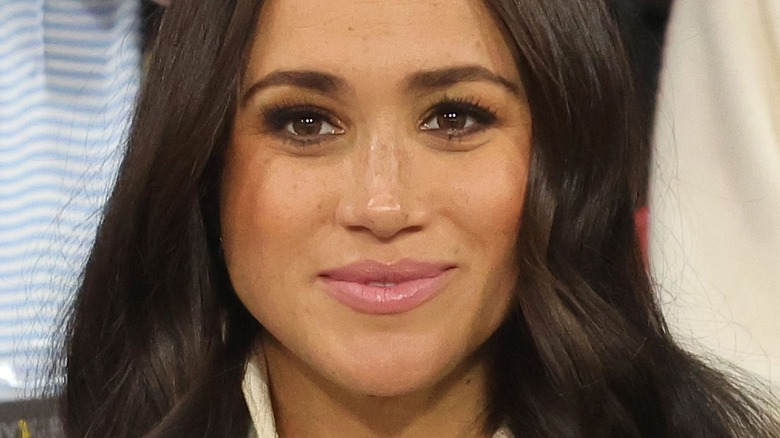 Chris Jackson/Getty Images
Prince Harry and Meghan Markle have certainly been busy traveling as of late. The former senior royals recently took a trip across the pond to Europe, their first European trip since stepping down in 2020. The two first stopped in England to visit Queen Elizabeth, which also happened to be the first time the two have seen the queen since stepping away from royal life and moving to California.
Then, Harry and Meghan were off to the Netherlands to host the Invictus Games, Harry's beloved sports competition he created for service personnel and veterans. The couple enjoyed a welcome reception for friends and family of competitors on April 15, where Meghan's all-white look turned heads. The Invictus Games' opening ceremony on April 16 was also a cute moment for the couple, as they shared a romantic kiss on stage and welcomed all of the competitors. Moreover, Meghan and Harry gave a little extra love to the Ukraine team, with the duchess remarking in her speech, "For each team, my husband and I both recognize it's been a lot to get here, both physically and emotionally, not least of which for the Ukraine team, whom we are all standing with" (via Today).
Aside from Invictus-related events, Harry and Meghan were able to fit a few other press appearances while on their Europe trip. One such appearance particularly got people talking on Twitter.
Twitter roasted Meghan Markle for her painting of the Ukraine flag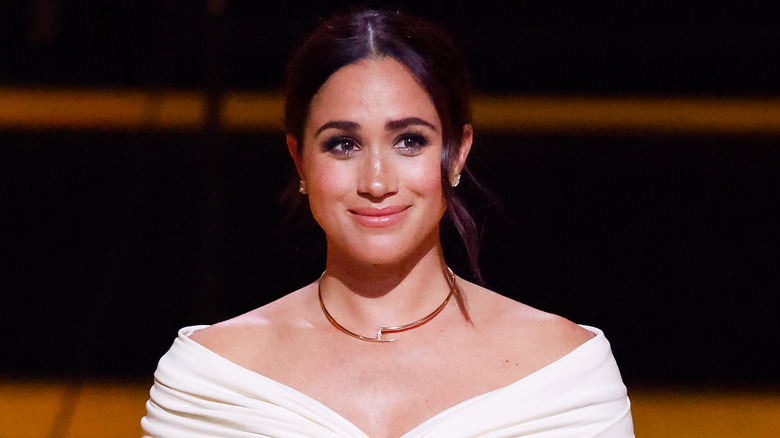 Max Mumby/indigo/Getty Images
While away to enjoy the Invictus Games in the Netherlands, Prince Harry and Meghan Markle enjoyed a few activities outside of sports. On April 17, Meghan sat down with some British families competing in the games for a book reading. At the event, Meghan also took the time to paint with some children. She's seen in a photo painting the word "peace" over what looks to be a Ukraine flag. Sadly, however, Meghan's attempt at showing support for the war-torn country did not go over so well on social media.
After Meghan's photo of her Ukraine flag was tweeted, several pointed out Meghan had gotten the flag wrong. She incorrectly painted a yellow stripe over a blue one, when it's actually the other way around on the Ukraine flag, and Twitter users went berserk. One user fumed, "This is nauseating! #MeghanMarkle painted the flag of #Ukraine️ UPSIDE DOWN!!! Couldn't she have googled the flag ... ??? But I guess not when everything she does is just for show." Another netizen seemed just as upset and tweeted, "Meghan Markle better keep Ukraine out of her mouth if she can't even bother to learn what the national flag looks like."
However, Meghan did receive some support as some pointed out a potential reason for her perceived mistake. One defender tweeted, "Meghan could very well have painted the flag this way to further emphasize the plight of Ukraine."