Nicki Minaj Reveals The Major Change She Made To Her Life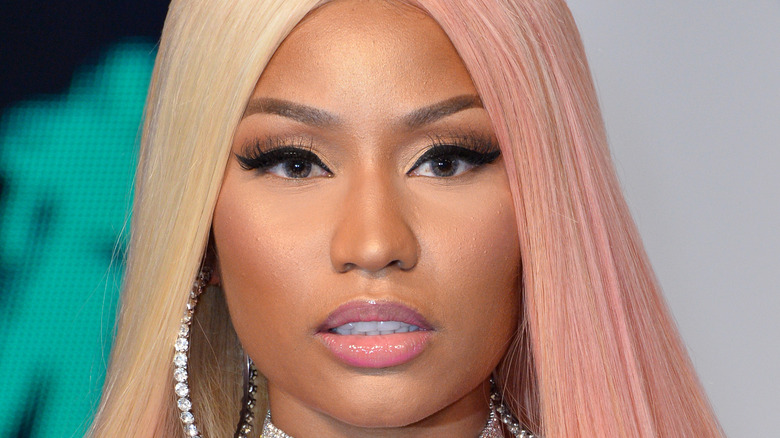 Featureflash Photo Agency/Shutterstock
Nicki Minaj's public persona is a far cry from how she prefers to act at home. Despite the "Anaconda" artist's flamboyant personality as a performer, she claims to be low-key shy while at home. In fact, home is exactly where Minaj prefers to stay. "Nothing about me has changed since I got fame," she told Complex in 2012. "I never liked to go to clubs. I never liked to go out," Minaj added.
It came as a surprise to fans in 2021 when fellow rapper Azealia Banks intimated that Minaj was a heavy cocaine user. Shortly after those allegations, Minaj took to Instagram Live to clear the air about her apparent drug use. "I don't know if it's just me, but I wouldn't be embarrassed about any f***in drugs I did, that's why I talk about the motherf***in drugs I do in my motherf***in music," the "Pills N Potions" rapper said, while vehemently denying any cocaine use. "Never in my life, ever, not even once sniffed coke. Ever," Minaj added.
Perhaps fame did little to change Minaj's home life, but becoming a mother in 2020 had an understandably sizable impact on the hit-maker. "I think motherhood has made me see more good in people, more good in the universe," she said while appearing on "The Late Late Show with James Corden" in February. "It makes you more of a forgiving person," Minaj added. In addition to raising a child, the rapper made another massive change to her life.
Nicki Minaj comes clean on Twitter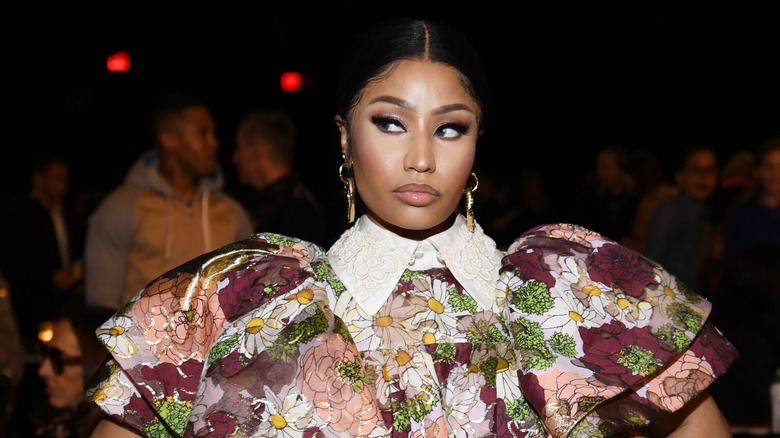 Dimitrios Kambouris/Getty Images
Nicki Minaj enjoys giving fans a peek into her home life, and on April 21 she posted videos to Twitter as she prepared fried chicken. The clip caused one fan to ask if the Queen Barbz was prepping the meal because she was under the influence. "No I'm sober & loving life. You?" Minaj responded in a tweet. Minutes later, the "Super Bass" artist revealed that she was not only sober that moment, but had quit imbibing altogether. "I used to b happy when I was high. Now I'm happy when I'm sober," Minaj wrote. "No judgement to anyone. Be gentle with yourself."
Fans flooded the replies to support Minaj's sober-living lifestyle. Plus, several pointed out that the rapper's flamboyant personality was often misconstrued. "I hate when they equate you having fun to being drunk or high. It's weird af," one follower responded. "People still don't know how naturally animated you are?" another added. "Keep enjoying ur life! I LOVE seeing u happy! Happiness looks GOOD on u!" one supportive fan wrote.
In the past, Minaj had opened up about her father's substance abuse issues and how it impacted her life. She rapped about those family struggles on the track "Autobiography," and apparently her pops did not react kindly to Minaj discussing family matters. "It's the price you pay when you abuse drugs and alcohol," she told Rolling Stone in 2010. "Maybe one day your daughter will be famous and talk to every magazine about it, so think about that, dads out there who want to be crazy."
If you or anyone you know is struggling with addiction issues, help is available. Visit the Substance Abuse and Mental Health Services Administration website or contact SAMHSA's National Helpline at 1-800-662-HELP (4357).