Inside Peta Murgatroyd And Maks Chmerkovskiy's Marriage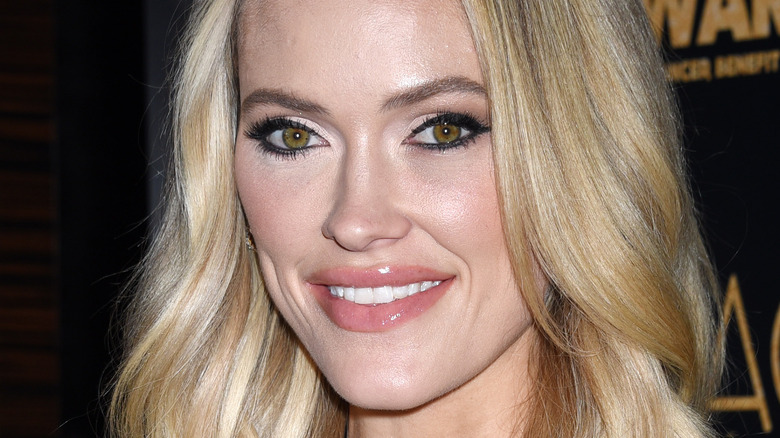 Ga Fullner/Shutterstock
Maksim Chmerkovskiy and Peta Murgatroyd were always popular "Dancing with the Stars" personalities individually, but their fan bases grew significantly once they became a couple and got married. As much as people might know them for "DWTS," the show wasn't actually responsible for their initial connection, and Murgatroyd and Chmerkovskiy have had quite the journey since those early days.
Chmerkovskiy and Murgatroyd first met in 2009 while they were both performing on Broadway, revealed Us Weekly. The show was "Burn the Floor," noted the Deseret News, and apparently it was not love at first sight. In fact, Chmerkovskiy was engaged to Karina Smirnoff, another "DWTS" pro, while the show was performed on Broadway. At the time, Murgatroyd wasn't all that impressed by Chmerkovskiy, telling People she "thought he was arrogant." 
Over time, however, she learned he "was really generous to the entire cast" rather than primarily arrogant, and a friendship blossomed between them. Chmerkovskiy and Smirnoff called off their engagement shortly after doing Broadway, but nothing romantic developed between Chmerkovskiy and Murgatroyd even in those early days. In fact, he didn't romantically connect with Murgatroyd until after she joined "DWTS" as a troupe member in 2011. They started dating in 2012, but split just 10 months later. "My heart was broken," she recalled. However, she perceived almost immediately that the romance wasn't over for good. Even though Chmerkovskiy initiated the split, he "realized right away that I'd made a mistake."
A baby then a wedding for Chmerkovskiy and Murgatroyd
Maksim Chmerkovskiy and Peta Murgatroyd were back together by October 2014, and he proposed during a December 2015 "Sway: A Dance Trilogy" show. After the engagement, he told People she was his best friend who "makes me a better man." During their engagement, they welcomed their son Shai in January 2017, detailed Us Weekly. "This is, without a doubt, the best thing that has ever happened to us," they said after Shai's birth. That July, Chmerkovskiy and Murgatroyd got married at City Hall and then held an extravagant event at Long Island, New York's Oheka Castle, shared People. Shai was the "Prince of Honor," the wedding program noted, and Murgatroyd wore a stunning ivory ball gown. Chmerkovskiy told E! News, "It was everything we ever dreamt of."
During their first year of marriage, Chmerkovskiy and Murgatroyd embraced a quiet family life. "We can't leave the house and that's why we don't go to a lot of these, because Shai's at home," Chmerkovskiy explained to ET. The "DWTS" personality admitted Shai didn't hold them back, necessarily. Rather, they just didn't like leaving him. Murgatroyd told Health (via ET) that they worked hard to find the right balance as a family. "With a toddler, you have to carve out time for your husband," she detailed. "Any alone time means the world to us, where we can grab lunch and then maybe see a movie," she added.
The dancers navigate the ups and downs of life together
Maksim Chmerkovskiy and Peta Murgatroyd certainly seem to have found their groove, their Instagram posts signal. As the coronavirus pandemic began in 2020, Murgatroyd admitted, "I'm loving the extra family time that quarantine has brought us." For their wedding anniversary in July 2020, she declared on Instagram she was "still head over heels for you @maksimc." Chmerkovskiy has admitted he hopes to be a girl dad, he told People Now, and both the pair hopes to expand their brood. "At least three of our own, and then adopt," she detailed, as he added that having Shai was "a dream come true."
Until their family expands, the couple stays busy both personally and professionally. In early 2022, Chmerkovskiy was in his native Ukraine, appearing as a judge for the country's "World of Dance" show. Chmerkovskiy was still there when the Russian invasion began, and the following eight days were tough for the family. "To get the phone call and to see him frantically packing his bags trying to get out of the hotel was just like, I had a heart attack nearly," Murgatroyd recalled for ET. The "DWTS" star also texted her Chmerkovskiy what was "almost a goodbye text like if something happens" before he was able to get back home. Despite the fear they had during those days, the situation "brought us closer together," Murgatroyd shared. The couple seems stronger than ever.