Why Is Rob Kardashian Missing From Court?
Gabe Ginsberg/Getty Images
The legal showdown between Blac Chyna and Rob Kardashian rages on. According to TMZ, almost every member of the Kardashian-Jenner family has reported to court amidst their latest legal battle. Kim Kardashian, Khloe Kardashian, Kris Jenner, and Kylie Jenner — who are all named in Chyna's lawsuit — have all been spotted in the Los Angeles County courtroom. Meanwhile, Rob has been noticeably missing from trial, despite being at the center of Chyna's allegations.
Chyna filed a lawsuit in 2017 following a dispute with her ex-fiance, Rob, that resulted in him posting a slew of explicit images of the model online, according to Page Six. In the suit, Chyna claimed that Rob's mother and sisters used their influence gained by working on "Keeping Up With The Kardashians" to have their spin-off "Rob & Chyna" pulled from E! network, Us Weekly details. And while Rob's involvement in the case is large, the reality star has been missing from court because he is taking care of a more important duty.
Rob is caring for their daughter Dream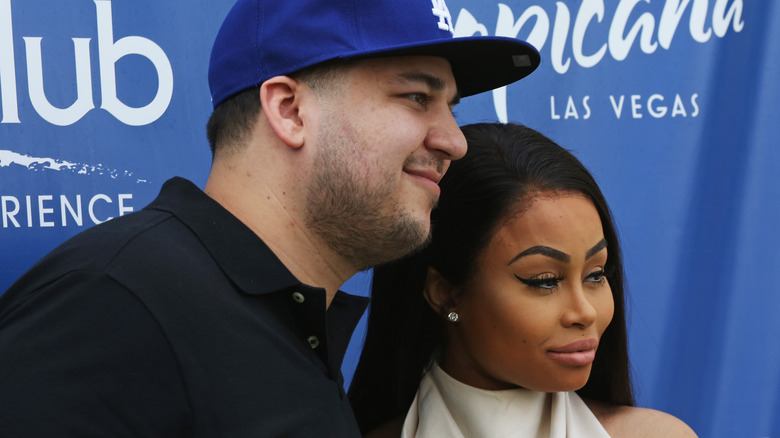 Gabe Ginsberg/Getty Images
Blac Chyna's case against the Kardashian family is currently underway, however, Rob Kardashian has been noticebaly absent from court proceedings thus far. According to TMZ, the Kardashian son has instead been focusing on assuring life is as normal as possible for his daughter Dream, who he shares with Chyna. The outlet further reports that Rob is willing to physically appear in court if he is called to testify.
Rob's decision to stay home with his daughter makes sense, as the reality star recently found himself in a social media quarrel after Chyna tweeted that she was "single [with] no child support," per E! News. In response to Chyna's proclamation, Rob fired back, claiming he paid for Dream's school tuition, medical, expenses, and extracurricular activities.
While Rob's relationship with Chyna appears to still be evolving, the Arthur George founder previously revealed that he dropped his 2017 assault and battery lawsuit against Chyna for his daughter's sake. "My love for Dream far outweighs my desire to proceed with my claims against her mother in a public trial," he said, per People. He added, "I am dismissing the action and focusing on my co-parenting relationship with Chyna."