This Was The Last Song Whitney Houston Recorded Before She Died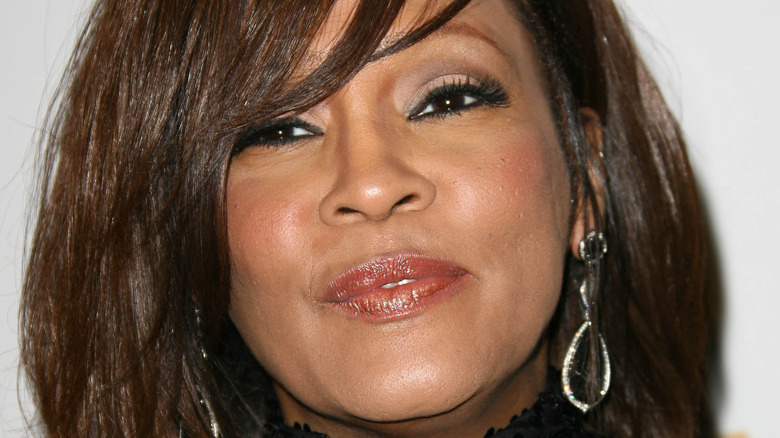 s_bukley/Shutterstock
Pop icon Whitney Houston was a force in the music industry, whose life sadly ended too soon. Reports of the singer's 2012 death at the age of 48 emerged after she had been found unconscious in her Beverly Hilton hotel room, per The New York Times. A coroner's report later revealed that an accidental drowning caused her passing, ABC News stated.
During her career, Houston was nicknamed "The Voice" by one of her music industry mentors, Clive Davis, due to her unparalleled vocal abilities. Her talents resulted in her achieving a number of outstanding accomplishments as a performer, including becoming the first singer to score seven consecutive number one hits, as the Rock & Roll Hall of Fame website noted.
Some of Houston's most noteworthy hits include touching ballads like "I Will Always Love You" and "Saving All My Love For You." The multitalented artist also diversified her discography with uptempo tunes, such as "I'm Your Baby Tonight," "I Wanna Dance with Somebody," and "So Emotional." One of Houston's final recordings was a positive, catchy song that she sang alongside another talented pop star.
A celebratory duet was Whitney Houston's final song
Prior to Whitney Houston's sudden passing in 2012, the singer and actor was set to star in a new film, "Sparkle." In the movie, which was a remake of a 1976 motion picture, Houston portrayed the protective mother to three daughters who formed a singing trio, per Turner Classic Movies. The actors who played the girl group opposite Houston were Tika Sumpter, Carmen Ejogo, and Jordin Sparks. The "Sparkle" soundtrack included 11 songs, per Apple Music, one of which was Houston's rendition of the gospel tune, "His Eye Is On the Sparrow."
This collection also featured one of the last tracks Houston ever recorded, a duet called "Celebrate," as NBC 4 New York wrote in 2012. Sparks and Houston sang the song, which carries a positive theme of making it through tough times and leaving your troubles behind. Houston sings on the upbeat recording, "Though we been going through changes / Just trying to make it from day to day / Tonight don't you worry about a thing / Just cast your cares away," reminding listeners to see the bright side of life.
The song finishes with Sparks saying, "We love you Whitney!" in honor of Houston's legacy. 
Whitney Houston's last recording session was joyful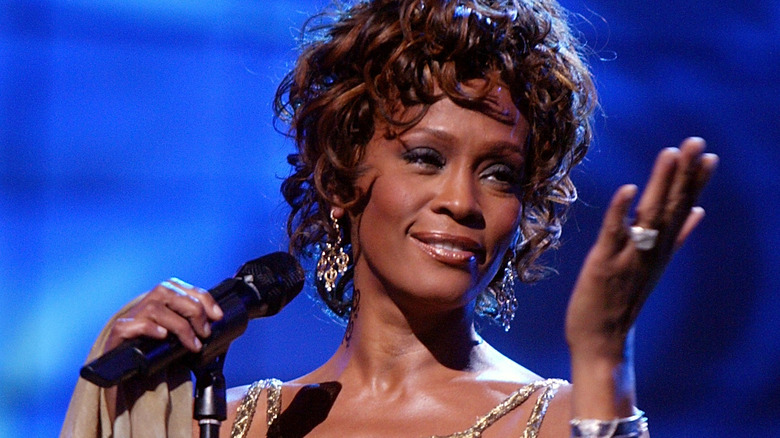 Kevin Winter/Getty Images
Whitney Houston held nothing back for the last song she recorded, "Celebrate," for the "Sparkle" motion picture soundtrack. Jordin Sparks appeared on "Sway In The Morning" in 2012 to promote the movie and talked about Houston's performance on this duet of theirs. "[Houston] sounds like she's smiling throughout the entire song," Sparks said. "It's also one of those songs that, it's just happy and bright and upbeat."
The recording session that resulted in Houston's memorable final song occurred just five days before her death, The Hollywood Reporter reported in 2012. Music producer Harvey Mason Jr. worked on the track with Houston, and he recalled that the iconic performer seemed to possess a great outlook as the two collaborated. "[Houston's] demeanor the last two weeks was very upbeat," Mason said. "She was in a good place."
Houston's death occurred in February 2012, and "Sparkle" was released six months later, in August of that year, also reported by THR. Sparks posted an Instagram photo of herself with Houston in February 2022 to honor the 10-year anniversary of Houston's tragic death, calling the late singer "a true force of nature, but more importantly, an incredible person to be around." Houston's cheerful presence is clearly felt in this last recording, as is her musical gift that continues to inspire the world