Who Inherited Larry King's Fortune After His Death?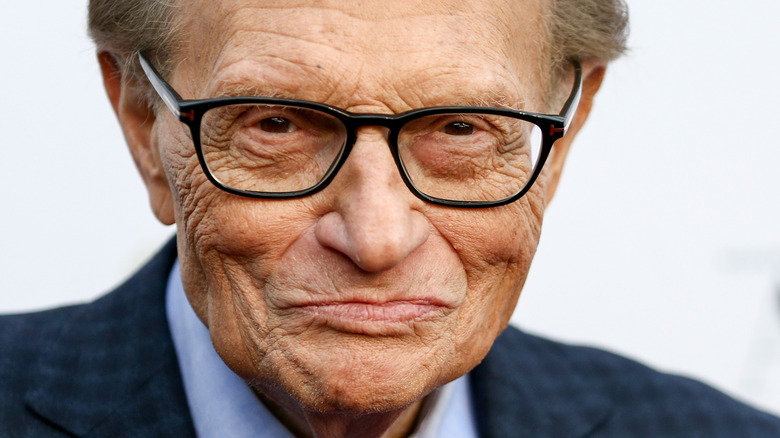 Rich Fury/Getty Images
After a lifelong career spanning over six decades, iconic journalist and media personality Larry King died on January 23, 2021, leaving behind a fortune. King first shot into the limelight in 1985 when he started hosting CNN's "The Larry King Show," a role for which he received an annual salary of $200,000, per The Washington Post. 
If King thought that was a lot of money, he probably was not ready for the things that came next. In 1990, he renewed his contract with CNN — this time, signing a five-year deal for a reported $8 million, according to Los Angeles Times. Eight years later, King was back at the negotiating table, agreeing to an annual salary near $7 million, including bonuses and stock options. "I certainly never thought they would pay this kind of money," he confessed to The New York Times. Still, there was even more to come. His last contract, a four-year deal which expired in 2010, was worth a whopping $56 million, according to TMZ. That same year, King was said to be worth $144 million, TMZ reported.
With all of that said, Larry King was no doubt a very rich man — and there were a few people vying for his dough after he died.
Larry King created a new will shortly before he died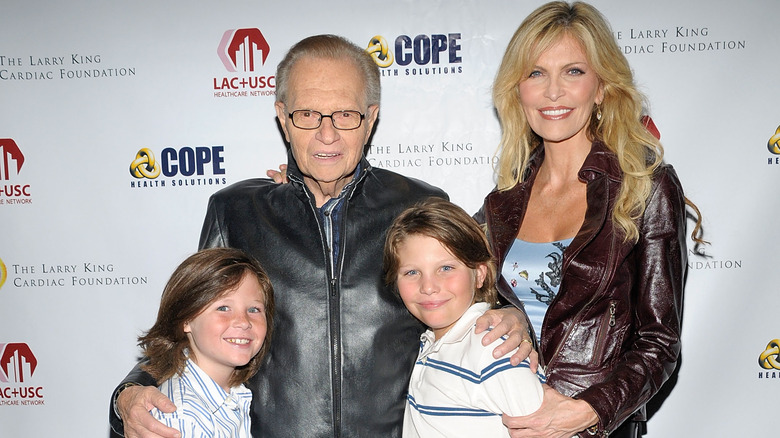 Michael Tullberg/Getty Images
In February 2021, only a few weeks after his death, the details of Larry King's will was revealed. Per documents obtained by People, the ace journalist directed his $2 million fortune be shared among his five children: Cannon King, Chance King, Chaia King, Andy King, and Larry King Jr. Sadly, two of the talkshow host's kids, son Andy and daughter Chaia, died in 2020, leaving the fortune to only Chance, Cannon, and Larry Jr.
Larry's will (which was handwritten, by the way) was solidified October 17, 2019 — a few months after he split from his seventh wife, Shawn Southwick King. "It should replace all previous writings," he said of the document. The talkshow host had been married to Shawn (who was 26 years younger) for 22 years before filing for divorce in August 2019, per CBS. "We had a big age difference and that eventually takes its toll," Larry told People in an interview, noting there were religious differences at play, too. 
Either way, it's important to note here why the estate wasn't bigger, as some might be expecting — as TMZ noted, much of the $144 million was possibly put in trusts.
Larry King's ex contested his will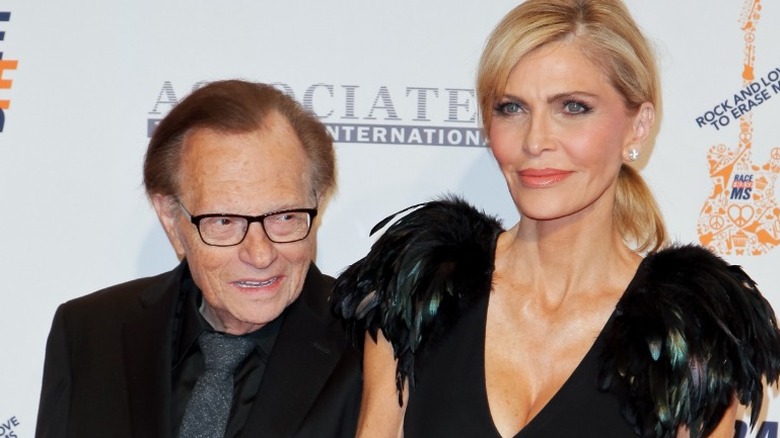 Tibrina Hobson/Getty Images
Shawn Southwick King might not have had a place in Larry King's final will, but the former singer is clearly not one to go down without a fight. Shawn filed a legal motion in February 2021 contesting Larry's decision to leave everything to the kids, implying her relationship with Larry had changed after the final will. "The parties had gone to counseling, were still speaking, and reconciliation remained possible until Larry's health conditions made that impractical," the document obtained by People stated.  She also questioned whether Larry was in the right headspace at the time of the new will, as he was struggling health-wise.
Shawn's filing also contested Larry King Jr.'s move to become sole executor of the estate. "[Larry Jr] has never been involved in Larry's career or business, and it would be highly inappropriate to place him in a position of representing Larry's estate," Shawn claimed in the document. Additionally, she asked the court to recognize her as sole executor of the estate, which she was named in a 2015 will. Another facet of the argument? Past prenups conflicted with the 2019 will, per TMZ. 
After months of back and forth, Shawn and Larry Jr eventually worked out a settlement, Radar Online reported. "The case has been resolved through a confidential settlement. Enough said," King Jr.'s lawyer Bruce S. Ross revealed to the outlet. Though it in unclear what the settlement is, but it's probably safe to assume Shawn, as well as Larry's children, received a piece of the pie.