The Bizarre Lawsuit Steve Harvey Was Involved In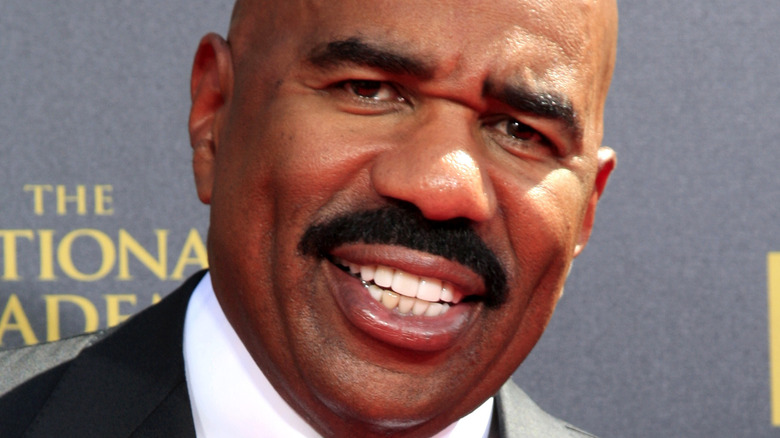 Joe Seer/Shutterstock
Steve Harvey rose to fame as a member of the widely successful "Kings of Comedy Tour" in 2000, which was later turned into a stand-up comedy film with the help of director Spike Lee. Harvey, who's storied career includes stints on both radio and television, spoke with The Washington Post about his journey and explained that he never imagined reaching his current level of success. "How could I see myself having a life that I didn't even know existed? I didn't even know this was on the ticket," the comedian told the publication.
Harvey has since retired from stand-up, and focuses now on his slew of hosting gigs, including "Family Feud," "Celebrity Family Feud," and his talk show "Steve," which airs exclusively on Facebook Watch. Who could forget his infamous Miss Universe hosting gig in 2015, when he announced the wrong winner of the prestigious pageant? Harvey is also currently the front man on the nationally syndicated radio program, "The Steve Harvey Morning Show." And while Harvey's career has been filled with success, the comedian once found himself on the receiving end of a strange lawsuit.
Steve Harvey was sued by a private jet company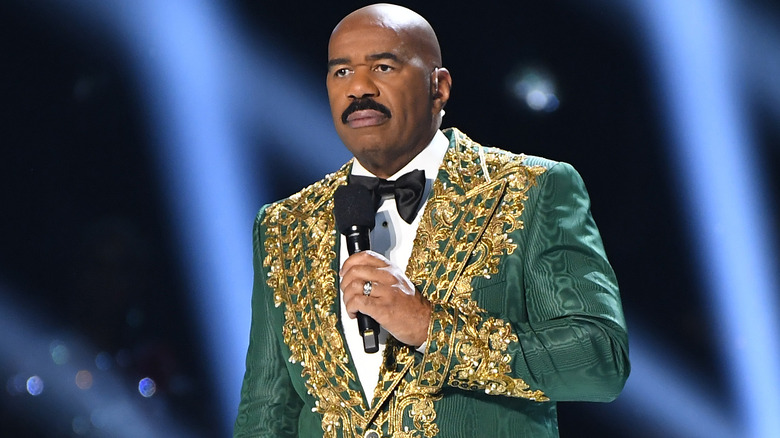 Paras Griffin/Getty Images
Comedian and media personality Steve Harvey found himself in a bit of legal trouble in 2015, after a Nashville-based private transportation company claimed he failed to pay the balance on an order for a customized jet, according to USA Today. The suit, brought on by Business Aircraft Leasing, alleged that Harvey agreed to pay $400,000 for a customized Gulfstream jet but only paid for half of the cost. The suit further claimed that the game show host "orally promised" to lease the jet for $97,000 per month. Harvey was sued for the remaining cost of the project, a hefty $205,040.
Months later, Harvey filed a lawsuit of his own against Federal Aviation Title Company. According to TMZ, the radio show host entered into an agreement with the company of which he would pay them $250,000 in escrow to lease the private jet. Harvey claimed the company refused to release his funds to him, after he was sued by Business Aircraft Leasing. The comedian would go on to win the lawsuit and was awarded back $250,000.
Before his lawsuit drama, Harvey appeared to enjoy the spoils of flying on his private jet, posting YouTube videos of himself boarding the aircraft for business trips and hanging out with his family as passengers in 2014. While he didn't win the jet in his suit, Harvey seemingly continues to live the mile high lifestyle.
Steve Harvey seems to be doing just fine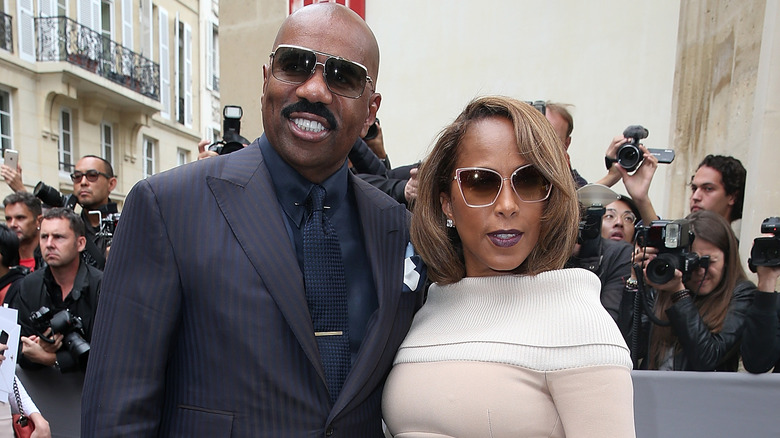 Pierre Suu/Getty Images
As he continues to dominate television screens and radio airwaves, Steve Harvey's travel accommodations certainly resemble that of an A-list star. Though he may not be an owner of a private jet, Steve still appears to enjoy flying privately from time to time, as seen on social media. "Cheers to a beautiful Sunday!" Steve captioned a 2017 Facebook photo of himself clinking wine glasses with his wife, Marjorie Harvey, on a jet. Steve and Marjorie also flexed their private flight for their anniversary vacation on Twitter in 2019. For Steve, it appears he's transformed "being fly" into a lifestyle.
"My motto is to be fly 'till I die," Steve told GQ in 2021. In addition to a private plane as a status symbol, Steve has come into the spotlight in recent years for his dapper outfits, which he regularly shows off on his Instagram. According to Steve, the comic's makeover is thanks in part to Marjorie's passion for style. "My wife stays into fashion," he told GQ. Steve added there's "a whole new set of pressure" on his appearance that comes with his celebrity status.
Since the lawsuit, Steve has made no public mention of his private jet debacle. However, we think it's safe to say the entertainer is doing okay financially. According to Celebrity Net Worth, the comedian rakes in nearly $10 million a year hosting "Family Feud," and has an estimated net worth of $200 million. It's safe to say that Steve's stardom is still flying high.