Denzel Washington Has A History Of Oscars Drama With Will Smith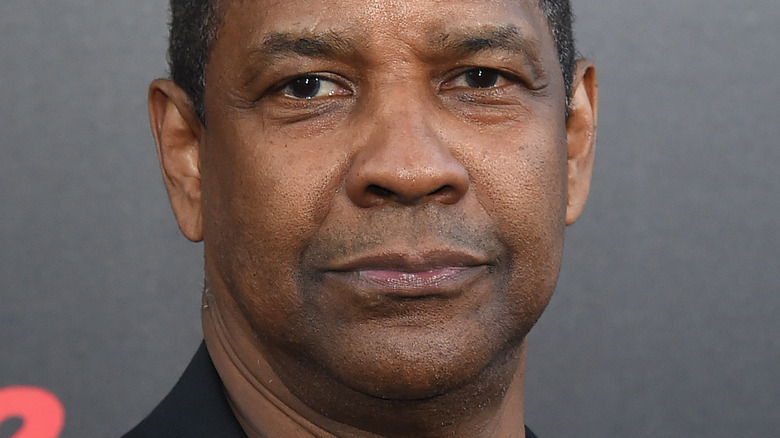 DFree/Shutterstock
Soon after Will Smith and Chris Rock's altercation at the 2022 Oscars, Denzel Washington was one of the first people in the audience to spring into action. The actor, along with Bradley Cooper and Tyler Perry, were quick to console Smith as the rest of the people in the room were still trying to process what had happened. Washington later broke his silence about the controversy, claiming during an April 2 panel discussion at the T.D. Jakes' Annual International Leadership Summit that, "for whatever reason, the devil got ahold" of Smith that night, per The Wrap. He also said, "Who are we to condemn? I don't know all the ins and outs of this situation, but I know the only solution was prayer, the way I saw it, the way I see it."
However, The Slap wasn't the only time Washington's name was involved in an Oscars controversy alongside Smith's. There was another Oscars night that saw Smith literally walking out and leaving the ceremony, with a lot of people wondering if Washington had something to do with it.
Will Smith and Denzel Washington's Oscars drama explained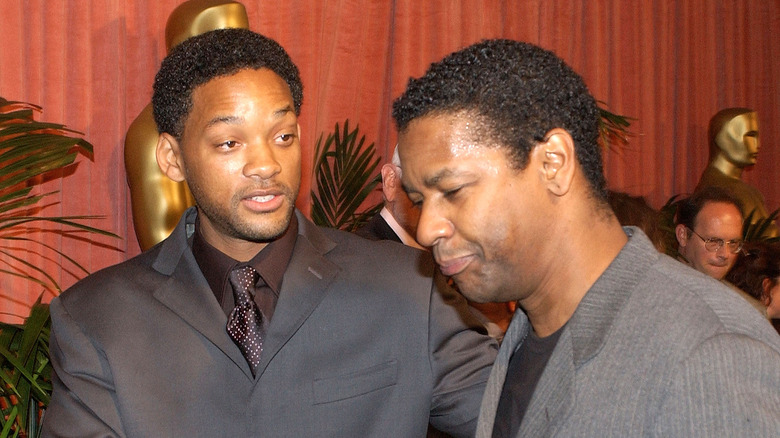 Vince Bucci/Getty Images
In 2002, Will Smith received a Best Actor nomination for his role in the film "Ali." It was a film Smith was extremely dedicated to as he told the BBC that same year that he trained non-stop for 12 months to play one of the greatest boxers in history. Explaining why he accepted the role, Smith said, "I knew he was a fighter, I knew he was an icon, and I knew he was important, but I didn't know why. That was part of what inspired me to want to tell this story, because anyone who's younger than me has no idea what Muhammad Ali had to endure in his life."
However, before the winner for that category was even announced, both Smith and his wife Jada Pinkett Smith got up and left the ceremony. Because Smith had put in so much heart and soul into the role, there was a lot of confusion as to why the Smiths had abruptly left that night. Some had thought that it had something to do with Denzel Washington winning the award for his role in "Training Day." But, as Entertainment Weekly pointed out, it was for another reason. Their 18-month-old daughter Willow was taken to the hospital with a 103-degree fever at the time. The actor's spokesperson even said the reason why Will left was because "being a father became his priority." But that wasn't the only time Will made Oscars headlines.
Will Smith and Denzel Washington are actually closer than some people think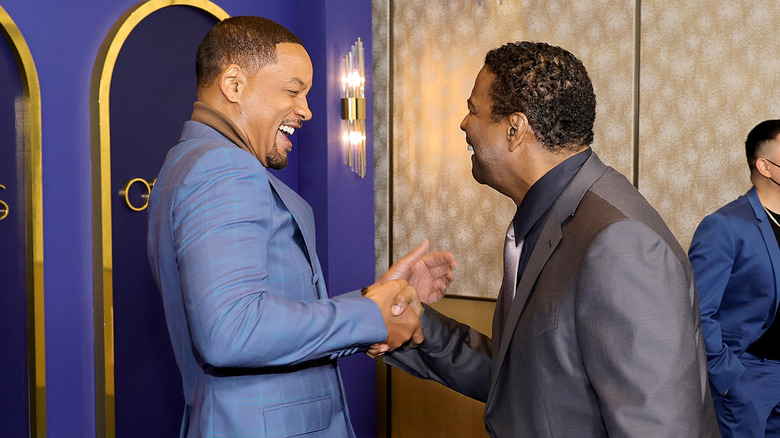 Neilson Barnard/Getty Images
In 2016, both Will Smith and Jada Pinkett Smith boycotted the Oscars because of the lack of representation in the nominations that year, and also because he was seemingly snubbed for his role in "Concussion." Smith attributed his reasoning to a bigger problem: the lack of racial diversity that became the #OscarsSoWhite debate. As Will told "Good Morning America" (via Variety): "This is so deeply not about me. This is about children that are going to sit down and watch this show and they're not going to see themselves represented."
Similarly, Denzel Washington also said he knew exactly how Will felt about the #OscarsSoWhite controversy. "I've been the guy at the Oscars when my name is called. I've been the guy at the Oscars when everybody thought they was going to call my name and they didn't," he told "60 Minutes." Washington's intuition during Oscars night 2022 might have been one of the reasons why the actor was quick to console Will after the Chris Rock slap. Will himself even said that Washington is a person who he looks up to and admires greatly. Of his relationship with Washington, Smith told People, "We've spent a lot of time together. So we've been talking, he's always been a mentor for me and he grabbed me and he said, 'This is your year.'" In other words, there's more love than there ever was drama between these two men.