Billie Eilish Suffers An Embarrassing Mishap While On Stage At Coachella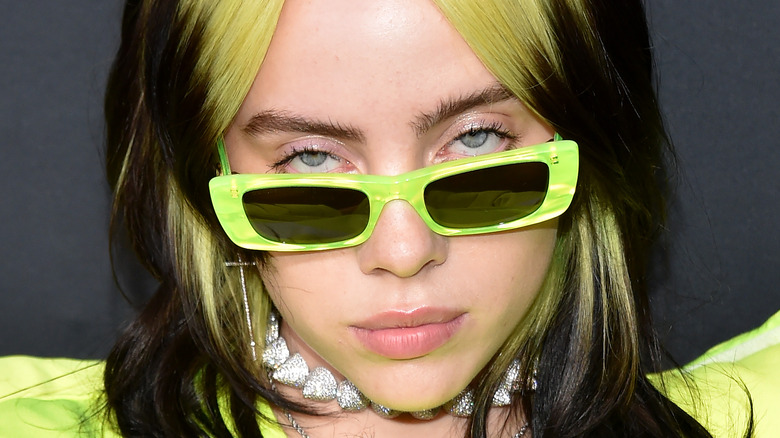 DFree/Shutterstock
For "Bad Guy" singer Billie Eilish, it's been a long road to Coachella. 
Before she took over the stage in Indio, California, she stopped a show on her "Happier Than Ever" tour on February 5 because she noticed a fan couldn't breathe. In a fan video published by TMZ, viewers see Eilish ask her team for an inhaler, announcing to the crowd, "I wait for people to be okay until I keep going." Kanye "Ye" West took that as a dig at his friend, Travis Scott, who infamously didn't stop performing during a crowd surge at his Astroworld festival in November 2021, resulting in 10 deaths, per The Guardian. Even though Eilish never mentioned Scott, Ye, who was set to headline Coachella alongside Eilish, took the young singer to task in a now-deleted Instagram post. "PLEASE APOLOGIZE TO TRAV AND TO THE FAMILIES OF THE PEOPLE WHO LOST THEIR LIVES," he wrote in part, adding, "YES TRAV WILL BE WITH ME AT COACHELLA BUT NOW I NEED BILLIE TO APOLOGIZE BEFORE I PERFORM." It's worth noting that Scott was originally slated to headline Coachella as well, but was removed by the festival organizers in the fallout of the Astroworld tragedy, per Billboard. 
Eilish did not apologize, and Ye withdrew from headlining Coachella, but that hasn't stopped the "Therefore I Am" singer from still making waves on the Coachella stage. Except on April 23, those waves made her fall flat on her face in front of the entire audience. 
Billie wipes out on the Coachella stage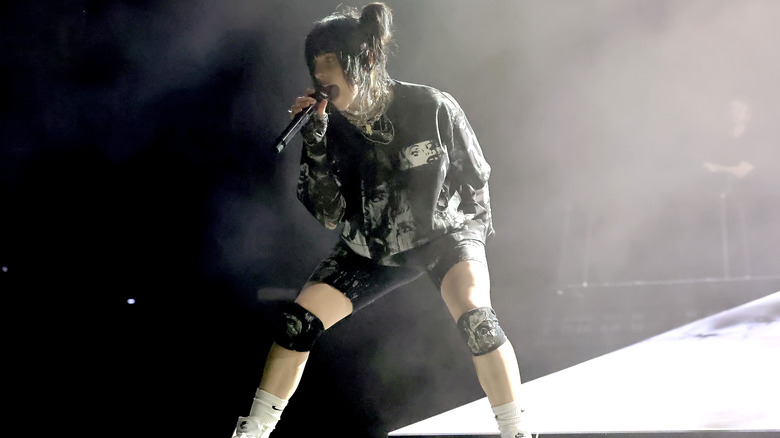 Amy Sussman/Getty Images
Billie Eilish can laugh at her foibles and follies. In a fan video posted to Twitter from her April 23 set at Coachella, viewers see the lights go dark between songs, and that's when the microphone picks up a huge thud and a whack. "I just ate s***!" Eilish hollers into the microphone. We can hear her say "ouch" before laughing maniacally, and then she adds, "You guys, I just ate a** up here!"
Later, we see in another video posted by TMZ, she explains exactly what happened. "Seriously. It was pitch black." She continued, re-enacting her fall, "You see that square? This f***ing thing? I went de-de-de-de-de and fell onto my face!" That's when the audience launched into a rousing chant, yelling, "F*** the square," which made the "Getting Older" singer burst into a fit of giggles. As Eilish apologized for not being former Coachella headliner Beyoncé during her April 18 set (per Page Six), the clumsy performer showed she is definitely no Queen Bey when it comes to coordination. 
All of the hilarity happened right before Eilish brought out a special guest, Paramore lead singer Hayley Williams. The two performed duets of Paramore's classic "Misery Business" and Eilish's new hit "Happier Than Ever," per Entertainment Tonight. Honestly, we predict the Beyoncé duet is right around the corner.