Grimes' New Fling Chelsea Manning Had The Best Reaction To Elon Musk's Twitter Takeover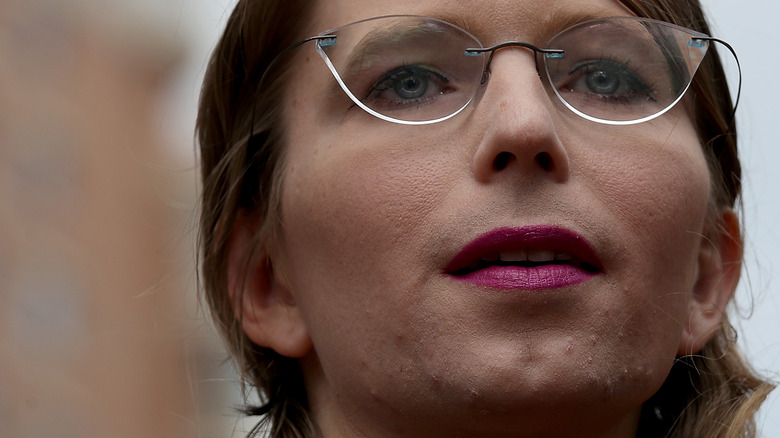 Win Mcnamee/Getty Images
Canadian singer-songwriter-space alien Grimes had a rollercoaster relationship with Tesla and SpaceX CEO Elon Musk. They began dating in 2018 and in 2020 they welcomed their first child, named X Æ A-Xii. By September 2021, Page Six reported they had called it quits, but in March 2022 Grimes revealed to Vanity Fair that she and Musk had welcomed a second child via surrogate, Exa Dark Sideræl. On March 10, Grimes tweeted the couple had separated yet again, saying "[Musk is] my best friend and the love of my life, and my life and art are forever dedicated to The Mission now."
However, Page Six reported that one day after the "Art Angels" musician announced the split, Grimes was dating former military intelligence officer Chelsea Manning. Manning leaked classified documents to Wikileaks in 2010 and spent 7 years in prison. Her sentence was commuted in 2017. Since her release, Manning has become an activist, speaking on technology and LGBTQ+ rights. Neither the singer, the billionaire nor the whistle-blower have publicly commented on the rumored relationship. On April 19, Manning said on her Twitter in part, "finding love, compassion, friendship, hope and fulfillment in this era is simultaneously the most challenging thing to find, yet easiest thing to achieve." 
Since the unexpected Page Six report, Manning has taken to cheekily trolling Elon Musk on Twitter, the social media website he purchased in April 2022.
Chelsea Manning doesn't care if Elon Musk bans her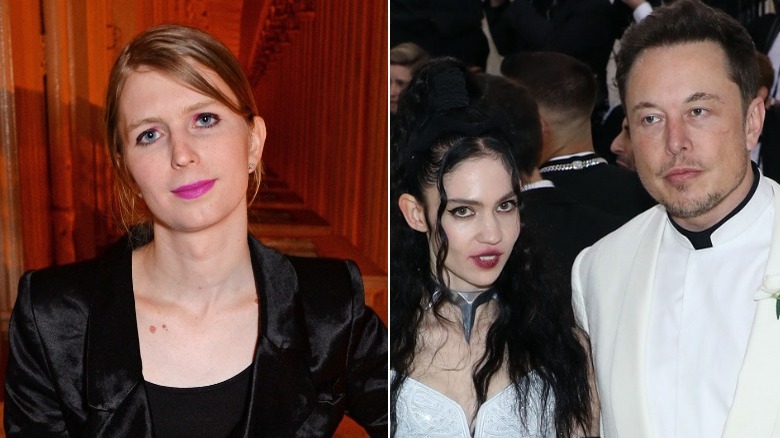 Taylor Hill & David M. Benett/Getty
Elon Musk's hostile takeover of Twitter has been confirmed, with the board accepting his buy-out bid worth $44 billion, per CNBC. Musk has tweeted that he will defend freedom of speech on the platform, but some users suspect he will ban his enemies. On April 25, one user told Chelsea Manning that she was probably "first on the ba.n list" Manning deadpanned in response, "who cares?" She added in a subsequent tweet that, should Musk ban her, she'll have other ways to occupy her time. "ill just play minecraf [sic]."
This isn't the first time the whistle-blower has sent not-so-subtle digs at the new Twitter owner. On April 21, she replied to Musk on Twitter with a meme that reads in part, "Occupying a billionaire's mind rent free." Musk hasn't specifically mentioned Manning in public, although some speculate that his purchase of Twitter is a massive bid for his ex's affections. Adult entertainer Sydney Leathers weighed in, saying "men will literally spend $44 billion to get the attention of grimes instead of going to therapy." 
Grimes hasn't commented on her ex's big-ticket purchase, but she did say in a March interview with Atmos Magazine, "I feel like people suck at listening and taking criticism, and internet criticism is never super nuanced or accepting ... If we could approach criticism in a way that is aligned with healthy discourse and restorative justice at the core of it, we probably wouldn't have these defensive reactions that we get."