Meghan Markle's Dad Has A Name To Call Prince Harry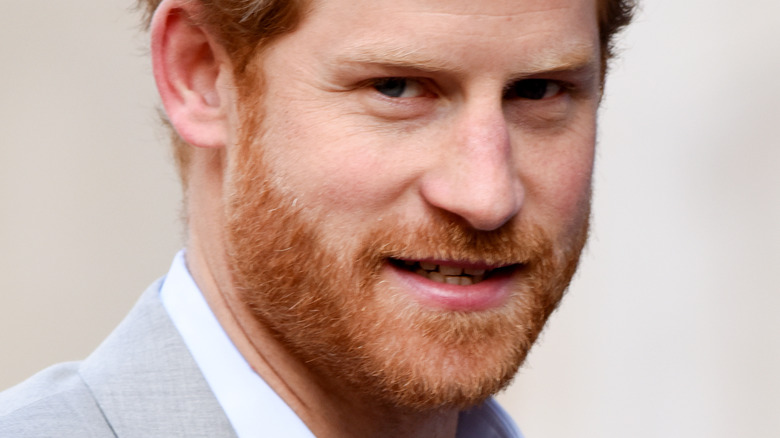 LINGTREN.COM/Shutterstock
Things have never been easy for Meghan Markle and her father, Thomas Markle. The trouble allegedly started just before Meghan's wedding to Prince Harry back in 2018. Thomas was supposed to walk Meghan down the aisle on the big day but didn't show up last minute. In the days leading up to the wedding, Thomas staged photos with the paparazzi, which is a big royal no-no and allegedly angered Harry and Meghan. Then, Thomas claimed he had urgent heart surgery and would not attend, per Vanity Fair.
Anyway, since Thomas didn't show the relationship between father and daughter has completely broken down. By all accounts, Meghan hasn't seen him since before she became a duchess, and things are absolutely not on good terms. He leaked a personal letter she wrote him to the press, and despite all the trouble starting with him talking to the press, he hasn't stopped giving interviews. Just like her estranged half-sister Samantha Markle, Thomas always seems to have something to say about Meghan.
And now, Thomas is shooting off in the press once again — this time taking aim at Prince Harry.
Thomas Markle slams Prince Harry
Meghan Markle's father, Thomas Markle, is no fan of his estranged son-in-law. Speaking to GB News ahead of the queen's Platinum Jubilee, Thomas called Harry "an idiot" for not bringing children Archie and Lilibet on his U.K. trip with Meghan. Thomas also claimed that he'd be flying to London to attend the festivities and that he was looking forward to meeting Prince Charles, whom he feels a kinship with. "We've pretty much both been ghosted by our children," he said.
As for seeing Harry and Meghan, Thomas wants to repair their relationship and meet his grandkids, but he has his doubts about whether or not they'll be at the ceremony. "I'm getting the feeling that if they know, I'm coming, they won't be coming," Thomas said.
During an interview with the "Today Show" a few days later, Harry claimed that he'd like to be at the June celebration along with his kids but that he was still working out the logistics. "I don't know yet, there's lots of things — security issues and everything else," he said. "So this is what I'm trying to do, trying to make it possible that, you know, I can get my kids to meet her."