The Truth About Samantha Markle's Relationship With Her Father Thomas
It's no secret that the relationship between Meghan Markle and her some of her family members — especially her father and half-sister — is strained. The rift between Meghan and her father, Thomas Markle, seems to date back to 2018 when he was noticeably absent from his daughter's wedding to Prince Harry after staging paparazzi photos. Since then, he has continued to speak to the press about their personal family issues, causing them to become estranged.
In February 2020, he criticized the couple's decision to step down as senior members of the royal family, telling TMZ, "I'm very upset with Meghan and Harry right now." He continued, "I don't think they have a right to use the word 'royal.' I don't think they have a right to speak to the queen the way they're talking to her. I think it's an insult to the queen and to the British people."
Some might say that the Meghan's half-sister Samantha Markle is even harsher when it comes to her public comments about the royal couple. The Sun reports that she once tweeted: "Harry is a wuss to allow the Duchess of Nonense to mistreat everyone who has been close to her, especially her family." She also reportedly added that the prince should have married his ex Cressida Bonas.
While Thomas and Samantha have plenty to say about Meghan, the two seem to be very supportive of each other.
Samantha Markle is defensive of her father Thomas Markle
While Samantha Markle is very open about her disapproval of her estranged, half-sister Meghan Markle, when it comes to their father, Thomas Markle, she is very defensive. After the Duke and Duchess of Sussex had a falling out with Thomas when he leaked private family matters to the media, Samantha was quick to blame her half-sister for the family drama.
According to In Touch, in the documentary Meghan & The Markles: A Family at War, Samantha said in reference to Meghan, "She doesn't have a heart or she would [have] been doing everything she could to make [Thomas] comfortable, and reciprocate, and be loving and gracious, and make sure he's comfortable in his old age."
Samantha also accused the royal of mistreating their father and felt the need to call her out in public in defense of Thomas. She said (via In Touch), "I pointed out that humanitarians don't treat their father coldly. Was that a lie? No, because the world watched it happen to my dad, and the world watched her do it." Thomas, for his part, seems to appreciate Samantha speaking out on his behalf, even if it includes one of his daughters writing a book that reportedly slams his other daughter.
Thomas Markle is 'pleased' with Samantha Markle's tell-all book about Meghan Markle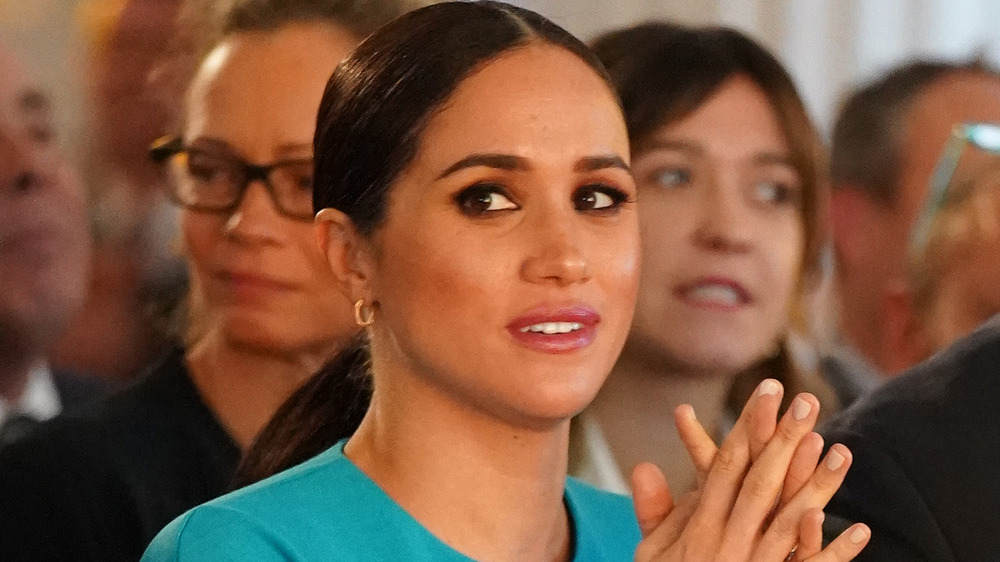 Wpa Pool/Getty Images
While most parents hate when their children don't get along, Thomas Markle seems to be supportive of daughter Samantha Markle's take down of his other daughter, Meghan Markle. Thomas has openly supported Samantha's book about the duchess titled The Diary Of Princess Pushy's Sister — Part 1, even if Meghan reportedly "feels sick to her stomach" over it.
In January 2021, Thomas Markle told Us Weekly: "I'm just very pleased that she's accomplished this book." And as if Samantha hasn't said enough about her half-sister, Thomas added, "Let's let her talk to you about the book." The book's description reads, in part: "Amidst a firestorm of fake news and media mayhem, Samantha Markle shares the truth about her life and family against all odds and ultimatums, as a royal fairytale plummets from the tea towels."
According to OK!, Samantha tried to downplay the tell-all book about her family saying, "Meghan will be in there. I don't know if she will be comfortable with it. Some things she will and some things she won't. It's fair and balanced. Naturally, some things she will like and some things she won't."
Tell-all books and family drama aside, it seems like the relationship between Samantha and her father Thomas is stronger than ever, in that they seem to have a mutual foe in Meghan.