Fans Think They've Spotted Yet Another Kim Kardashian Photoshop Fail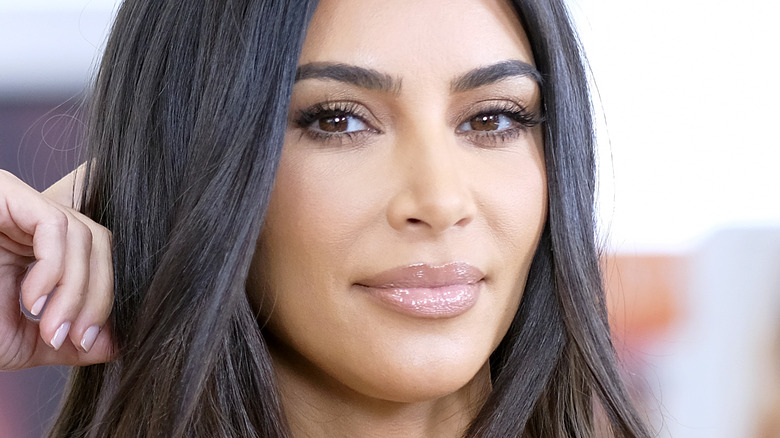 Dimitrios Kambouris/Getty Images
The name Kardashian almost seems synonymous with the word "photoshop" these days. That's because it seems like a week doesn't go by that the Kardashians aren't accused of doctoring their social media flicks. Some members of the Kardashian family, like Khloé for instance, have gone as far as to photoshop her kid in pics to make it look like they were part of a family outing when they weren't. Khloe even admitted to making that mistake when she confirmed that daughter True's Disneyland pics with cousin Chicago West were indeed edited, per Us Weekly. When one Twitter user called Khloe out for the doctored photos, Khloe responded with, "Welllppp I f***ed this one up. Anyways ... let's focus on something else. Our show airs in a few days."
But then again, there have been plenty of Kardashian family photos from the past that have sparked photoshop rumors to the point where Kourtney even hit back at some of the rumors herself. Yet, it's Kim Kardashian's latest online photo that is generating a lot of buzz as whoever's finger is behind the photoshop tool might have forgotten to add this one important element to her photo.
Where is Kim Kardashian's belly button?
According to some eagle-eyed social media followers, Kim Kardashian is being accused of photoshopping her belly button out of one of her latest Instagram photos. The reality television star can be seen wearing a matching SKIMS set along with a pair of jogging pants but unfortunately her belly button is no where to be seen. This has sparked some online comments such as, "Does anyone else think this looks hella edited?" along with, "Hell yes its edited, she apparently doesn't have a belly button haha." 
But there were some people, however, that defended Kardashian's photo. One fan wrote, "U can see her bellybutton through her shorts. she just has it slightly covered by them." Another chimed in, stating, "Give it a rest. everyone's pics are edited one way or the other." 
It's not the first time the SKIMS founder has been called out for her photoshop faux pas, either. In January, Kardashian ended up deleting an Instagram flick after fans pointed out an awkward photoshop fail surrounding her right leg near the ocean. But regardless of such — belly button or no belly button, Kardashian was clearly having a great day by the pool.