Jessica Biel Hilariously Compares Her Latest Look To Justin Timberlake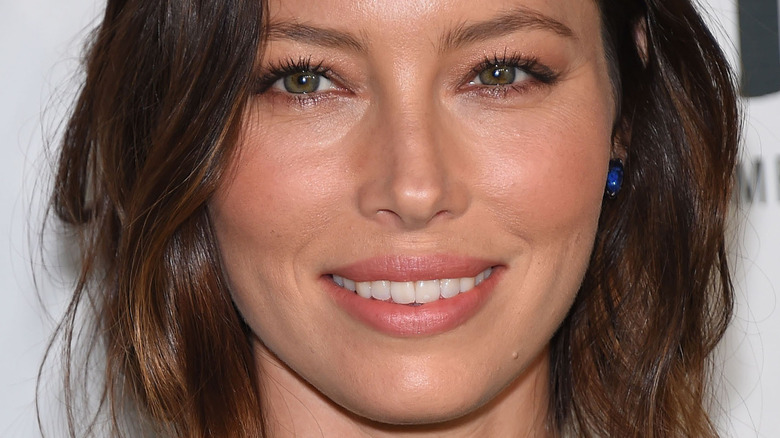 DFree/Shutterstock
Let's talk a walk down memory lane. It's 1999. *NSYNC are riding high on the charts and Justin Timberlake has the coolest hair you've ever seen with bright blond curls. Life's good, right? As pretty much anyone with any taste knows, Timberlake's original look is pretty much totally iconic, so iconic that it's inspired a few classic memes over the years.
It seems like the star takes all the attention in good fun though, as his former bandmate Lance Bass admitted he likes to send his friend the hilarious memes to rip the star just a little. "I send them [photos of] bowls of ramen noodles a lot, just to kind of dig a little bit," he admitted to Us Weekly in May 2021. "Oh, I mean, the hair. He had to put every curl in place," Bass recalled, joking that Timberlake always took the longest to get ready in their boyband days because of those luscious locks.
But it sounds like Timberlake may not be overly thrilled with the constant reminders about his early career curls. The star was interviewed by kids for People back in March 2020 and admitted when a little girl asked about his iconic hair, "I went through a lot of different hairstyles that I'd like to forget." Haven't we all? One person who clearly doesn't want to forget, though? Timberlake's wife, Jessica Biel.
Candy Montgomery or Justin Timberlake?
They say imitation is the sincerest form of flattery, so Justin Timberlake should feel pretty darn flattered by Jessica Biel. The latter actually compared her look to her husband's in the late 1990s and early 2000s after she rocked a short, curly wig for her Hulu series, "Candy," in which she plays the role of real life murderer Candy Montgomery. Biel shared that she and her husband got quite the laugh out of her costume, telling Entertainment Tonight, "It looked like the early days of those beautiful curls. Let's get serious, he had beautiful curls." And it turns out he's not the only one! "And his mom, now actually has like, current, really cool hipster short curly hair. It's weird, it kind of resembles both of them. At the same time," Biel added.
Biel wasn't the only star to get Timberlake flashbacks, either. Her co-star Pablo Schreiber also saw the similarities, with Biel admitting he asked her, "'Wow, did you take a picture of your husband to the hair department and say I want this?' Cause that was my first thought.'"
Biel has shared several glimpses at her "Candy" 'do on Instagram, as well as showing off her own version of gorgeous curls. Back in February, the actor showed off a stunning look on the social media site as she borrowed a line from "Mean Girls" for the caption, joking, "That's why her hair is so big... it's full of secrets."