Kristin Cavallari Reveals Whether Jay Cutler Will Ever Have A Shot With Her Again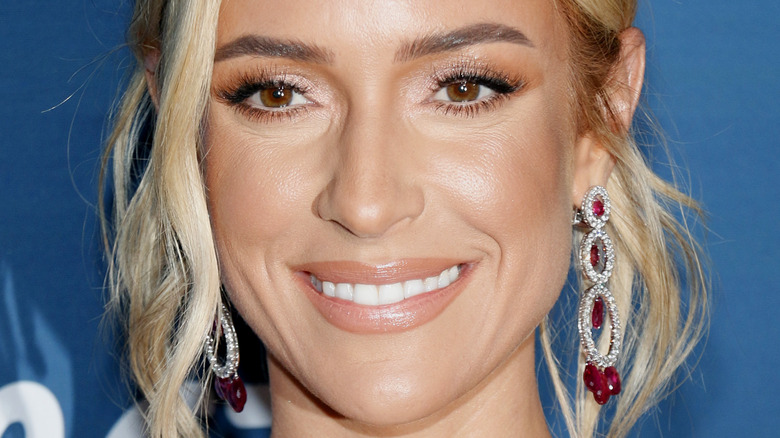 Tinseltown/Shutterstock
It's safe to say that Kristin Cavallari and Jay Cutler's romance has been full of ups and downs. The twosome first stared dating back in 2009 when they met at a Chicago Bears game (Cutler played for the team at the time) and things moved pretty quickly after that. "We hung out two nights later, and that began a swift and intense romance. I flew back to Chicago at least every two weeks," Cavallari revealed in her 2016 book, "Balancing in Heels: My Journey to Health, Happiness, and Making it All Work."
It was around two years later when the footballer popped the question to "The Hills" star, in April 2011. But their path to the altar did not run smoothly. Us Weekly reported in April 2011 that they'd split and claimed it was supposedly Cutler who "dumped" his fiancée. But not so fast, Breakup Brigade! September brought us a big reunion when a source told People that they were "working it out," and they went on to welcome their first child the following year. That was followed by a wedding in 2013 and two more babies, one in 2014 and one in 2015.
But, sadly, it was Splitsville again. In April 2020, Cavallari confirmed on Instagram that they'd decided to divorce, telling fans, "This is just the situation of two people growing apart." But with so many makeups and breakups, is there still the chance these two could end up together?
Closed chapter
Kristin Cavallari is revealing what the chances are of a reunion with Jay Cutler. And, well, maybe don't get your hopes up if you were a fan of the two. The reality star got candid on Nikki Bella and Brie Bella's "The Bellas Podcast" on April 27, when she pretty much shot down any speculation she and the athlete could ever reunite in the future. "Through my divorce, I've done a lot of reflecting and I've really looked inward. And I've really just focused on myself and making sure that I worked through everything with my ex and really closed that chapter," she explained. "I feel like I've grown up the most that I have in the last two years because I've essentially been on my own."
But that doesn't mean they didn't give things a shot after their breakup. Cavallari actually admitted during an October 2021 appearance on "Off The Vine with Kaitlyn Bristowe" that she and the father of her children did go on a couple of dates after splitting, but just couldn't recapture the magic they once had. The star admitting thinking, "It's not there for me anymore," adding, "Going back and dating him a little bit made me reaffirm it like, 'No, I know that I'm doing the right decision.'"
Notably, Cavallari and Cutler's split wasn't without a little drama. Us Weekly claimed the former cited "inappropriate marital conduct" as well as "irreconcilable differences" as the reason for their divorce in her legal papers.