Former Agent Makes Bold Claim About Johnny Depp's Acting Career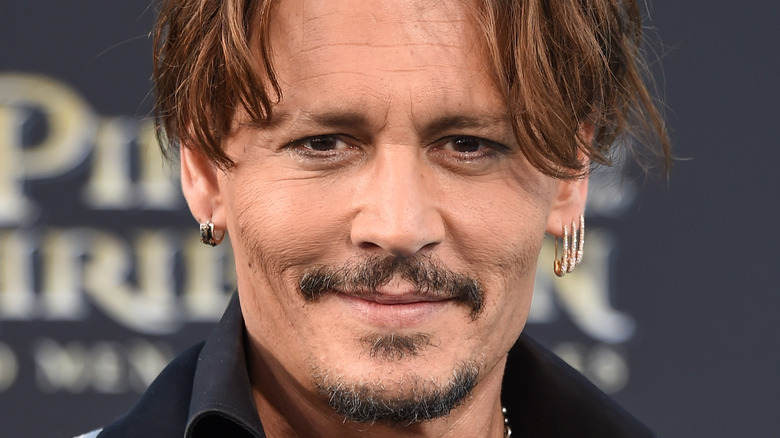 DFree/Shutterstock
As if it wasn't messy enough the first time, Johnny Depp's second libel suit surrounding his relationship with ex-wife Amber Heard is getting all sorts of messy, again. As Depp's long-awaited trial against Heard, which finally started on April 11, continues in the Fairfax, Virginia courtroom, Depp's team is winding down its testimony, and Heard could take the stand as soon as May 2, according to Deadline.
Depp had previously filed a defamation lawsuit surrounding Heard's accusations of domestic abuse against him, though Heard was not a defendant in that case. That case was against The Sun, the Rupert Murdoch-owned tabloid that called Depp a "wife-beater." Depp lost the case in 2020, per BBC, with the judge finding the information in the article to be "substantially true." Depp's attempt to appeal was refused, so now he's suing Heard specifically. The case is over a 2018 op-ed she wrote in The Washington Post that Depp believes implied that he abused her. Though she tried to get the case dismissed, Depp refused and she countersued for twice as much money.
As the trial continues, Depp's former agent is now making a claim that, if proven true, could significantly help prove one of Depp's allegations: that Heard's accusations of his domestic abuse have negatively impacted his career.
Agent says Johnny Depp lost a role because of Amber Heard's accusations
Johnny Depp has of course had a long and storied career, with 95 credits to his name, according to IMDb. From "Sweeney Todd" to "Benny and Joon" to "Cry Baby" and "Ed Wood," his best-known role is arguably as Captain Jack Sparrow in the multi-sequel "Pirates of the Caribbean" franchise. Depp starred in all five films so far, but will not return in the sixth.
In the April 27 testimony for the defamation trial, Depp's former agent, Christian Carino, stated he felt Depp was not asked to return to the franchise because of Heard's accusations of abuse. "My opinion is it was related to the accusations that Amber has made," Carino told the court via pre-recorded video, per Deadline. Though he admitted in the video deposition, apparently filmed January 2021, that he had only spoken with executive producer Jerry Bruckheimer, he also said, "It is something within the industry that is understood." Heard's co-lawyer, Elaine Bredehoft, pointed out Carino's admission that Bruckheimer never said specifically that Heard's abuse allegations were the cause of Depp's firing.
Heard's other attorney, Ben Rottenborn, also referenced an article reporting Depp's exit from the franchise that was printed two months before Heard's op-ed, per Us Weekly. Depp himself admitted on the stand that even "$300 million" or more would not entice him back to the franchise. Lawyers are now trying to prove how the various testimonies fit into the timeline. Time will tell if Depp's release from the "Fantastic Beasts" franchise will be mentioned too.