Dwayne Johnson Had An Eyebrow-Raising Reaction To Khloé Kardashian's Wax Figure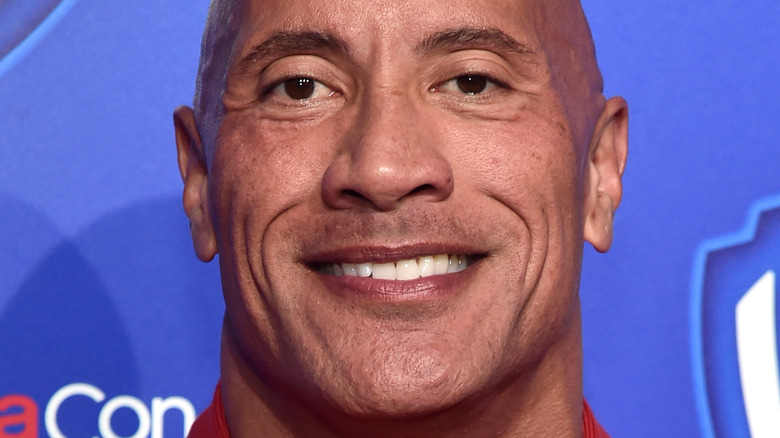 Alberto E. Rodriguez/Getty Images
Step into the uncanny valley; Madame Tussauds has unveiled yet another wax figure of Dwayne "The Rock" Johnson!
That's right, Johnson is being immortalized in wax yet again. He tweeted that the famous museum would be crafting four new statues modeled after the actor in Hollywood, New York, Orlando, and Las Vegas. Unlike some of the previous wax figures from Madame Tussauds' worldwide museums (we are looking at you, cursed wax figure of Naomi Campbell), these new statues of Johnson are actually scarily accurate. Even down to his signature show-stopping smile and forever meme-d eyebrow raise!
Although the statues were installed in their museums at the end of March, Johnson didn't get the chance to drop by his wax doppelgänger in Las Vegas until April 26, when he was in town for CinemaCon to receive his award for Entertainment Icon of the Decade, per People. But when Johnson saw his statue compared to the figure of Khloé Kardashian, he noted some changes he would like to be made.
Dwayne Johnson wants his wax figure to be bootylicious too
In Dwayne Johnson's TikTok video about his experience visiting his newest Madame Tussauds wax figure, the actor shows the elaborate bar display for his statue featuring his alcohol brand, Teremana Tequila. His statue is dressed in classic formal wear while it raises a glass to the thousands of visitors that come from all over the world to take photos with "The Rock."
Johnson also pointed out that his statue was installed right next to Khloé Kardashian's wax clone. But it turns out that Johnson is jealous of ... well, her jelly! "Wait a second," Johnson said once he checked out Kardashian's wax behind and looked at his own. Sure enough, his wax figure's tush paled in comparison to Kardashian's. He said, "Can we add a little bit more to my— like some glutes! Give me some glutes like that!"
"Looks like I am in INCREDIBLE company!!!" Kardashian responded on her Instagram Story. "They hooked me up," she joked. And they sure did! Her wax figure was unveiled back in 2018, and it depicts the reality star in her signature lacy bodysuit with her Good American skintight jeans, per the Daily Mail. Maybe if this was a "Night at the Museum" situation, Kardashian's wax figure could donate some of her extra junk in the trunk to a Johnson in need. But, alas, Johnson will have to come to terms with his wax figure's lack of bootyliciousness.