Amy Schumer's First Big Moment After The Oscars Slap Fell Terribly Short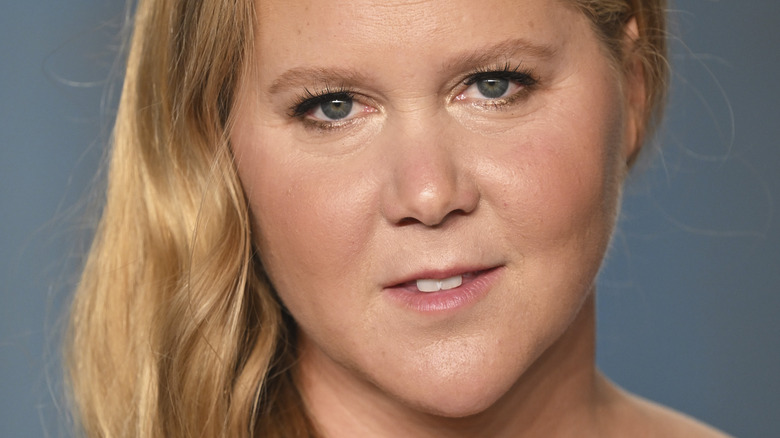 Karwai Tang/Getty Images
Amy Schumer knows how to make a grand entrance, a headline, or even a statement. Soon after Will Smith walked up on-stage and slapped Chris Rock across the face at the 2022 Oscars, Schumer was one of the first celebrities to speak out about the matter. She made it no secret that she was shocked, stunned, and sad over what transpired that night. In a since-deleted Instagram post, she wrote, "Waiting for this sickening feeling to go away from what we all witnessed." 
A few short weeks after the Oscars, Schumer told "The Howard Stern Show" that she was made fun of for saying she was traumatized over the slap. She explained, "I haven't been around much violence. I didn't grow up with it in the home or anything ... it was a bummer." And while a lot of people have either sympathized with, supported, or side-eyed Schumer for her comments, there are some people who were hoping that she would make a grand entrance (or at least a statement) at the 2022 Met Gala. But what fans of Schumer got might not have been what they expected.
Critics say Amy Schumer's Met Gala entrance fell flat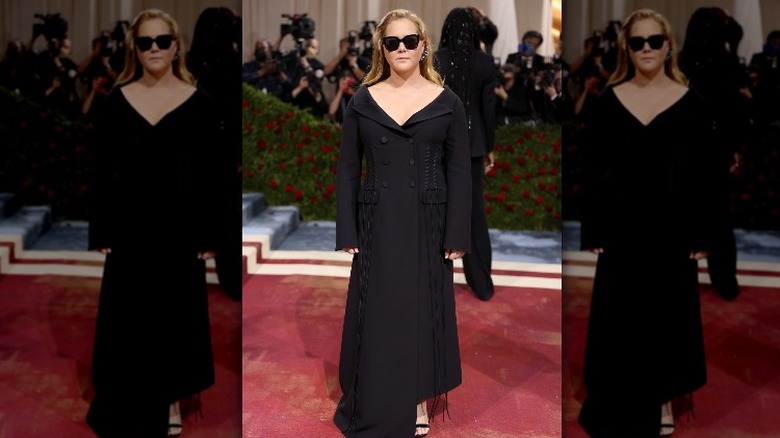 John Shearer/Getty
Unfortunately for Amy Schumer, the internet is not loving her look at the 2022 Met Gala. Soon after she appeared on the red carpet, many critics took to Twitter to express their disappointment in her all-black ensemble, which she accessorized with black shades that she didn't take off. While the theme for the night was "Gilded Glamour," some people believe that Schumer might not have understood the assignment. Some comments have included, "I want to know who the f**k mailed out Amy Schumer's met gala invitation," and a response that said, "A disgruntled employee with an axe to grind with Anna Wintour."
That said, Schumer kept her glasses on (and maybe even her cool) when she told La La Anthony for Vogue's official red carpet livestream that she was just at the Met Gala "for the drinks." She also added (via People): "When Gabriela Hearst says she's going to dress you, you put your Spanx on, right over your C-section scar and you get on that carpet, am I right? Am I right?" Clearly, Schumer's fashion agenda differs greatly from everyone else's.