Victoria Beckham Once Got Into A Fight With Another Spice Girl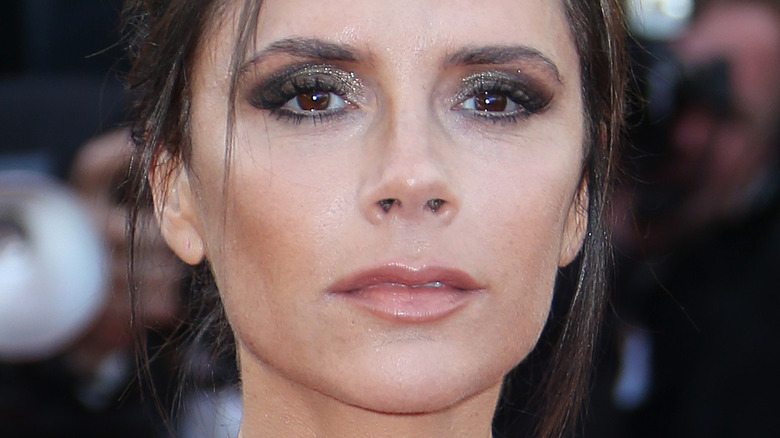 BAKOUNINE/Shutterstock
Friendship never ends — at least according to the Spice Girls' 1996 debut single "Wannabe." However, beloved for their colorful personas and famous nicknames, the mega-successful girl group didn't always get along as well as their music suggested. Most of the ladies of the Spice Girls fought at one point or another, and eventual fashion mogul Victoria Beckham was no exception. Though Beckham once recalled being "shy and introverted" in a 2020 Instagram post, she eventually found her "style and confidence, and [her] voice," meaning she wasn't afraid to stick up for herself among all the strong personalities. 
At the height of their careers back in the mid-90s, a conflict between Beckham and another bandmate almost led to one of them being fired. Thankfully, they're mostly all good now — they reunited in 2018 sans Beckham, who supported from the sidelines, and have another reunion potentially on the way for 2023 — but it took sugar, spice, and everything nice for the iconic girl group to get there.
The fight with Victoria Beckham landed Mel C in trouble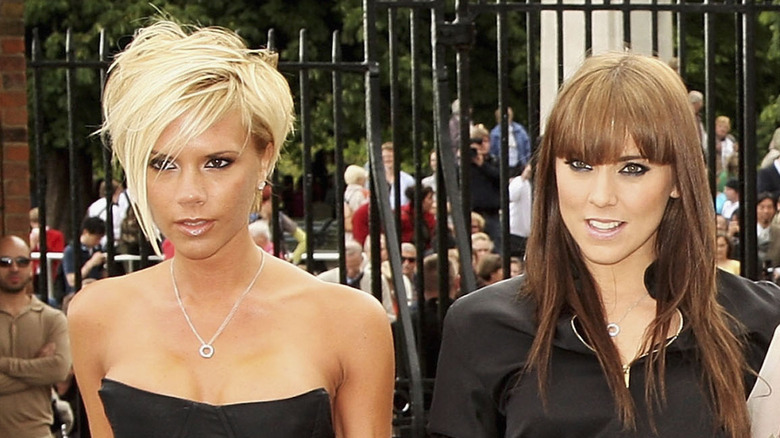 Dave Hogan/Getty Images
Victoria Beckham, also known as Posh Spice, is one of the more reserved Spice Girls. That said, you still wouldn't want to be on her bad side. Melanie Chisholm, aka Sporty Spice, revealed the time that her standing in the group was in jeopardy after getting into an argument with Beckham at the 1996 Brit Awards. "We had a few drinks, and we were all probably a bit tipsy, and I told Victoria where to go," Chisolm told People in 2020. "It wasn't even in front of anyone — I think we were leaving and getting into our car. But it was a big deal at the time, and I got into lots of trouble."
Chisholm recounted the fight in a subsequent interview on BBC Radio 4's Desert Island Discs (via The Guardian), where she revealed, "I was told if it happened again I would be out."
It's interesting to imagine a timeline where Melanie C was the first to exit the Spice Girls instead of Geri Halliwell (Ginger Spice), especially so early in the group's career. Given that the fight happened in 1996 before they had totally blown up, they might not have reached their future heights with one less member. The five of them were marketed so differently, each appealing to a particular demographic, and they were all important pieces of the puzzle. "We're a community in which each one of us shines individually, without making any of the others feel insecure," Halliwell said in 1996, per The Guardian. "We liberate each other." 
Victoria Beckham and Melanie C are on good terms today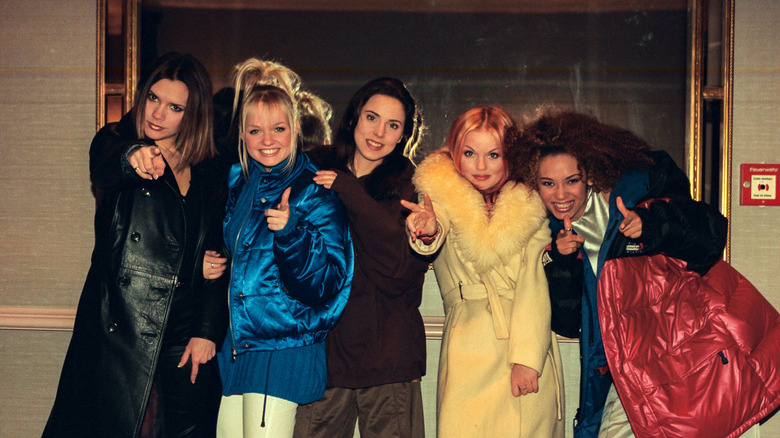 United Archives/Getty Images
Although Victoria Beckham has pivoted to fashion for good, Melanie C is determined to welcome her back into the fold. Beckham was the sole member not to participate in the Spice Girls' 2018 reunion tour. "It wasn't a lack of respect for the girls or the audience," she later told French Vogue (via The Cut), "but the passion just wasn't there." Her bandmates don't think it's the end, though. "We would love to have her back on stage," Mel C told ET in 2021. "In all honesty, I think it's gonna happen. At some point, I think Posh Spice will be back onstage."
That's a bold statement, but time will tell if it comes true. Beckham seems perfectly content without the Spice Girls, and hasn't performed with the group since their appearance at the London 2012 Summer Olympics closing ceremony. Even if Beckham is no longer part of the group, things between her and the other members seem to be just fine. In March, Melanie C and Mel B attended the wedding of Brooklyn Beckham, Victoria's son, and the ladies seem to respect her decision about not performing even — if they wish she'd change her mind.