Mike Tyson Has A Different Close Call With A Fan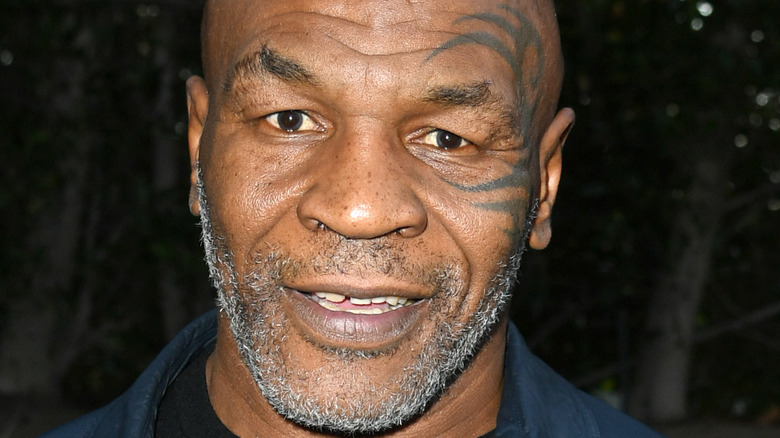 Jc Olivera/Getty Images
Mike Tyson unleashed a series of punches on a man aboard a JetBlue flight on April 21, and it was caught on camera. Reportedly, the man — who was described by one bystander as "extremely intoxicated" — continually pestered Tyson, which led to the altercation, per TMZ. Hours after the footage was released, reps for the former heavyweight champion released a statement. "Unfortunately, Mr. Tyson had an incident on a flight with an aggressive passenger who began harassing him, and threw a water bottle at him while he was in his seat," they told TMZ Sports.
Although no charges were filed the day of the incident, the recipient of the punches was identified as Melvin Townsend III, who decided to hire a lawyer. According to his lawyer, Matt Morgan, Townsend simply lost his composure at the prospect of meeting the boxing legend. "When Mike Tyson boarded the plane, he became overly excited. At first, their interaction was cordial," Morgan told TMZ Sports on April 22. The lawyer also felt Tyson needlessly escalated the dispute. "This situation could have been avoided simply by contacting the flight attendant," Morgan said of his client, while refuting claims from Tyson's camp that a water bottle was thrown.
A month earlier, Tyson was caught on video at a comedy show as an overly eager fan pulled a gun after challenging the boxing icon to a fight, per TMZ. Less than two weeks after the plane fiasco, Tyson found himself in yet another viral video with a fan.
How this woman angered Mike Tyson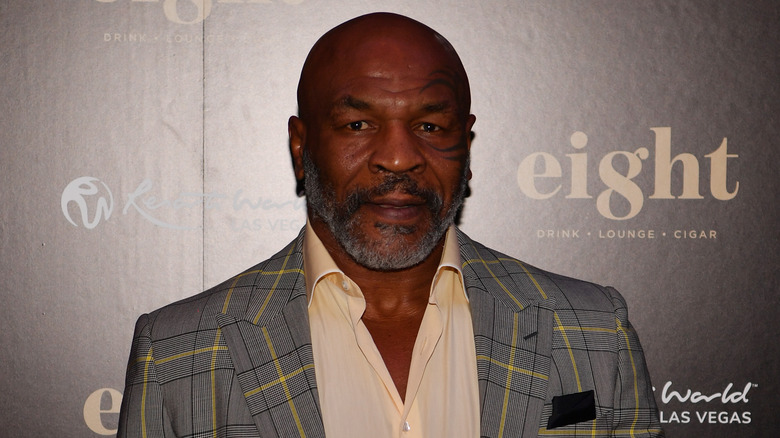 Denise Truscello/Getty Images
Mike Tyson had another unsavory run-in with a fan while attending the Skakur Stevenson versus Oscar Valdez boxing match at the MGM Grand on April 30. Unfazed by previous incidents, Tyson took time out of his evening to pose with fans at the event. As a group gathered around the Brooklyn boxer, one woman standing behind him stuck her hand out and placed her fingers under his nose, per the New York Post. Tyson took exception to the stranger waving their finger in his face, and turned around to stare at the woman. Fortunately, the "Meet the Blacks" actor's team was able to step in and quickly separate the unruly fan, as Tyson was quickly whisked away to avoid further provocation.
Once the video of the run-in between Tyson and the unnamed woman hit Twitter, fans were quick to weigh in. "Why does everyone want to pull the Tigers tail?" one Twitter user asked. "It is almost as if they are trying to provoke him into snapping," another commented on the video, while adding a face palm emoji. One viewer noticed a trend in Tyson's fan altercations. "Last 3 fan unwelcome encounters have come from behind Mike," they wrote.
A day after the boxer's JetBlue debacle, Dana White posted a video making light of the situation. "Hey dummies, for future reference, this is how you stay alive when bumping into @MikeTyson on an airplane," the UFC honcho tweeted alongside a clip of Tyson playfully bullying him on a private jet.