Portia De Rossi Shares The Heartbreaking Reason She Was Afraid Of Revealing Her Sexuality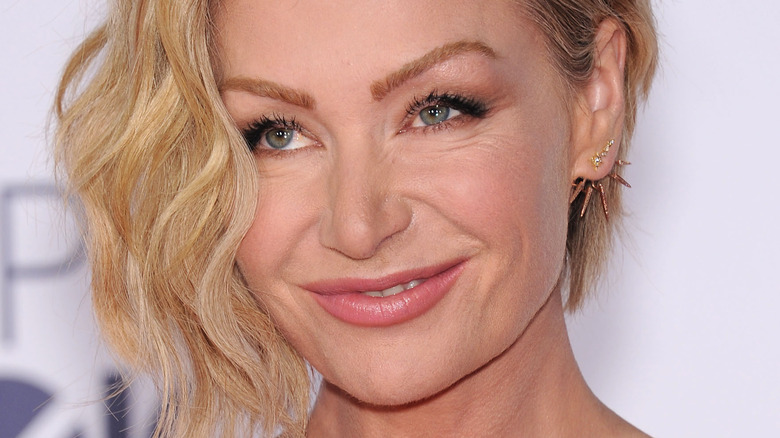 DFree/Shutterstock
Ellen DeGeneres and Portia de Rossi changed each other's lives, creating a beautiful love story together. According to Us Weekly, the couple first met in 2000, but it wasn't smooth sailing from the start. During an appearance on "Oprah," de Rossi explained why it took her a little bit of time to get with DeGeneres, even though she knew that the talk show host "was the one" right away. "It took me three years to actually tell her how I felt about her because I was on 'Ally McBeal' at the time and I was not living as an openly gay person," she explained, adding that she was "very, very afraid that if I talked about being gay, it would be the end of my career." In Touch Weekly shared that the pair began dating in 2004, shortly after DeGeneres broke up with photographer Alexandra Hedison.
Right away, DeGeneres knew that she had something special with de Rossi. "It's the first time that I've known in every cell of my being that I'm with somebody for the rest of my life," the talk show host told People in 2005. The two enjoyed a few years of dating before they walked down the aisle in 2008 in an at-home ceremony in Los Angeles. Tying the knot "is not something we've ever taken for granted," de Rossi told People, adding, "It means a lot."
The actor has come a long way in her sexuality and love life, but it wasn't always easy.
Portia de Rossi had a hard time telling her grandmother she was gay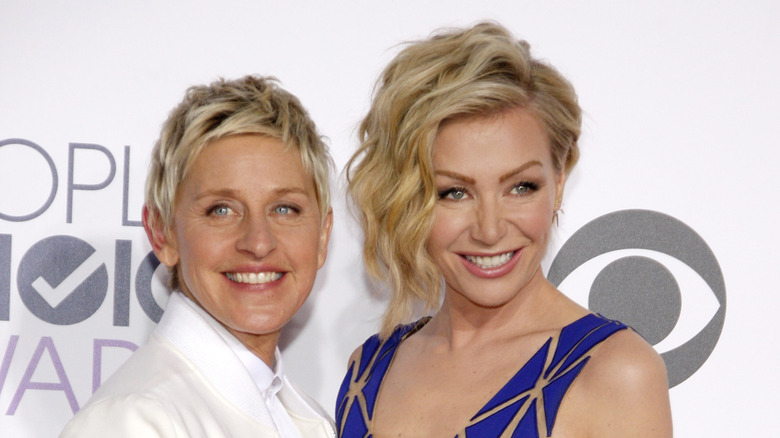 Tinseltown/Shutterstock
In early May, Portia de Rossi sat down with her wife, Ellen DeGeneres, for an interview on DeGeneres' self-titled talk show amid its final season. The pair discussed several different topics, and it's no surprise their relationship was one of them. De Rossi recalled how her grandmother loved watching "Ellen," a sitcom that aired from 1994 through 1998. However, things changed rather quickly. "The minute that Ellen came out, she refused to watch the show," de Rossi explained.
So, it's no surprise that once de Rossi moved to Los Angeles and fell in love with DeGeneres, it was hard for her to share the news with her grandmother. However, during a visit to Australia, de Rossi mustered up the strength to tell her grandmother about the relationship. The actor shared that her grandmother knew she lived with DeGeneres but didn't know they were an item, so she told her. "She literally puts her head in her hands for 20 seconds or 30 seconds, silent, and I thought, 'That's it. I've killed my grandma,'" de Rossi joked. Afterward, "She just looked at me, and she goes, 'Well, I love you just the same.'" What a relief! 
On social media, de Rossi never shies away from showing love for DeGeneres, including on their anniversary. "13 years ago I married the love of my life. And it just keeps getting better," she wrote in August 2021. We love this pair!