The Truth Behind Prince Edward's Royal Title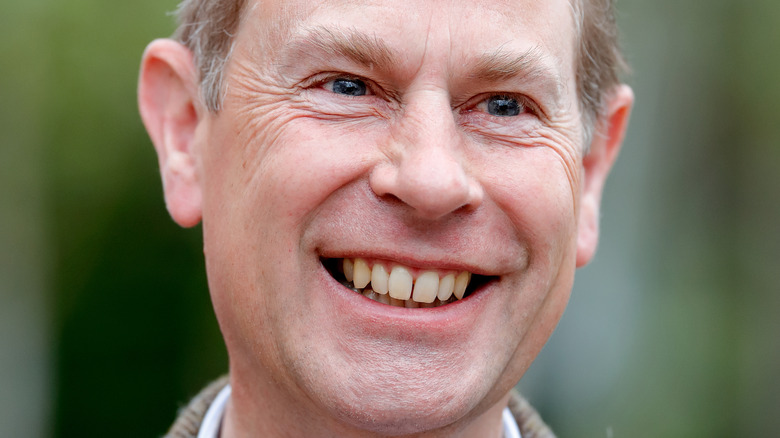 Max Mumby/indigo/Getty Images
According to Debrett's, dukedom is the highest rank a British royal can have under the monarch and is a title typically bestowed upon a prince of the royal blood when they marry. It only makes sense, then, that when Prince William and Catherine Middleton wed in 2011, they were named the Duke and Duchess of Cambridge. Similarly, when Prince Harry and Meghan Markle tied the knot in 2018, they were styled as Duke and Duchess of Sussex. However, that's not to say every prince born to the royal family has become a duke upon their marriage. 
Case in point: Prince Edward. Despite each of his brothers receiving a dukedom when they married, when Prince Edward wed Sophie Rhys-Jones in 1999, he was named the Earl of Wessex, and his bride, the Countess of Wessex. According to the official royal family's website, he was gifted an additional title, Earl of Forfar, in 2019 to be used when in Scotland, but alas, still no dukedom.
Debrett's notes that the title of an earl is not just one, but two ranks below that of a duke. Why, then, was the prince long rumored to be Queen Elizabeth's "favorite" child given that title, in particular? As it turns out, this might just be as he likes it.
Prince Edward chose his own title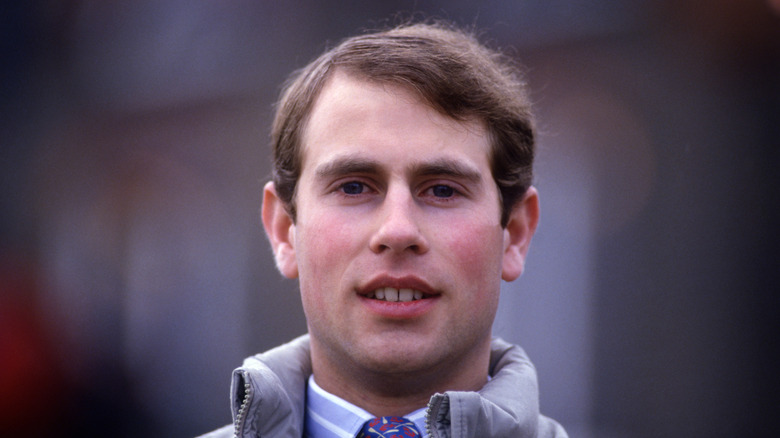 David Levenson/Getty Images
While bestowing the title of earl upon one of her sons despite protocol might lead some to suspect shadiness on the part of Queen Elizabeth — that couldn't be further from the truth. In fact, per Debrett's, the prince "broke with royal tradition" and requested to be styled as an earl, himself.
In a 2010 interview with The Telegraph, royal biographer Kenneth Rose revealed that Prince Edward was initially set to become the Duke of Cambridge upon his marriage — the title subsequently bestowed upon Prince William. However, Rose explained that a film changed the queen's youngest child's mind. According to the journalist, after seeing the 1998 film "Shakespeare In Love" Prince Edward felt a strong connection to Lord Wessex, portrayed by Colin Firth. "He liked the sound of it and asked the queen if he could have that instead," Rose said at the time. And just like that, an earl was born. 
According to The Times, at the time of his marriage, Prince Edward was also promised another title, to be bestowed in the future: his father's. "[He] should be given the Dukedom of Edinburgh in due course, when the present title now held by Prince Philip eventually reverts to the crown," a statement from Buckingham Palace read. However, more than a year since Prince Philip's death, Prince Edward is still the Earl of Wessex and Earl of Forfar in Scotland. Here's why. 
Prince Edward may become a Duke under one condition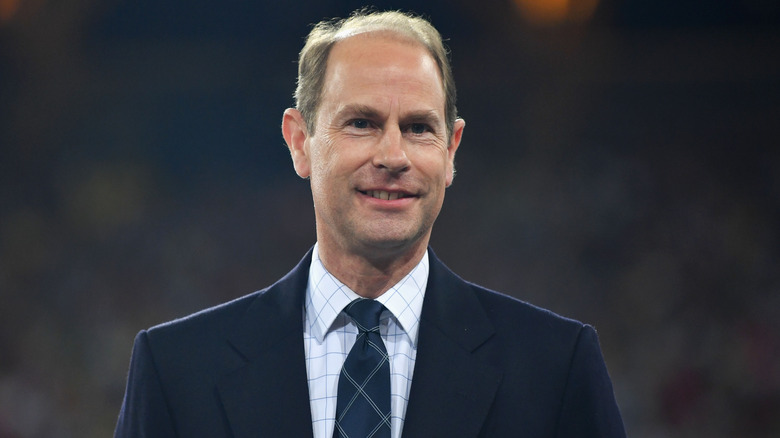 Dan Mullan/Getty Images
While Prince Philip tragically died in 2021, his youngest son is still yet to inherit his title, leaving many royal fans confused — especially in light of the Buckingham Palace statement obtained by The Times. However, there's a simple reason for that: Even though the duke has passed away, his title has not yet reverted to the crown. 
As Prince Edward told Daily Telegraph, that reversion will only happen once Queen Elizabeth has died. "The only way the title can come to me is after both my parents have actually passed away," he explained, adding that the technicality made the prospect of a new title "bittersweet." Until then, the title has gone to his brother, Prince Charles. As for any speculation that The Prince of Wales was preventing his youngest sibling from obtaining the title, Prince Charles' spokesperson has declined to comment. In fact, the representative told People that any hypothesizing would be in poor taste, especially to the queen. 
Prince Edward may be the only one of his male siblings to not be a duke, but that's not to say he won't become one in the future. Until then, we have a feeling the prince will be just fine with his current title. After all, he chose it himself.