Tom Cruise Hilariously Mocks James Corden Leaving His Show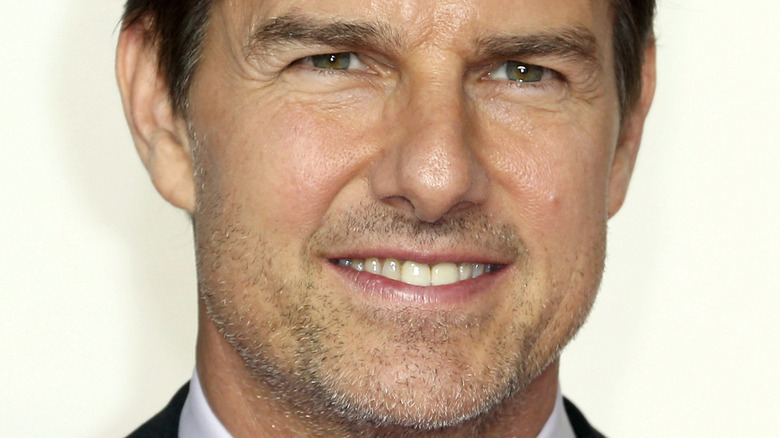 Cubankite/Shutterstock
On April 28, British funnyman and long-running host of "The Late Late Show" on CBS, James Corden, made the announcement that his seven-year stint as host will come to an end. Speaking at the top of his show, he told the audience, "I've signed for one more year of the show, and this will be my last." He added, "This has been the hardest decision I've ever had to make."
In a statement to Deadline, Corden indicated that his CBS bosses, including CEO George Cheeks, were "supportive" and "patient" while he made this decision. Cheeks echoed that sentiment, telling the outlet, "We wish he could stay longer, but we are very proud he made CBS his American home and that this partnership will extend one more season on 'The Late Late Show.'"
But one Hollywood heavyweight smells a rat. "Top Gun: Maverick" megastar Tom Cruise appeared on "The Late Late Show" yesterday and hinted that Corden was actually let go. SHOTS FIRED. 
Tom Cruise jokes about James Corden being fired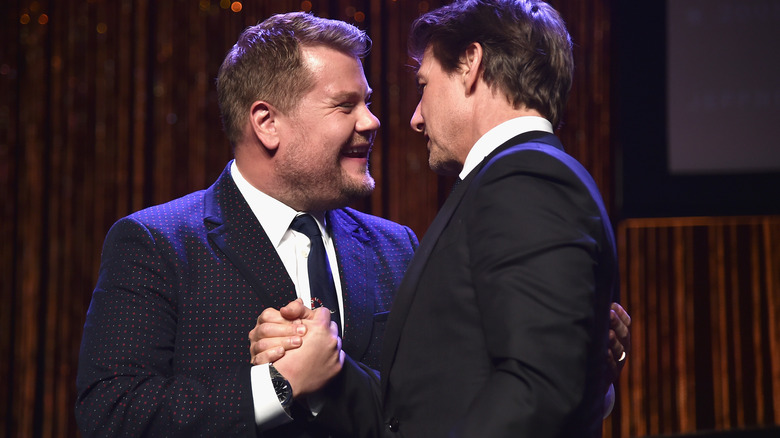 Alberto E. Rodriguez/Getty Images
During his appearance on "The Late Late Show" last night to promote the latest installment of "Top Gun," which comes a full 36 years after the '80s blockbuster took our breath away, Tom Cruise opened the door to his dressing room to tell James Corden he was sorry the host was *checks notes* fired? Wait, what?
Don't worry James, @TomCruise is here for you ❤️ pic.twitter.com/rawtMj0Qzm

— The Late Late Show with James Corden (@latelateshow) May 4, 2022
"I'm here for you tonight whatever you need," Cruise joked. "I would not have fired you. I'm here for you if you need anything ... I just want you to know that I'm sorry." Rolling with the joke, Corden told Cruise he'd love some money, to which the "Jerry Maguire" star said, "I told you anything, James. Don't worry." Dang. How do we get a supportive friend like Cruise? 
The banter between the two is understandable, considering their long-standing friendship. Cruise even sends Corden the famous Cruise Cake every year, which is a coconut bundt cake that only the very lucky Hollywood elite receive each year. Jimmy Fallon, Kirsten Dunst, Rosie O'Donnell, Colbie Smulders, Renee Zellweger, and many more have admitted to receiving the cake around Christmastime from the "Mission Impossible" star. So it looks like this year Corden is getting a cake and a nice cash bonus on the side!