Amber Heard Revisits Her Tumultuous Relationship With Johnny Depp In Tearful Testimony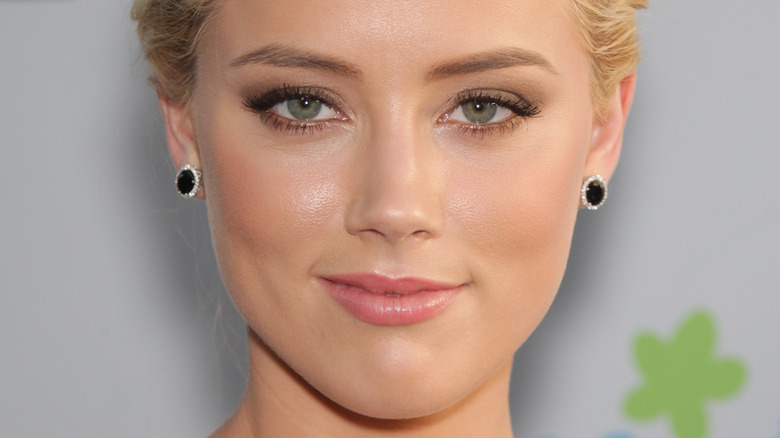 DFree/Shutterstock
The following article includes discussion of alleged domestic abuse.
Johnny Depp's legal team wrapped their case on April 28 in his defamation trial against Amber Heard, leaving behind a lot of emotional testimony for the jury to consider. As Team Depp's first witness, his sister, Christi Dembrowski, set the emotional stakes high with harrowing testimony of their mother's emotional and physical abuse. "Mom would scream, yell at him, she would hit him, call him names," Dembrowski recalled (per the Daily Mail) while Depp listened on, looking to the floor. Another tearjerking witness was Depp's longtime friend Isaac Baruch, who — while wiping tears from his eyes — stated, "For Johnny ... his family has been completely wrecked by all of this stuff and it's not ... it's not fair... it's not right" (per Independent).
Depp had his own time on the stand, of course, testifying that Heard's 2018 op-ed in the The Washington Post caused irrevocable damage to his career. "It was like somebody hit me in the back of the head with a two-by-four," Depp said, per Rolling Stone. "Even if I had done an interview to try to explain myself, it turned into a hit piece. So my mouth was shut." 
In week four of the trial, Heard's defense team has been up to bat, with the "Aquaman" actor taking the stand on May 4. Unsurprisingly, Heard had a lot to say.
Johnny Depp allegedly slapped Amber Heard over his tattoo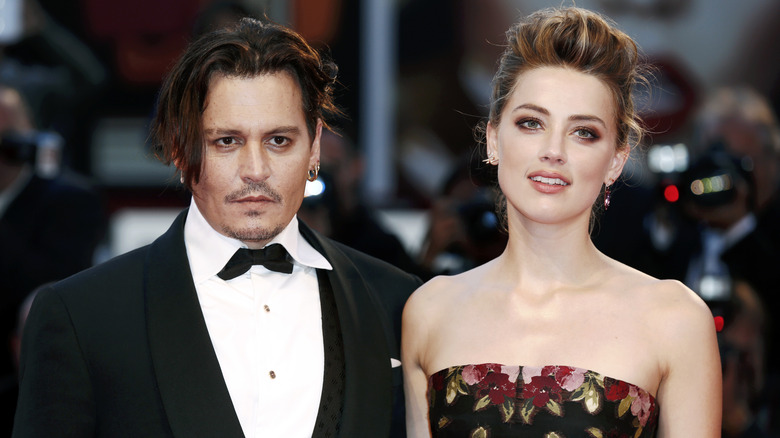 Andrea Raffin/Shutterstock
Under direct questioning by attorney Elaine Bredehoft on May 4, Amber Heard recounted the first time that Johnny Depp allegedly hit her. According to Heard, it was in the middle of a "normal conversation" early on in their courtship (per People). After Heard had asked Depp what the "Wino" tattoo on his arm meant, as it was "hard to read," he explained, eliciting a laugh from her. That's when Depp "slapped me across the face," Heard alleged. Not knowing what to do, she claimed she simply "stared at" Depp, "thinking he was gonna start laughing too to tell me it was a joke. But he didn't."
Depp allegedly then called Heard a "funny bitch" and slapped her again, at which point she realized he wasn't joking. With Heard still not reacting, she claimed that Depp slapped her "one more time, hard." With tears in her eyes, Heard recalled falling to the floor. "I knew that I had to leave him, and that's what broke my heart," the actor said to the jury. "I wish I could sit here and say I stood up and I walked out of that house."  
The day prior to Heard taking the stand, her attorney Benjamin Rottenborn had stated to the courtroom that Heard "wins" if Depp "abused Ms. Heard physically, verbally, emotionally or psychologically even one time," per The New York Times. According to the Daily Mail, Rottenborn claimed Team Heard has an "overwhelming and undisputed" log of evidence to prove so in the coming weeks. 
Amber Heard says relationship with Johnny Depp 'was always intense'
Despite an emotional testimony of her alleged abuse by Johnny Depp, Amber Heard also offered a fuller picture of their four-year romance in court on May 4. Under direct questioning, Heard reminisced how she met the actor on the set of 2011's "The Rum Diary," (per People). Despite Depp inviting her to his house during filming once, however, Heard insisted they didn't get romantic until they embarked on the film's promotional tour. "When I was around Johnny I felt like the most beautiful person in the world," Heard recalled, seemingly choking back tears. "It made me feel seen. It made me feel like a million dollars." She added that Depp seemingly "knew me, saw me, in a way no one else had."
At the beginning of their relationship, Heard testified that she and Depp dated "secretly," as he hadn't yet publicly separated from ex-partner and mother of his two children, Vanessa Paradis. "We were in a bubble of secrecy," Heard said. Even early on, however, their relationship "was always intense." Heard insisted (per USA Today), "It didn't become intense. It started that way."
As the couple became increasingly serious, Heard alleged that Depp developed jealousy issues with her clothing choices and friends. After each fight, Heard said, Depp would leave only to return as the "unbelievably nice, sensitive, warm generous funny man that I loved."
If you or someone you know is dealing with domestic abuse, you can call the National Domestic Violence Hotline at 1−800−799−7233. You can also find more information, resources, and support at their website.