Elizabeth Olsen Shares The Challenges Of Growing Up With The Olsen Twins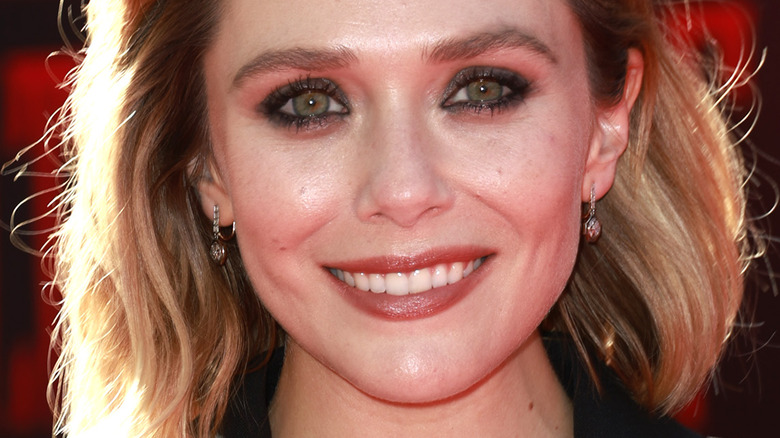 Frazer Harrison/Getty Images
Elizabeth Olsen has quite an impressive acting résumé thus far, and it's safe to say that her career is far from over. According to her IMDb profile, Elizabeth has starred in hits like "Avengers: Infinity War" and "Captain America: Civil War." Of course, she also stars in the hit series "WandaVision," though Elizabeth admits that she didn't always think that it would be super successful. "I just assume that no one's gonna do anything that I'm a part of," she said on "The Tonight Show With Jimmy Fallon." "But we were really swinging for the fences and felt proud of what we were doing. And we felt like it was different and unique, and there was a great energy to it."
Most of Elizabeth's projects have been rather popular, like "Martha Marcy May Marlene," and many people are proud of what she has accomplished, including sisters Mary-Kate and Ashley Olsen's former "Full House" star John Stamos. "I watched a little bit of Mary-Kate's sister on there. It was really cool," Stamos told Insider of Elizabeth's role in "WandaVision," adding that "she was incredible." (How sweet is that?)
In an interview with The Guardian, Elizabeth also touched on what it was like to grow up with such famous sisters. "Their fame made me more determined to study. I knew I wanted to be an actor, but I also didn't want to start working when I was under 18," she shared. In another interview, she also touched on growing up an Olsen.
Elizabeth Olsen talks growing up with famous sisters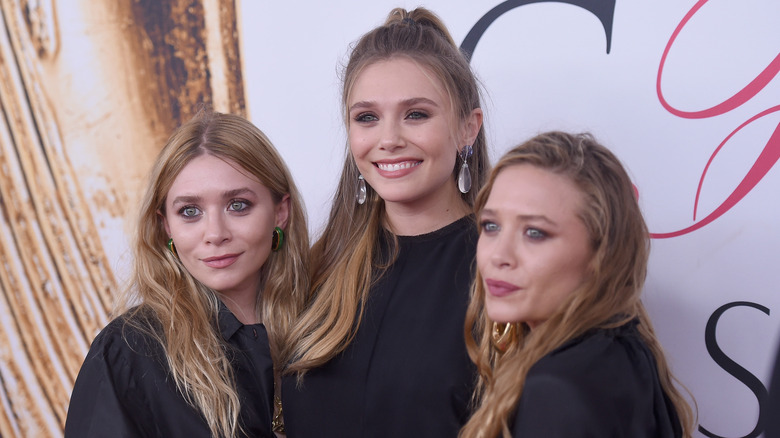 Jamie Mccarthy/Getty Images
It's not always easy growing up in the shadows of your older sisters. In the '90s, Mary-Kate and Ashley Olsen were two of the hottest names in the industry, starring in hits like "It Takes Two" and "New York Minute." But Elizabeth Olsen said it was not easy for her to grow up with them because of all that her sisters had accomplished. "I always knew that it was what I wanted to do; I just had a lot of insecurities about wanting to do it," she told Harper's Bazaar. She worked hard, studying acting ​​at New York University's Tisch School of the Arts. "I've always felt that presence, which made me work harder, and maybe have a chip on my shoulder to be over-prepared and disciplined, so I could feel like I was earning it," Elizabeth shared. 
The actor has always been open about wanting to make her own way, and at one point, she even thought about changing her name because of her "insecurities." "I did think, 'I'm going to be Elizabeth Chase when I become an actress,'" she told Glamour UK in 2021. (Chase is her middle name.) Despite wanting to pave her own path, Elizabeth still has fond memories of growing up with older twin sisters. She told Harper's Bazaar. "I always felt that having older twin sisters was an advantage," Elizabeth noted, adding, "I felt very clear about how I was going to navigate lots of things because of watching them. I also felt very protected."