The Truth About Dave Grohl And Paul McCartney's Friendship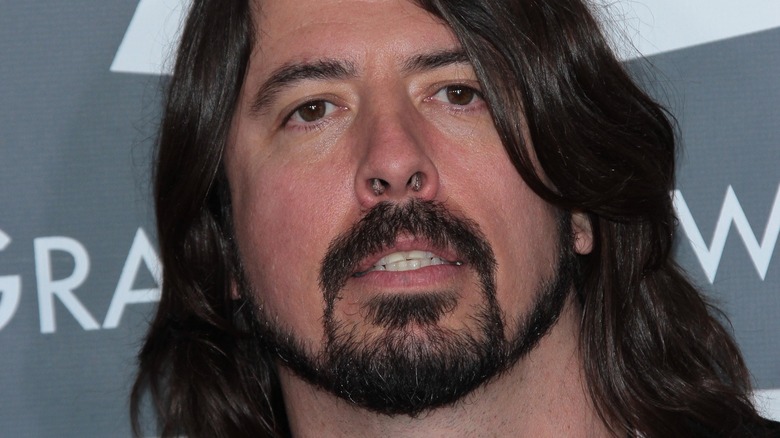 s_bukley/Shutterstock
Even Dave Grohl isn't immune to being starstruck. Despite being in two major bands himself, Nirvana and the Foo Fighters, he found it hard to stay cool upon meeting his idol Paul McCartney. Their introduction at a 2002 memorial concert for late Beatle George Harrison was the beginning of a decades-long friendship between the two rock legends, and they've publicly praised each other many times since. Grohl even wrote a letter about the Beatles' impact in 2012, stating, per NME, "If it weren't for the Beatles, I would not be a musician."
Dave Grohl first recounted the story of meeting Paul McCartney on his Instagram account and then on his Medium blog. In late 2021, he included it as a chapter in his memoir, "The Storyteller." Grohl was driven to tears by McCartney's rendition of the Beatles' "Something," and described their first conversation as "a blur" from start to finish. "I don't recall exactly how Paul and I were introduced, what was said, or how long we talked, but I do remember putting on my best 'this is not the most incredible thing ever to happen to me' face while trying to keep from making a fool of myself," Grohl wrote. "I was beside myself, having an out of body experience, living a moment that will surely be revisited in my final hours."
Since that first meeting, Grohl has become increasingly comfortable around McCartney, collaborating often and becoming family friends.
Dave Grohl struggled to act natural when Paul McCartney visited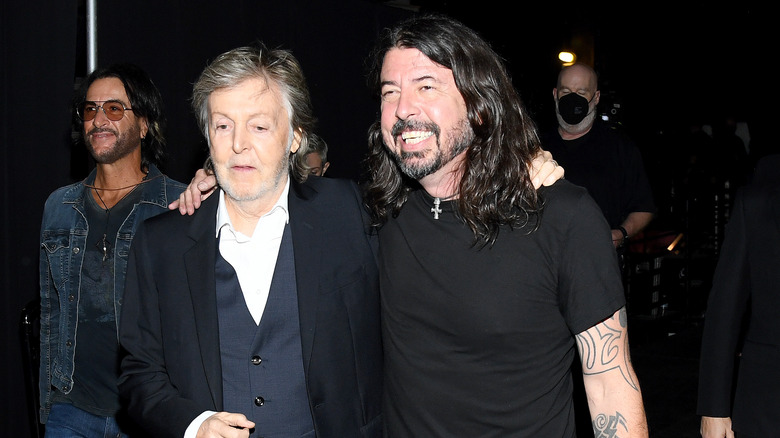 Kevin Mazur/Getty Images
Dave Grohl's Beatlemania was so intense that he had to hide any memorabilia related to the band when Paul McCartney came to visit. When he appeared on "The Tonight Show" with Jimmy Fallon in 2021, he talked about the first time McCartney ever showed up at his house.
"The first thing I did was hide all the Beatles stuff. You never know how much Beatles stuff you have until a Beatle comes over," Grohl joked. "And there was a piano in our living room, and as he was leaving, it was like he couldn't resist, and he just sat down and started playing 'Lady Madonna' on the piano in my living room." It was Grohl's daughter, however, who proved she had the perfect comedic timing. "Harper, who was like four years old at the time, she runs into the kitchen, she gets a coffee cup, fills it full of spare change and puts it on the piano like a tip jar," Grohl laughed.
The night ended with McCartney giving Grohl's daughter her first piano lesson, and even writing a song with her. Although Grohl tries not to act like too much of a fan around McCartney, it was one of the few times he couldn't resist taking a picture of him. Grohl's wife Jordyn Blum and McCartney's wife Nancy Shevell also became friends and the four of them started having double-dates.
Paul McCartney is a Foo Fighters fan too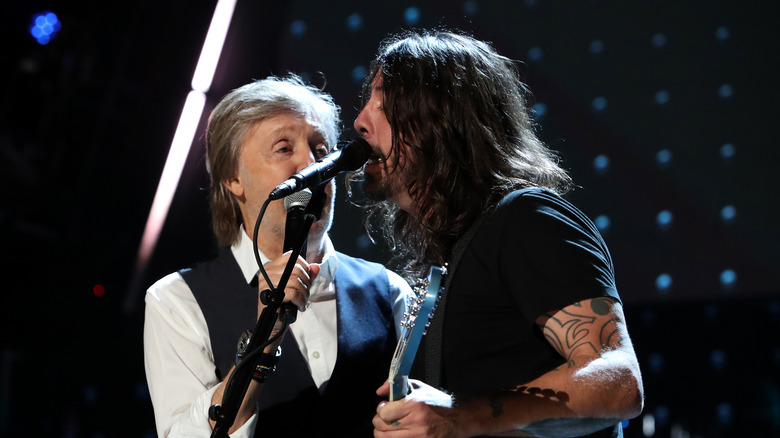 Kevin Kane/Getty Images
Thankfully, Dave Grohl's admiration for Paul McCartney and his fellow Beatles isn't a one-sided affair. McCartney is just as enthusiastic about Grohl's own music, collaborating with him on a Grammy-winning song. McCartney joined Grohl and the other members of Nirvana in 2012 for "Cut Me Some Slack" off the soundtrack of Grohl's documentary "Sound City." They performed the song live several times, including as musical guests on "Saturday Night Live." As a group, fans and media outlets have dubbed them "Sirvana," a play on McCartney's knighthood status.
McCartney's reciprocation of Grohl's Beatles fandom didn't stop there; in 2021, he did the honors of inducting the Foo Fighters into the Rock and Roll Hall of Fame, according to Rolling Stone. In McCartney's speech, he compared Grohl's career trajectory to his own. Pointing out all of their similarities, the Beatle joked, "Do you think this guy's stalking me?" He concluded the speech by calling the Foo Fighters "one of the greatest rock and roll bands in the world." Despite McCartney's suggestion, it's clear by now that Grohl's admiration for him is mutual and he has no need to worry about coming on too strong.